The folks over at BringATrailer caught this on Craigslist the same day I caught it on eBay.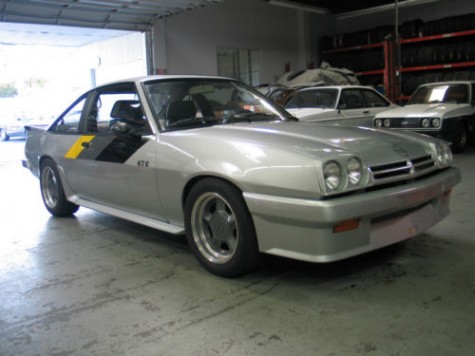 This is not a usual site here in the states. The Manta B is not as identifiable to those who might casually be familiar with the Opel brand in the U.S. as say the Opel GT is, but to those more in the know it is unmistakably Opel. The Manta B is a neat looking car. Kind of like a time travel backwards breeding of Sierra Cosworth and BMW 6 series in terms of looks, though styling supposedly was based on the Chevy Monza if you believe wikipedia.
The cars received some attention in rally circles with some pretty hefty outputs coming from under the hood.
This particular car has what I presume is a bored out stock 2.0 liter to 2.2, which I would guess is putting out a little north of 100 horsepower coming from the dual carb setup. The car looks great with some tuning parts by Irmscher including body kit and exhaust work. The swept rear wing is a very distinguished look. It is also hard not to dig that plaid interior, which is in need of some repair. I also could do without the overhead speaker setup. Wouldn't you rather listen to the engine as you rowed the gears anyway?
The car has 55,000 miles and the seller is asking $15,000 or best offer. That is a pretty hefty sum for a car that elsewhere in the world isn't really rare, but when you have a pretty one of a kind vehicle stateside you can ask what you want. Too bad Buick didn't continue to sell these like they did earlier Opels.
I wish the seller would include more description about the driving experience. I suspect some tail happy driving can be had with this. Lots of other neat cars in the background of the photos.
~Evan