Like the E38 740iL we featured last weekend, here is another interestingly colored 7 series, this time a final year E32 740iL in a striking shade of burgundy. With the parchment leather, it really looks rich and has been well cared for over the years.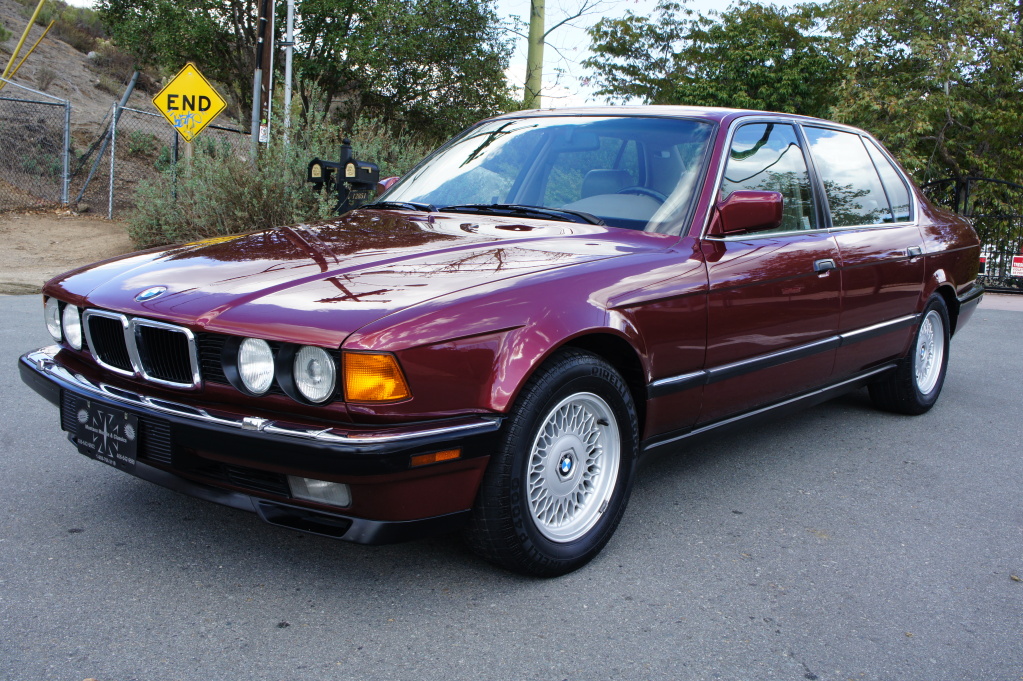 Here is a beautiful one of a kind one owner 1994 BMW 740iL with only 52K Original Miles.

This is a great car. You never see these cars this clean and with this low of miles. The 1 Previous Owner took amazing care of the car and it shows. The car runs great and the 4.0L V8 engine puts out plenty of power and makes the car a blast to drive. I have been driving the car around because it is very nice and tight car to drive. Inside and out the car is as clean as I have ever seen one of these. You will be very hard pressed to find a cleaner one. Everything on the car works and is just an awesome driving car. This is a 1 Owner Car that Only Has 52K Original Miles.

The exterior of this car is beautiful. It is a very nice Metallic Maroon color which is very rare and you don't see very many of. The paint is in amazing shape and just shines in the sun. The car looks like it spent most of it's life in a garage. It was probably used as a weekend driver. All of the trim is in excellent shape. There is maybe a ding or two but nothing major and you really have to look to see them. They even got the expensive factory Honeycomb Wheel Upgrade and they are wrapped in a very nice set of Pirelli P4000 Tires that have over 90% tread life left and even has the matching Tire on the spare which is brand new. You won't find a cleaner one.

Options:

Automatic Transmission
4.0L V8
Leather
Power Windows
Power Seats
Power Locks
Power Mirrors
Side and Rear Sun Shades
CD Changer
AM/FM Cassette
Climate Control
Factory A/C
Traction Control

The interior is in amazing condition on this car. It has the tan that looks great with the darker red exterior. The leather seats are in great shape and show very minimal wear and don't have any rips or tears in them anywhere. The carpets are about as clean as your gonna find. Has all of the factory Floor mats. The wood grain trim really sets off the inside of the car and gives it a really luxurious look. The car is fully loaded with all of the options that you could ever want. I just couldn't believe how clean this car is inside and out and how well it has been taken care of.

This car is just a rare beauty that you won't find another one of. They didn't make many in this color along with the interior. This is just a low mile 1 Owner Car that is super clean and a great driver that has been well cared for.
I'm always an advocate of buying the final year of any model run, as even reliable models will have had the kinks worked out and generally more up to date powerplants and technologies are available. The 4.0 liter V8 in this particular car will surely be easier to maintain than the 5.0 liter V12. My only problem is, which 7 series do I like better? The E38 or the E32? I still think I'm going to have to go for the E38. But if I was in the position to do so, I surely wouldn't turn down the chance at owning such a clean E32 as this one.
-Paul