I happened to watch the Top Gear special from Season 10 over the weekend, the episode where James May drove a 1985 Mercedes-Benz 230E across Botswana. The rugged nature of the W123 never ceases to amaze me. The coupe version was always a bit understated for such a personal vehicle, especially the diesel powered 300CD sold in the United States market. They are, however, just as reliable as their sedan and estate counterparts while adding a little bit of flair.
Here's a 1984 230CE for sale near Hamburg, Germany, which would conveniently fall just under the 25 year importation requirement we are faced with in the US.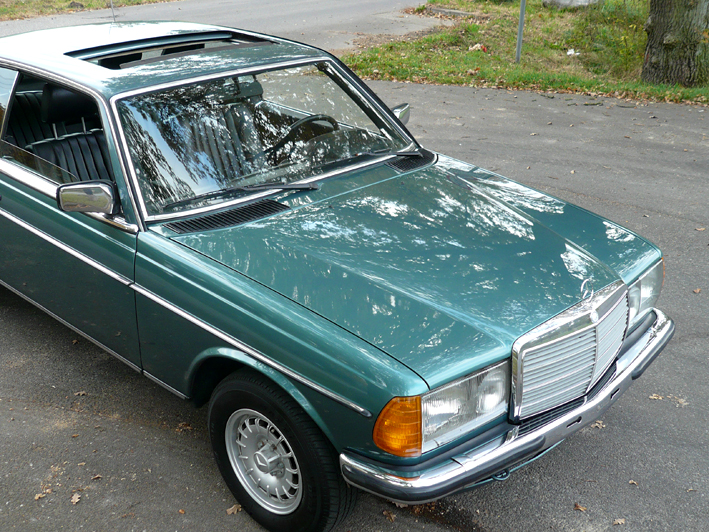 Mercedes-Benz W123 230CE in Petrol-Metallic with black leather interior.

Special features:
Black leather interior with rear headrests and center armrest, ABS (extra rare), electric Sunroof, heated seats, Becker Europa cassette radio, tinted glass, back lighting, height-adjustable seats, alloy wheels.

History:
Demonstrator at Mercedes. Sold in August 1984 to a restaurant owner. Temporary change of ownership from 1988 to 1991. After 14 years in the hands of one owner in Hamburg, the car was sold to a 66 year old man, who is the last owner. To state: Non smoking vehicle. It appears to be always garaged, the parcel shelf is deep black and the leather is very well preserved. The car looks great. The paint seems to have been renewed once.

Technically the car is in good order and drives well. For immediate sale with TüV/AU, otherwise on request by appointment. Slight traces of the car's age can not be overlooked. The defects I noticed: scratches on the front side windows and two porous seals the rear side windows. This can be renewed by agreement upon request. With buy it now, these will be new upon purchase.

Minimal rust can not be ruled out completely because of the vehicle's age. But fear not, this car is solid from the ground up! The underbody makes a very good impression. Documents available are: vehicle registration, maintenance manuals, on-board portfolio with instructions, service book and radio manual. The service manual was not filled out, the mileage is not provable, but in relation to the condition of the leather it seems realistic.
I like the combination of rare options such as the ABS and heated seats along with the fact that this is a seldom seem four cylinder manual transmission model. Most W123 coupes you see for sale tend to be the 280CE models in Europe, while the US market was only offered the 300CD. After seeing a 280CE in new condition at the Mercedes-Benz Museum in Stuttgart, I can't get the image of that car out of my head. Someday I will own a Mercedes once again, and it certainly won't be a new one. It's going to be a classic, or perhaps even a youngtimer such as this 230CE, as they are referred to in Germany.
-Paul