As with Andrew's R107, purists will want to look away from today's car.
This 2002 is a mix of eras, to say the least. Representing the 70s is, of course, the base car – here augmented by Turbo-esque bodywork. Representing the 80s, the fantastic but oddly placed Centra Type 7 wheels and a 5-speed manual transmission from an E21, along with some Recaro front seats and E24-sourced rear seats. for good measure, there's what appears to be a Volvo Turbo badge thrown on the rear. The 90s? This thing is rockin' an Alpine stereo, of course. And from the Naughts comes one of BMW's best shades, Laguna Seca Blue. The combination of all these things would perhaps lead you to believe that it should be this car that has the 1JZ under the hood, but no – a recently rebuilt M10 is still lingering. So does this car pull it all off?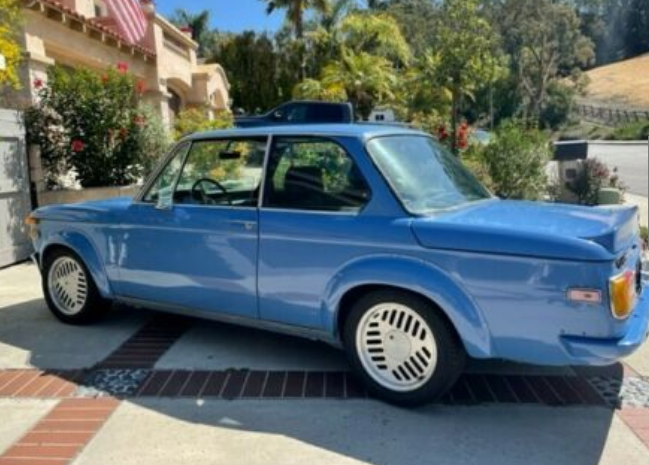 Year: 1976
Model: 2002
VIN: 2378189
Engine: 2.0 liter inline-4
Transmission: 5-speed automatic
Mileage: 15,000 mi (TMU)
Location: San Juan Capistrano, California
Price: $42,000 Buy It Now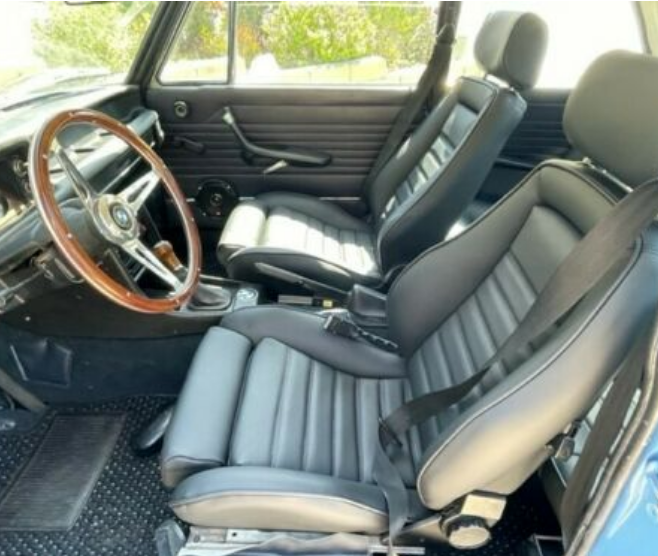 1976 BMW 2002 Restomod: $8K recently invested in M10 Engine (New 38/38 Weber Carburetor, New Ireland Engineering Shorty Header, New Anza Dual Exhaust, All New Hoses, New Alternator, 123Ignition BT Distributor $550, New Plug Wires/Plugs; 5-Speed Manual from E21, New Clutch, New Trans Mounts, New Differential Half Shafts, All New Brakes (Front Disks, Read Drum). Note: When purchased in 12/20/21, the 2002 had a "draw through" Turbo charger setup, hence the Turbo badging; the BMW Master Mechanic at Euro Performance World, Laguna Niguel, CA said the Boost was completely unpredictable, so we pulled the old Turbo setup and went back to a Clean, Tuned, Modified M10 Engine setup. All New Black Napa Leather Recaro Front Seats, and 635csi Rear Seats, All New Double-Plush Midnight Blue Carpets, All New Black/Blue Coco Mats Front/Back and Trunk. New Ireland Engineering Moto Lita Wood/Chrome Steering Wheel and Wood Shifter, New Alpine BT Stereo and (4) JBL Speakers, and New (3) Gauge Cluster. When purchased, it already had an Excellent Wide Body Turbo body and Custom Laguna Seca Blue w/White Pearl Single Stage PPG paint job (rear fiberglass bumper was painted with "Perfect" matching PPG Single Stage) the late 70's Centrex (love 'em or hate them) Rims w/ New Continental Tires. Btw, the New Buyer gets the "Turbo 2002" Decal $250 for Free, if you want to complete the Turbo Homage; you also get the Turbo Exhaust Manifold (needed for any future Turbo setup), and the old 80's Turbo, if you want to give it a Go! This "Little Blue Coupe" has the "Cool Factor" with a "Torquey Racer Attitude"!

Driving Video:


Walk Around Video:

The short answer, to me, is yes and no. The Centras are super cool but wrong for the car. The Turbo badge is interesting but also out of place. The rest? Well, I think it could be really neat with a set of Alpina replicas stuck on there. Is it $42k neat? What's a harder question to answer; there's a ton of work done here and it generally looks good, but the photos (apologies for that) are pretty poor and don't really show us how well it was done. If it's all top-notch, the price is probably on point. If it's not as well done, it's probably overvalued; you could have, for example, gotten this better-looking Inka Roundie for 7k less or a more rough-and-ready one for half the asking price here. The difference is in the details and the presentation, and both are a bit lacking in this ad.
-Carter