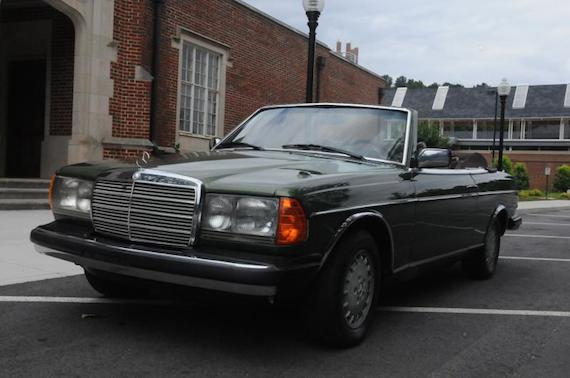 The year was 1976. Cadillac proclaimed it's Eldorado Convertible would be the "last American convertible." Safety concerns had put the idea of open roofed vehicles on the ropes. This concern would be short lived, as a few drop tops began appearing in the 1980s, including an Eldorado Convertible for 1983. This prompted some 1976 Eldorado owners to take legal action against Cadillac, to no avail.
Mercedes stayed the course with their 450SL roadster, however, a four-seat convertible would not reappear until the 1990s with the W124 E-class. This left the gates wide open for coach builders to chop the roofs off a number of SEC Coupes. An even more rare conversion is this car we see here, a W123 Convertible for sale in Georgia. Converted by a firm in New York, this 280CE Convertible makes one wonder why Mercedes didn't try their hand at al fresco motoring via the W123 chassis.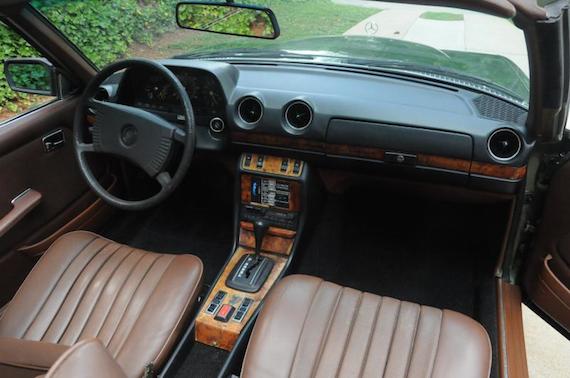 Year: 1979
Model: 280CE
Engine: 2.8 liter inline-6
Transmission: 4-speed automatic
Mileage: 124,200 mi
Price: No reserve auction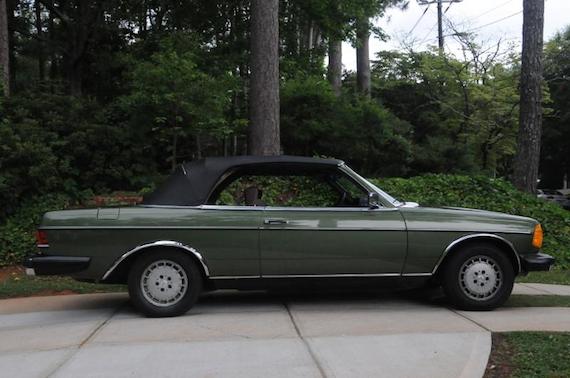 Up for auction is my 1979 280CE (W123) convertible. This car is rare, looks great and turns heads! Born as a coupe, this car was professionally transformed into a convertible in the 1980s by Niko-Michaels (New York). A 2010 Hemmings Daily (reviewing a similar convertible conversion of a Rolls Royce) is quoted as saying "Niko is regarded as one of the finest and most talented "old-world" craftsman whose hand craftsmanship is legendary and unsurpassed" (http://blog.hemmings.com/index.php/tag/niko-michael-coachworks/).

Although the car was mechanically great and it had no body damage, it was taken through a restoration (including the following):

Bare Metal Repaint in Cypress Green (correct 1979 Mercedes W123 paint code 876)…because the paint was looking tired
Not body-off restoration
No accident damage or body repairs were uncovered during repaint
Engine taken out of car during repaint with following replaced proactively:
front crank seal
rear main seal
drain line from head to oil pan
transmission front seal
steering idler arm bushings
new Mercedes OEM motor mounts
New convertible top
New carpet throughout
Apart from the obvious (and the radio upgrade), the car remains very original.

The car starts, runs and drives, shifts smoothy and stops on solid brakes. I have just had it professionally tuned before listing. Current odometer shows just over 124,100 miles and it may have a few more as I continue to enjoy the summer in Atlanta….but it won't be over 124,200 at time of sale.

Car has a full size spare and original tool kit and jack in the trunk… clear signs of a car that has been well cared for over its life.

Interior: No cracks in the dash – it looks like new. All four windows go up and down. The two rear windows are slow, but make the trip. I would say the wood trim is an 7/10 with the console showing need of refinishing/replacement (you can buy a refurbished one for $180 ish). Driver's side seat belt receiver is currently on order and will be installed before delivery.

The original radio was replaced with a Blaupunkt radio/cassette deck some time ago. Speakers were likely also upgraded as the sound is very good for a car of this age. Unfortunately, the antenna was broken at some point before I acquired the car and it doesn't work – but doesn't seem to affect the radio reception – so it hasn't been priority for me and doesn't affect the look of the car at all.

The custom manual convertible top retracts into a custom well and is protected by a custom canvas tonneau cover.

Engine bay is clean and freshly painted from the restoration with no surprises.

I put up lots of pictures including solid original trunk floor, spare wheel well and tool kit in original Mercedes tool wrap.

This is a 35 year old. I'm not presenting it to you as a Pebble Beach show car or perfect. This is a well sorted, great looking and driving convertible and the pictures don't lie. The rubber and chrome trim is in good shape but isn't perfect with a few small dings and scratches on various surfaces. I urge all bidders to come and inspect the car for yourself before bidding.

I'm selling it because I have a car that needs the garage space…and I never leave this one outside. I've spent more on this project than I'll get out of it – but that isn't why I did this restoration. I've always wanted a W123, and while this one is not stock, I love how it looks and believe I'm not alone.

It is for sale locally and I reserve the right to end the auction early. For sale as is/where is with clear GA title. I'm happy to work with the buyer on arranging transportation. This is a rare opportunity – don't miss it.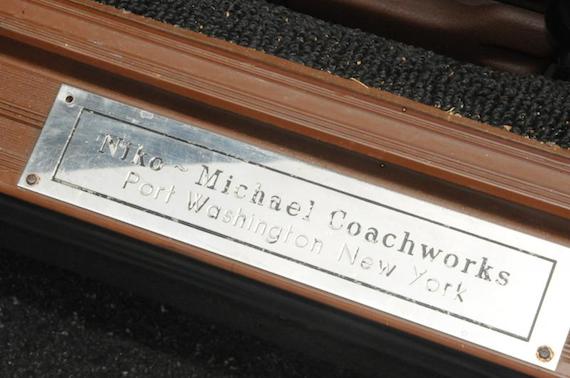 At no reserve, I'll be quite interested to see where bidding goes on this W123. The opening bid for this is not unrealistic at $8,000, so we'll probably see a few folks chime in and possibly spark some interest in the process. The conversion in this case looks to be a fairly professional execution. I really do love rare conversions such as this. A W123 Convertible seems like a car Mercedes would have done, and to the untrained eye, this particular car won't raise many eyebrows. But for those Mercedes enthusiasts in the know, it will be quite the curiosity on first inspection.
-Paul