Now here is a rare bird, a true E12 Alpina B7 Turbo. The E12 5-series pre-dated the more common E28 5-series and has always been under his younger brother's shadow. Maybe it was the fact that when the E12 530i was first offered in the US it featured thermal reactors and the most dismal fuel economy outside a big-block powered 1-ton pickup. They started off slow here on our shores, but if you have never seen an E12 M535i… Google that if you want to see an amazing car that started M sedan history. Even cooler than an M535i is what Alpina was doing to the cars with the rare B7. They made 300hp and had the suspension and brake mods to go with them. If you can remember in 1981 a Porsche 911SC made 180hp and the Chevrolet Corvette made just 190hp, so imagine a 4-door sedan with a turbocharged 300hp inline 6!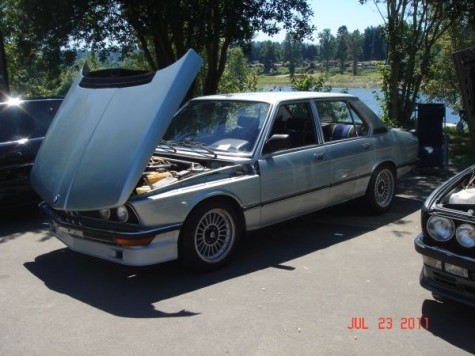 1981 Alpina B7 turbo sedan. Authentic Alpina car from Germany, rare and original numbers matching car. One of 209 E12 Chassis Based 5 series Sedans B7 and B7S's built between 1978-1982 with 300 hp turbocharged engine. Car is Sapphire blue metallic. Interior is black with Scheel seats upholstered in Alpina cloth. No sunroof. Close ratio dog leg 5 speed transmission, limited slip differential (2.93 gears) with oil cooler. Auxiliary gas tank in trunk, Alpina Auxiliary turbo gauges, along with Alpina standard instrument cluster gauges and adjustable boost knob between front seats. Alpina steering wheel and shift knob. Car is fitted with Alpina staggered 16″ wheels and full Alpina suspension. Car in very good condition cosmetically and mechanically. Local Sale preferred as car may not meet smog laws in many states. Car was registered previously in California and still has CARB sticker in door jamb but I cannot assist a buyer in California to make this car legal there again.
It is really difficult to put a price tag on a car like this, Alpina built just 209 B7 and B7S cars and very few of them reached our shores. How many are still left? The owner is knowledgeable and is aware of what he has. The market for 4-door collectibles has always been much softer than 2-doors but if you want to own a very rare and unusual piece of BMW history, what is the price? I hope a fellow enthusiast decides this is a keeper and if we're lucky they will take it to the Legends of the Autobahn event in Carmel, it would be perfect there!
– Nathan from Columbia Valley Luxury Cars