Warning!
This post is in our archives. Links in this post may have been updated to point to similar cars available to bid on eBay.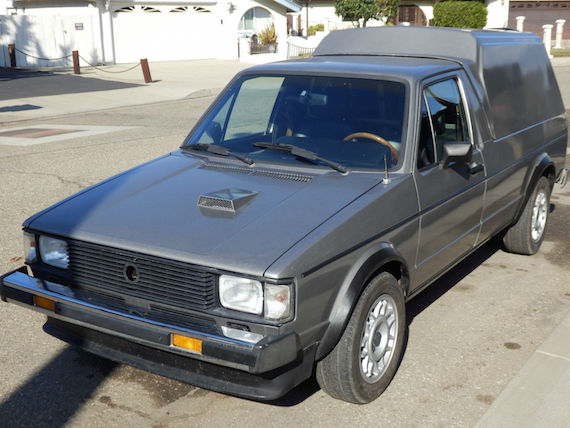 Today we have a sweet Rabbit Pickup that has gone through a complete restoration and updated to a rebuilt 1997 TDI motor from a Passat. These were efficient little buggers in the first place, but now it's got a little more power while maintaining the best gas mileage of any truck out there. It may not be the most attractive Caddy we've seen, as the emblemless grille and tacked-on hood scoop scar the front while the innocuous grey has that slightly dull finish marking a budget repaint. But the interior is quite nice with Recaros and a nice wood wheel-and-knob combo, underscoring the fact that this little pickup is built for comfort and utility. With just 15k miles on the renewed package, the seller is looking for top-Caddy dollar, asking $11,400.
Click for details: 1981 Volkswagen Rabbit Pickup TDI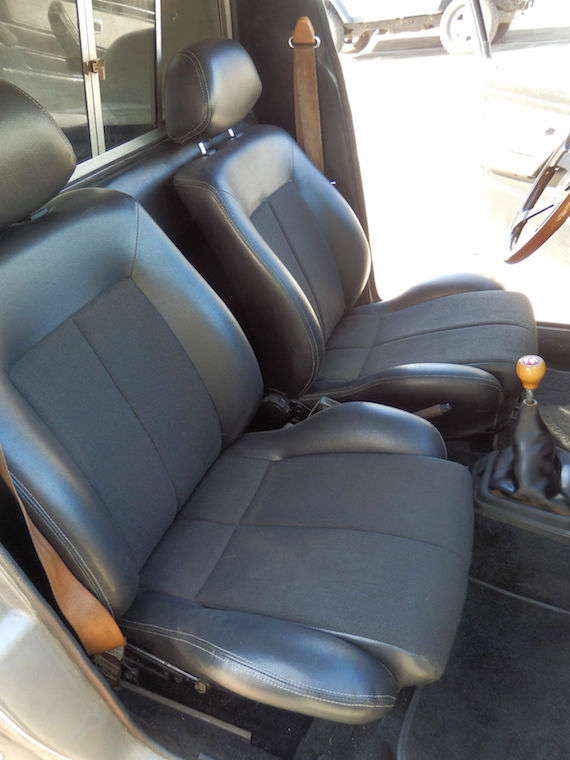 Year: 1981
Model: Rabbit Pickup
Engine: 1.9 liter turbocharged inline-4 diesel
Transmission: 5-speed manual
Mileage: 15,000 mi on full rebuild
Price: $11,400 Buy It Now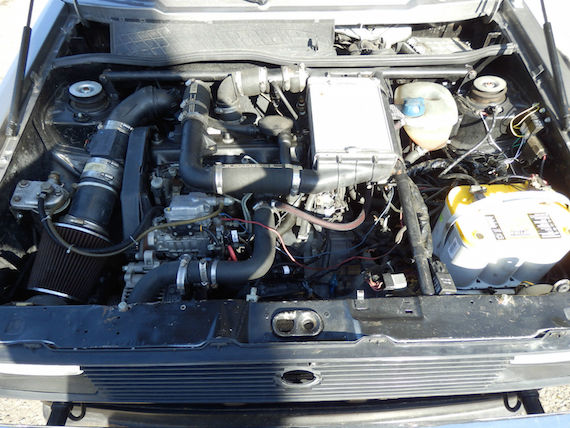 I own two of these VW pick-up. I drive only one, so this one has to go (I need the money to buy a home). This one has been in my garage for about a year now. I have not drove it in about six months. The car is a TDI (engine code alh). This truck has gone through a total restoration that was completed around the end of 2012. Since about that time there has been approx. 15000 miles put on the Car/Motor. The pick up started out as a rust free Lx edition that was purchased for 5K. It was then methodically and professionally taken apart and put back together. The highlights of the car being the 1.9 TDI motor that was taken out of a 97 Jetta. The motor alone cost $3,500 with receipt. It was then taken apart. Any internal parts needed were replaced. At that time it also got a new timing belt, water-pump, tensioners and etc. The cost was $1,900. As a cautionary measure, the injection pump and turbo were rebuilt. The motor also has a performance chip and received larger injector nozzles. As seen in the pictures it also has an intercooler. The motor runs great and does not seep, drip, or burn any oil. It has about 110 hp or more and is very quick and fast. It will go way over 100, though thats as fast as i was willing to drive. This car was built for the freeway and is happiest at about 70 plus. At 70 mph it gets an honest 44 mpg with the bed cap, and 46 mpg without it.

At the time of the build the transmission was gone through and a taller 5th gear installed. At that time it also got a new clutch and flywheel work. Most everything on this truck has been replaced or rebuilt. Brakes with drilled rotors are about 90%. The bed has been rhino lined. The tail-gate opens/closed easily and smoothly. The bed-cap window/door opens/closes easily and smoothly. The cab interior was totally gutted and sound deadening material was installed. The dashboard was taken out, all cracks were filled, sanded and re-wrapped in new Leather. Custom made leather/ tweed door panels, tweed headliner and sun visor. New carpet. The new Recaro Seats alone were more then $1,500. As seen in the pics. new aftermarket gauges. Custom 4 pt MoMo wood steering wheel. Very nice Kenwood four speaker stereo. Most all hardware and door/window rubber replaced. New paint and body molding. New set of powder-coated wheels. Neuspeed engine compartment support. Also want to mention it operates with a single key only for both the doors and ignition.

The issues with the car are as follows:

After-market license plate light on one side only. I have the optional working pair of original stock lights. They need to my mounted.
clock stopped working (probable ground issue)
hand brake parking dashboard light stays on from time to time.
dime size ding on cab roof (easily removed with paintless dent removal.
ashtray hinge need tightening
Vw logo on front of car missing
Tires too big. As I mentioned I have two of these pickups. As I was not driving this one, I took the tires and used them for my other pickup. The tires are a bit worn and a size too big. (Makes it hard too turn in tight parking spaces)
Passenger door difficult to open from outside. (opens good from the inside) Probable worn linkage inside of door.

A bidder asked if the transmission was a stock original or a TDI. The transmission is a TDI trans-axle that was mated for the motor. It was rebuilt by at
a cost of approx. $800 (I have receipt)

The truck is located in Pismo Beach/Grover Beach, CA

Any questions please feel free to message me and I will promptly return your correspondence.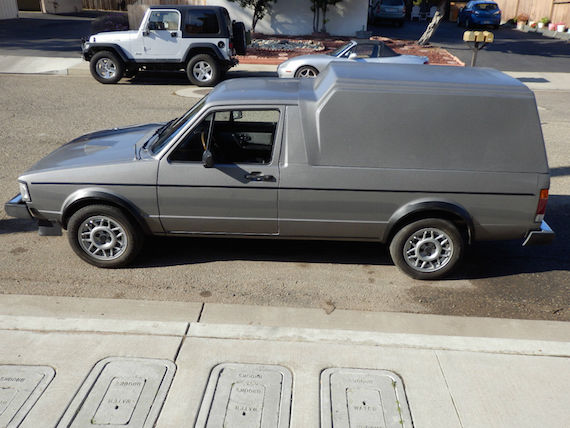 Seems like a pretty complete package, and I've always been a fan of an older car with newer running gear. He certainly has a lot of time and money in on this, but I wonder if someone with the pragmatism to want a car with this specific set of capabilities wouldn't be able to find a less expensive option to suit their needs. In short, I think this seller is looking for a kindred spirit, someone who loves Rabbit Trucks so much that cost is secondary. If that person happens upon this auction, they will be getting a bland-looking but sweet-running little truck!
-NR