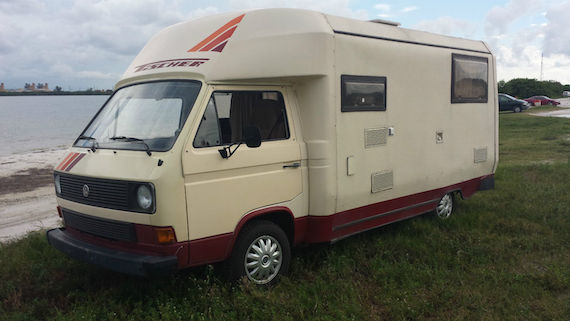 Here's another one to add to our collective knowledge of obscure camper vans! I hadn't heard of Tischer before but it's not that surprising considering they only made 85 total and only 10 of this XL model. Seems like a reasonable idea – "Volkswagen vans are slow, the campers even slower, the diesels are even slower, so let's throw a whole RV on the back of one!" I like the idea of space, but to me RVs are about eliminating inconveniences, yet this seems like one seriously inconvenient RV. With an engine swap and a lot of work to fix all the "untried, assume not working" appliances this could be a funny piece of VWeird. Until then, it just seems like a gnarly project.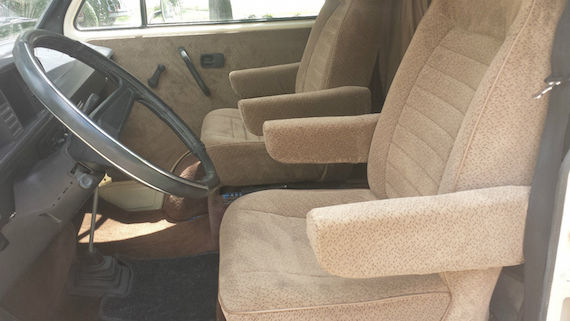 Year: 1982
Model: T3 Tischer XL
Engine: 1.6 liter inline-4 diesel
Transmission: 4-speed manual
Mileage: 75,000 mi
Price: Reserve auction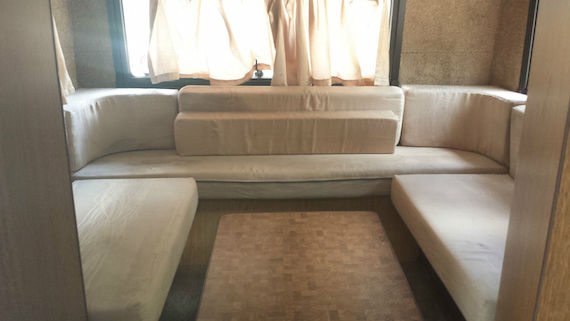 Up for sale a very rare European import VW T3 Tischer XL diesel with only 74000 miles on the clock.4 speed manual, 1.6 diesel non-turbo,no powersteering,no ac,4 speed manual,so nut much that can break :-). Yes,its slow but I was able to get it up to 67mph so fast enough for the highway.

What does it need and what not,ill start with the bad first.A new restroom doorknob,B 2 speakers for the car radio, C rear window is double pane and the inner glas is cracked. D a good buff job, E the driver seat slider lock don't work, F appliances have not been tested,maybe they work but for now just assume they don't. I guess a couple of bucks and 1 or 2 days of elbow sweat and you are good to go.Speedo is KM and has 117000km.

Still reading???

Ok the good,only 85 Tischers widebodys where made and only about 10 in the XL model,like this one. This is not a project VW or restauration object, theoretically you could jump in it now and go for a road trip. No ac but can it be added,im sure it could. A rooftop ac for sure,dash maybe also,not my cup of tea. There is a rest room with a portapotti so there is no black water tank.Only grey and fresh and I don't know their capacity. The shower is in the restroom,water heater has not been tested or tried out. There is heating in the camper,also not tested or tried out. There is a fridge,not tried and not tested and there is a stove and has not been tested or tried out. Please don't ask me to test or try them since I won't.

I'm sure most will work but as a disclaimer,just assume they don't work. There is room for a propane tank in the engine compartment. Frame and body are solid and next to rust free. I can only post about 24 photos but I have about 65 photos on file. All 4 tires are almost brandnew and although there is no powersteering it all- most feel like it does. This RV has a clean and clear Florida title and can be driven anywhere, Fla residents pay sales tax, out of staters also if they want to drive it home themselves and ill supply a temp tag. If hauled out of state, no sales tax. I have used this RV for a bunch of road and scuba trips to the Keys and it didn't bring me there fast but it did bring me there,and back. I just carried a cooler with ice with me and a plug and play portable ac since I was doing campground with utilities. Again, this is not a restauration project, no technical issues, she drives like new, shifts like new, brakes like new and with a good buffjob she will look like new.

Inside,lots of cabinets and the horse shoe shape back seat are will make into a large bed in 1 minute. The cushions aka matress could use a good cleaning or new covers. Maybe a good wash in the washing machine would already help a lot. Me myself I would replace the covers for newer,maybe a fresher color. Above the cab is storage but a handy person, I'm sure could create a extra sleeping place there. There is no tv or radio in the back and only a carradio in front. Talking about the interior, I rehabbed the interior about 1 month ago, from front to back to the cab. Vinyl and carpet are also new.Headliner new. Front seats and doorpanel,well,just look at the photos, its really really nice inside and that for a 33 year old van. Its also really quiet inside when you drive, the engine is already not loud but the engine is also insulated by a steel lid, then the wood and the cushions plus its in the far back and you can close the privacy curtain between cab and back. Driver and passenger seat are very nice and both have dual armrests. Very comfy. There is a ladder in back for roof inspections. You can not stand on roof, these campers where build very light. I put a new alternator in it and put new return diesel return lines. Windows go up and down in the cab manually and both work. No generator. Please talk to your wife and/or financial institution prior to bidding please.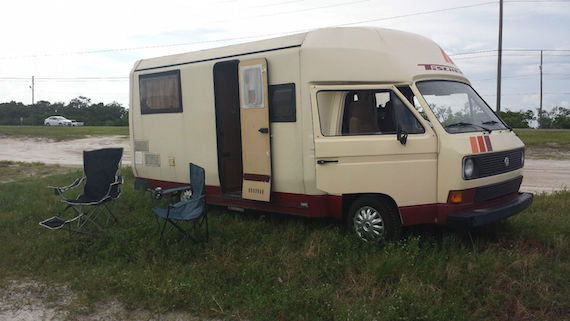 According to the seller it functions as a camper, and looking at the rear dining/bed set up it does seem like it has potential. However, that potential lies behind a wall of money and work when you could just get a Westy and get a lot more thumbs up. I do hope someone with the skills and patience to restore this beast gets ahold of it, but it was listed by the same guy on the Samba last year at $17,500 which is just way, way too much. Seems like he has the patience to use it for some fishing trips and just keep letting it sit as is. I like learning about the myriad weird campers out there, but maybe this is one of those cases where it's rare because people quickly realized it just sucked.
-NR