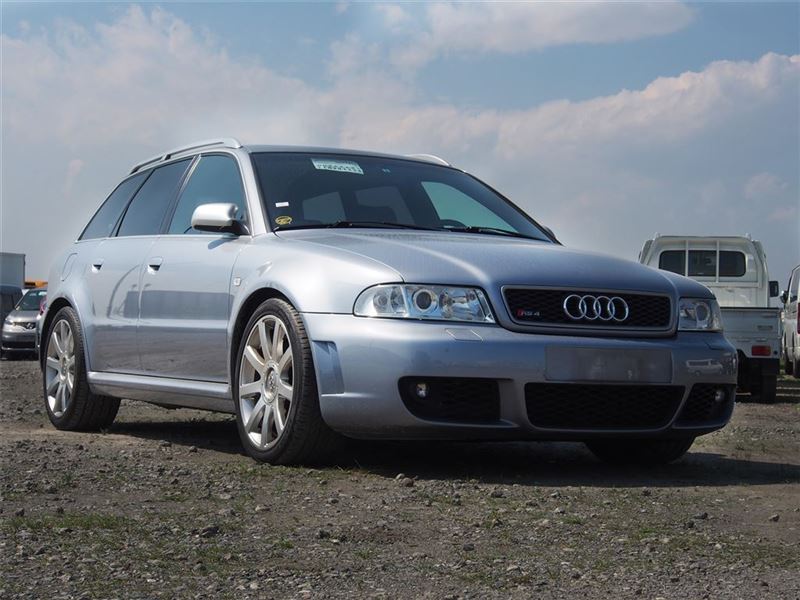 If you follow these pages, neither the names RS4 or Avant should be particularly new to you. Audi's B5 generation fast wagon wasn't the first to wear the RS badge, but it was the first fully quattro GmbH RS car. In the spirit of the RS2 built in conjunction with Porsche and the S6 plus which moved production in house to the quattro GmbH subsidiary, Audi utilized the VAG group acquisition of Cosworth to up the boost on the twin-turbocharged V6 to produce the best part of 400 horsepower. But while the RS2 and S6 plus had rather discrete changes outside to signify how special they were, the RS4 added vents, slats, big flares and giant wheels to back up the added performance. It was the change that launched a thousand dreams, as countless B5 S4 owners attempted to recreate the package that wasn't brought to the U.S.. A few have made it here through back channels and we've written up previously the huge premium they command over regular S4s, but the newer generations of performance cars have dimmed the concentration on the older wonder Audis. Still, even today the RS4 is a pretty potent performance machine and getting closer to being legally importable to the U.S.. But of course our neighbors to the north have more lax importations laws, so RS4s are making their way into Canada as we speak. Additionally, really good examples of the regular S4 Avants are drying up as well. Today, I have an interesting comparison – a just imported, low mileage RS4 Avant versus a fully upgraded, low mileage S4 Avant – likely one of the nicest in the U.S.. What's the difference in value today?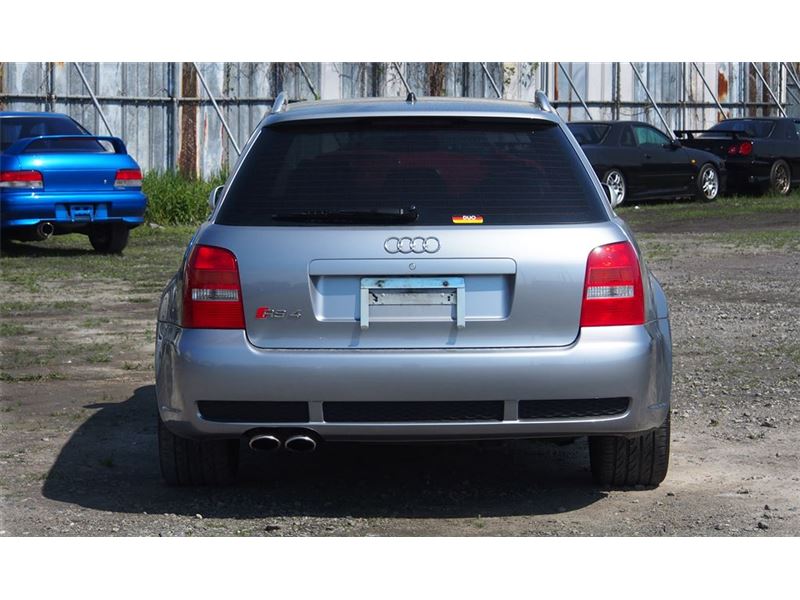 Year: 2001
Model: RS4 Avant
Engine: 2.7 liter twin-turbocharged V6
Transmission: 6-speed manual
Mileage: 58,800 km (36,536 mi)
Price: $57,500 CAN ($44,070 U.S.)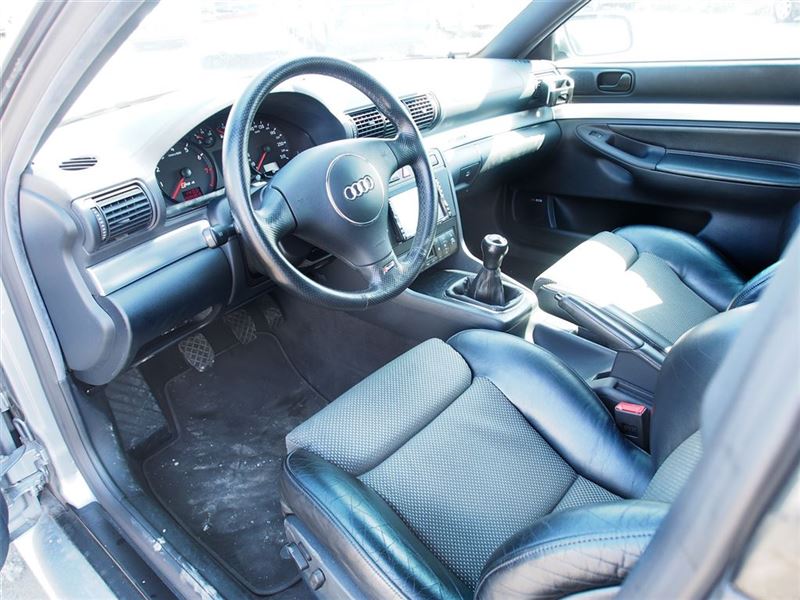 COMING SOON! THIS IS THE 1ST B5 RS4 AVANT TO BE IMPORTED INTO CANADA! ULTRA LOW MILEAGE AND PERFECT PRISTINE HISTORY AND CONDITION INSIDE AND OUT – 2.7L TWIN TURBO V6 WITH 375 HP AND 325 LB. FT. OF TORQUE – A RARE ULTRA HIGH PERFORMANCE ALL WHEEL DRIVE 6 SPEED MANUAL WAGON – A DEFINITE COLLECTOR'S CAR AND ONE OF A KIND VEHICLE!

This Audi RS4 Avant was not available for sale in North America; this pristine example is the first of its kind to be available for sale in Canada. It is sure to be a beautiful addition to anyone's collection, investment portfolio or daily driver fleet.

Tech Specs:

Engine Codes: ASJ/AZR
Engine: 2.7L V6 TwinTurbo DOHC 30V
375 Horsepower at 7,000 RPM
325 LB. FT. Torque at 2,500-6,000 RPM
Aluminum Hardened Headers by Cosworth Technology
Roof Rails in Aluminum Trim
Special RS4 Side Moldings
255/35ZR 18 Inch High Performance Tires
Dual Oval Exhausts
Special RS4 Rear Spoiler
Electronic Stability Program (ESP)
Airbags w/Switch for Deactivating Passenger Airbag
HID Headlights
Audi Concert Symphony Audio System
Carbon Fiber Engine Cover
Permanent 4WD Quattro; Automatically Locking Torsen Centre Differential, Electronic Differential Lock EDS Via Brake Activation for All Driven Wheels

Mechanically, the Honeycomb grille in the front bumpers serve to cover the intake apertures for the air coolers. Similar enhancements were applied to the body, with the RS4 gaining significantly wider wheel arches with deep, grille laden bumpers and sill extensions, providing a wider track and having the combined effect of making the RS4 unmistakable.

The condition of this extremely low mileage RS4 Avant is showroom worthy, both inside and out. This pristine B5 Audi RS4 Avant that is available for sale gives you the rarest of opportunities; to be the first Canadian to ever own this living classic.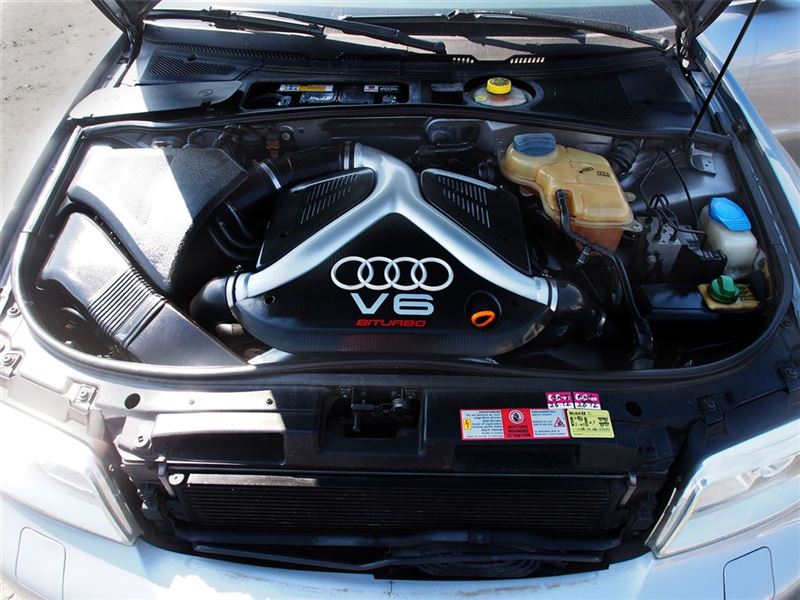 I'm not sure regarding the claim that this is the first RS4 in Canada; there are at least three and maybe more kicking around the U.S. already, but it could be true. However, the rest of the listing does do a good job of the rundown of what makes the RS4 special. An obvious importer, there are some really neat cars hanging out in the background of the photos. Condition is top, though they honestly should have vacuumed the interior as it looks not "showroom" as described. But the Avus Silver Pearl with the original alloys and great RS interior make this a really special car. The asking price is substantially less than previous examples we've seen. $44,000 seems to be a pretty good price for a very special bit of Audi history, a serious performance car and what will likely be a collector in the future. But how does it compare to a turned up S4 Avant?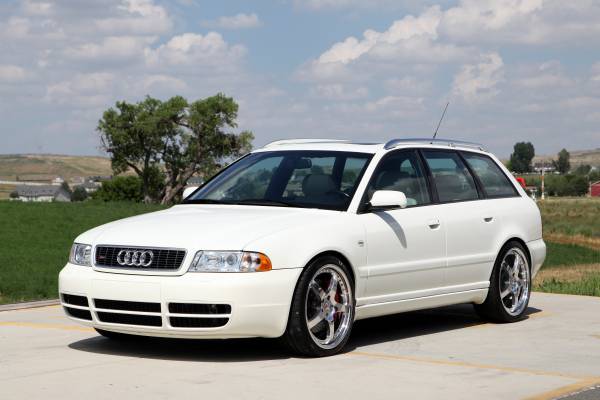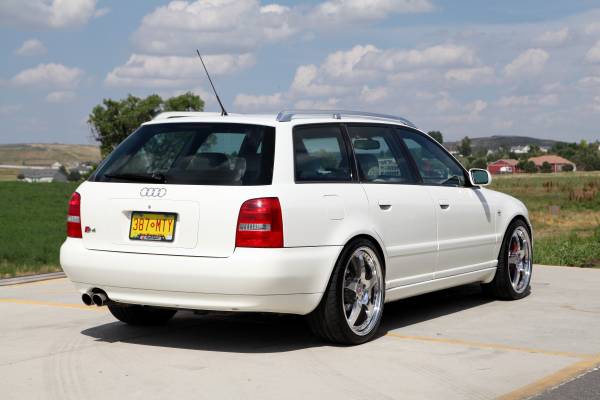 Year: 2001.5
Model: S4 Avant
Engine: 2.7 liter twin-turbocharged V6
Transmission: 6-speed manual
Mileage: 36,300 mi
Price: $30,000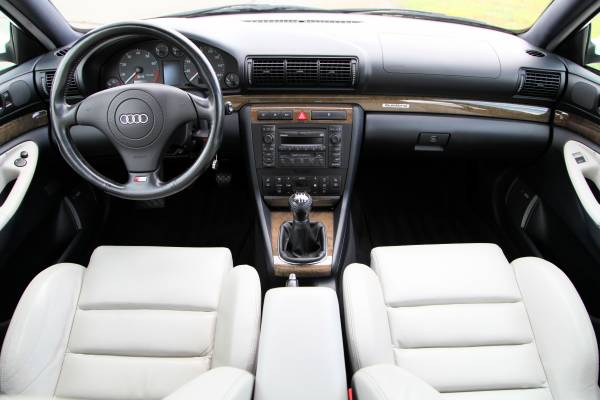 2001 (2001.5 – post facelift) Audi S4 Avant
36,300 Documented Miles, 1-Owner Car

The following is directly off the original window sticker (included):
Casablanca White Exterior
Silver Leather Interior (over Black with Birdseye Maple Wood Inlays)
6-speed Manual
Premium Package
Power Glass Sunroof
Homelink Remote Transmitter
Auto Dimming Inside & Outside Mirrors
Bose Premium Sound
Integrated Hands-Free Mobile Phone
Heated Front Seats
Silk Napa Leather Interior

Summary

1 of 6 2001 Model Year Casa / Silver S4 Avants Imported to US
Collector / Enthusiast Owned and Maintained
Timing Belt, Water Pump, Coolant Flush, Oil Change done at 35.5K miles
Achtuning Stage III RS4 Upgrade done in 2002
RS4 Clutch, Pressure Plate, & Flywheel
UUC Short Shift Kit
Audi Performance Racing Exhaust and Cats
Stoptech 332mm Brakes / Pagid Orange Pads
19″ HRE 845R Wheels
Michelin Pilot Super Sport Tires (less than 1000 miles)
Custom Fitted Car Cover
Stock Wheels Available
Stock Exhaust and Cats Available

Background

This is one of six Casablanca White over Silver Leather Audi S4 Avants imported in the 2001 model year (confirmed by Audi USA). To put that in perspective Audi imported a total of 1,540 B5 S4 Avants, the majority of which were some 1,257 2001 model year cars (both pre and post facelift). Of those, only six were Casa over Silver. I am selling it as part of a collection belonging to a Santa Fe based art dealer. He is a member of the Audi, BMW, and Porsche Clubs, an avid German automobile enthusiast. He ordered the S4 new and has meticulously built, driven, and maintained the car to impeccable standards. It has lived its life in a climate-controlled facility on a battery tender under a custom car cover (included), but has also been driven regularly, the perfect balance of preservation and enjoyment.

Condition

The condition of this S4 Avant is remarkable. The interior still smells like it did when the car was delivered. The Casablanca white paint and black shadow line trim are in excellent condition with glossy clear coat and zero UV fade. The headlight lenses and windshield glass are perfectly clear and free of pitting. The only imperfections are a few small rock chips on the front bumper cover. The front bumper cover overhangs are slightly extended, but nothing like most B5 front bumper clips. The leather seats, steering wheel, and shifter, are soft, unworn, and supple. Even the rubber door seals are smooth to the touch and delightfully soft. The interior door pulls have no wear or faded paint. All interior functions work exactly as they should. The Audi Symphony Bose Premium sound is excellent. The automatic climate control provides hot heat and cold AC on demand. The original factory cell phone, sporting 4 beautiful Auto-Union rings, is snugly encased in the leather-covered armrest. The only interior imperfections are a ¼" spot on the driver's seat bottom cushion and a few lines of faded pixels in the center cluster display and only when it's hot out. I can repair this common issue at the buyer's discretion.

The Build

The first thing my client did back in 2001 was swap out the stock wheels with polished 19″ HRE 845R wheels. Currently these wheels are wearing fresh Michelin Pilot Super Sport tires with less than 1000 miles since installation. The OEM wheels (and tires) are available (shipped from NM) and have less than 100 miles on them. The next thing he did was replace the suspension with H&R coilovers. In 2002 the real fun began. He flew two Audi trained master technicians from Achtuning in Redmond, WA to Santa Fe, NM to install a genuine RS4 Stage III upgrade. This was an early RS4 Stage III upgrade that included:

RS4 K04 Turbos
RS4 Turbo Inlet Pipes
RS4 Airbox
RS4 Mass Air Flow Meter
RS4 Intake Y Pipe
RS4 Y Pipe Connector Hoses
RS4 Fuel Injectors
RS4 Fuel Injector Seals
Custom Brass Fuel Injector Adaptors
RS4 Fuel Pump
RS4 Fuel Pressure Regulator
All Misc Hardware
Custom AMS Tuned ECU Software Upgrade

The following items were also upgraded at the same time:

RS4 Split Intercoolers
RS4 Oil Cooler
Forge Bypass Valves
AMS Reinforced Throttle Body Boot
RS4 Clutch Disc and Pressure Plate (with new throw out bearing)
RS4 Flywheel
Transmission Stabilizer Bar
UUC Short Shift Kit
Neuspeed Rear Sway Bar
Stoptech 332mm Front Brake Kit (w/cross drilled rotors and no-logo calipers)
Pagid Orange Brake Pads
Audi Performance Racing (APR) Prototype Stainless Steel Exhaust with custom Catalytic convertors*

*The original exhaust and cats are available (shipped from NM).

In addition to the upgrades, all factory preventative maintenance has been complied with and the engine and gearbox oils have been changed annually using Redline fluids.

Impressions

The result of this build is a highly competent S4 Avant that represents the sophisticated tastes of the seller. He insisted that I drive, not ship, the car from Santa Fe to Denver in order to accurately describe it (a moot point for the likely buyer of an Audi of this caliber). Over Four-hundred miles behind the wheel left me with strong impressions. I enjoyed an early summer twilight drive with blissfully rolling sweeping turns through the Sangre De Cristo Mountains of Northern New Mexico followed by the desolate wide-open plains of Southern Colorado. My face hurt from smiling by the time I reached Denver. The strongest impression I had is why Audi even bothered with the regular S4? They all should be like this. The B5 Stage III RS4 S4 upgrade has evolved over the years, and this is an early upgrade done at a time when it was highly exclusive. It doesn't have some of the later RS4 upgrade bits, but it was done right.

The modifications are complimentary improvements that don't sacrifice the stock look or nature of the B5 S4 Avant. The power (an estimated 420hp at the flywheel) is more than ample and always available when you need it. The APR exhaust note is purposeful, yet refined and unobtrusive. I wasn't the least bit bothered by it after hours behind the wheel. The fresh Michelin Pilot Super Sport tires and Stoptech brakes offer grip and stopping power that far exceed the needs of even the most spirited drive on public roads. The H&R coilovers offer an amazingly athletic, yet very compliant ride. This is at the expense of a little front fender liner wear, but perfectly set up for GT cruising even with 19″ wheels. HRE wheels don't usually find themselves mounted on B5 S4's, but this is no ordinary B5 S4. They are polished, which is period correct for 2001, but not necessarily the current trend. When I first saw them I didn't like the polished look, but over time I grew to appreciate the look and the quality of HRE wheels. If I were going to keep the car, I would have them refinished in gloss black to match the door trim and S4 shadow line trim. If they don't match the buyer's tastes, than can easily be sold for enough money to afford the wheel of their choice.

Sale

In preparation for the sale, the owner performed a complete service including timing belt, water pump, valve cover gaskets, coolant flush, and engine oil change using OEM parts and Redline oil. He also ordered two new key FOB's, in addition to the original two for a total of four remote locking keys. All records, including receipts from the swap are available, along with the Carfax. We would like to find a buyer that appreciates this B5 for what it is and will continue its ownership pedigree and enjoy it for years to come. The population of B5 Audi S4 Avants in the US have been well enjoyed by their owners, and rightfully so. The low mileage and premium condition of this Avant make it extremely exclusive. It is our pleasure to offer it for sale. I have photographed the car in sunlight and shade along with all accessible relevant areas. The is a gallery of over 80 images on our website (below). I am pleased to answer questions or comments.

Glen Shelly is a low volume auto brokerage focused only on the highest quality vehicles. We are two airline pilots, mechanics, and auto enthusiasts who bring a high level of professionalism and attention to detail to the automobile business. Our philosophy is to keep our inventory small so that we can focus on thorough mechanical and cosmetic preparation of the vehicles we select. We have over 20 years of experience restoring and repairing automobiles and are intimately familiar with our cars. We do the inspections, service, detailing, and corrective maintenance using only OEM parts and service manuals. We offer an informed and low-pressure sales environment resulting in a premium buying experience. Find out more about us at www.Glenshelly.com.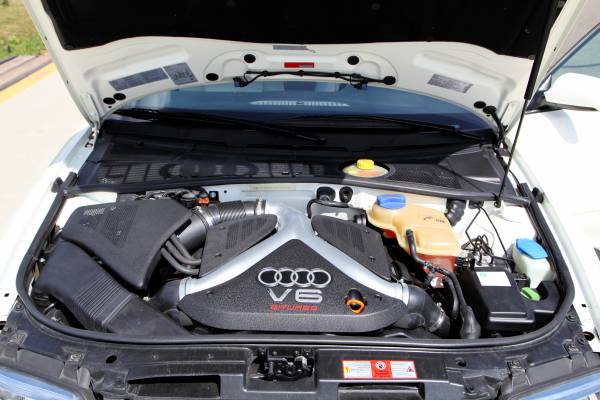 This S4 Avant is simply exceptional; a no-expense spared build, it was modified when new to RS4 specs and has high quality OEM parts coupled with upgraded brakes and some super-expensive HRE wheels. On top of that, this is a very low mileage, excellent example in a very rare color combination. The asking price is as staggering as the condition though; $30,000 is the most I've seen in some time for a B5 chassis; excepting, of course, the RS4. But in many ways I can see the likely irreplaceable value here, and notably it's considerably less than the non-importable RS4. Long term, it's not going to be nearly as much of a collector status car; but you could own this one and drive it sparingly for the next 11 years, retaining likely a fair amount of the value while B5 RS4 prices drop until they're importable, then swap it out for the RS model. Between the two, I think amazingly I may prefer the normal S4 in this case!
Thanks to Toshihiko for the great RS4 spot!
-Carter