This week I received as a gift from my Pops, who also is a German car fan, a large poster from a 1986 calendar featuring the BMW 635csi Group A racer dressed up in the "Jambon des Ardennes" colors. Just for kicks I did some searching on the car to see if I could learn a bit more history about it, well to my surprise the very car featured in my newly acquired 26 year old calendar is currently for sale.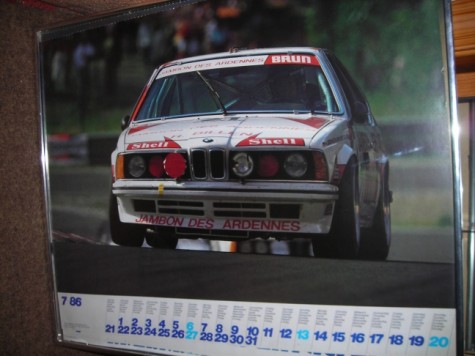 This car is famous enough to have models of it made in the red and white "ham" livery. It competed at the Spa 24 amongst other competitions including what appears to be time in DTM and the ETCC. The potent inline 6 was pumping out an Alpina tuned 300 horsepower in race trim. The seller states the car was originally owned by Brun Motorsport and has had drivers such as Walter Brun, Kurt König, and a guy who I actually have had the opportunity to race karts against, Hans Stuck (despite being twice my age he had no problem smoking me, and everyone else, on the track).
There is no price with the car, but the dealership, Springbok Sportwagen near Hanover, is known for super high end new and old classics, as well as racers. The car is listed as ready to race and includes books from its previous race history. This shark nose would make a pretty sweet vintage racer and would really stand out if it made it stateside.
Even when it comes to cars its a small world and I find this serendipitous discovery neat. I include a picture of the calendar that started the search.
~Evan