Here's a model we haven't posted too many of. It's no speed-demon, but the 4000S is a handsome sedan full of 80s style. Family-owned since new, the son of the original owner has given it some modern Jersey style. The overdone stereo and powdercoated engine parts are a bit much, but reflect that this car has been loved, not abused. It'd be even better with the 4000CS's 2.2L engine instead of the S's 1.8, but if you're looking for power, start thinking about engine swaps. 210k miles down but with tons of new parts and a beautiful exterior, this is a nice vintage Audi.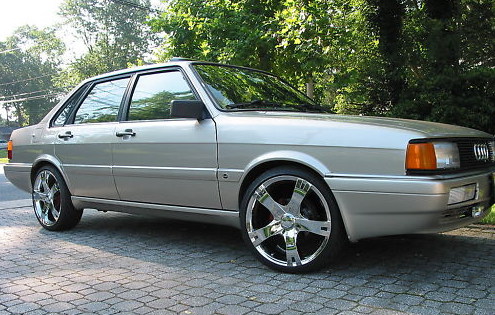 A laundry list from the seller:
THIS CAR IS FROM ORIGINAL OWNERS. IT WAS MY FATHERS CAR HANDED DOWN TO ME. IT HAS NEVER BEEN IN AN ACCIDENT THAT IM AWARE OF. I HAVE PUT IN THOUSANDS OF DOLLARS TO RESTORE THIS TO ALMOST PERFECT CONDITION. I USED FACTORY AUDI PARTS ONLY WHEN I DO ANY THING BESIDES THE OBVIOUS.

THE FOLLOWING ARE JUST SOME OF THE MODS I DID:

ONE OF THE FIRST IN DASH PIONEER 5.1 DIGITAL SURROUND SOUND DVD PLAYER AND VOICE RECOGNITION NAVIGATION UNITS. 7.1″ SCREEN

AUDIOBAHN AMPS(1-4CHANNEL AND 1 SINGLE CHANNEL), ROCKFORD SPEAKERS AND POWER HX2'S 12″ X 2 SUB IN TRUNK (SEE PICS)

18″ SACHI S6 RIMS WITH TOP NOTCH PERFORMANCE DUNLOP TIRES (FOR SUMMER) – BRAND NEW

16″ KONIG RIMS WITH TOP NOTCH SNOW TIRES (FOR WINTER CRUISING) – BRAND NEW

BILSTEIN SHOCKS AND STRUT INSERTS.

COIL-OVERS (ADJUST TO ANY HEIGHT YOU WANT)

SYLVANIA HID FOG LAMPS LIGHT UP THE ROAD CAUSE THE STOCK HEADLIGHTS ARE HORRIBLE. (EVEN WITH THE BEST 2004 BULBS ON THE MARKET).

STAINLESS STEEL EXHAUST FROM MANIFOLD BACK.

O2 SENSOR MONITORING SYSTEM FROM XD-1 SYSTEM.

I HAD THE PAINT REDONE BY REPUTABLE A-1 BODYMAN (NO MAACO HERE).

NOW UNDER THE HOOD:

MOST OF THE STUFF UNDER HOOD IS MAINLY FACTORY OR USING BOSCH PARTS ONLY

NEW RADIATOR

NEW CONDENSER

NEW A/C COMPRESSOR

NEW ALTERNATOR WHICH IS POWDER COATED (SEE PICS)

NEW WATER PUMP.

NEW TIMING BELT AND PULLEYS

NEW SEALS ALL THE WAY AROUND INCLUDING TRANSMISSION SEALS ON AXLES AND PUSH ROD.

NEW PISTON RINGS AND 5 ANGLE VALVE JOB DONE ABOUT 4,000 MILES AGO.

NEW OIL PUMP

NEW DISTRIBUTOR PLUGS WIRES CAP AND ROTOR

THE EXHAUST AND INTAKE MANIFOLDS WERE JET HOTTED.

VALVE COVER WAS POWDER COATED AS WELL AS TIMING BELT COVER

NEW CLUTCH AND PRESSURE PLATE. (ALSO HAD FLYWHEEL MACHINED).

NEW BRAKE PADS ROTORS DRUMS STAINLESS BRAKE LINES.

RECENTLY SERVICED AT AUDI DEALER.
Starting at $1 and an unknown reserve makes it hard to gauge, but with these kind of miles, it could be a nice car for under $5k. Put on some more tasteful wheels and you have a nice commuter. Put in a 2.2 turbo, and you have a kickass Audi.
-NR