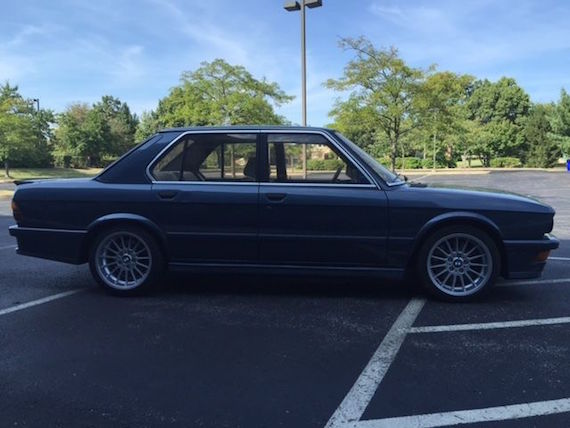 The M535i is an interesting piece of BMW history in many ways. On the plus side, it came straight from the E12 M535i, which was a direct result of BMW's motorsports efforts and was hand-built. Unfortunately, the E28 M535i was no longer hand-built nor rare. Mostly a bodykit and ///M badges unless some options boxes were ticked, the M535i acted more as an advertisement for the BMW's blossoming M Division, getting those tricolored stripes and Ms out in public as the M3, M5, and M6 took charge as the real performance flag bearers. With rose colored lenses we could see it as an instrumental piece of building the extra-performance arm of the Ultimate Driving Machine; cynically, it can be identified as the beginning of BMW's whoring out of the M cachet as all show and no go. Whatever your viewpoint, they are relatively rare, never-sold-here E28 legends that will attract some attention from those in the know.
This example isn't pristine but is better than decent and represents a nice opportunity to get in a piece of E28 history for a reasonable price. The exterior appears to be the best part, with nice paint and complete M-Technic bodykit. The interior – though cloth, which I love – has some unfortunate holes, though not much worse than you'd see on leather. I absolutely love the Style 32 wheels in general, and they fit the OEM+ nature of the M535i perfectly – better than most other E28s I've seen with them. With a brake upgrade and recent tune-up, 165k miles isn't much of a concern on the workhorse M30. All of this for $8,500 or less, right in the heart of good E28 money.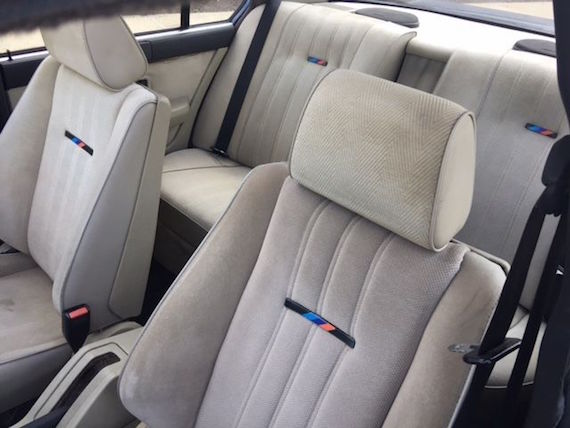 Year: 1985
Model: M535i
Engine: 3.4 liter inline-6
Transmission: 5-speed manual
Mileage: 165,320 mi
Price: Reserve auction, $8,500 Buy It Now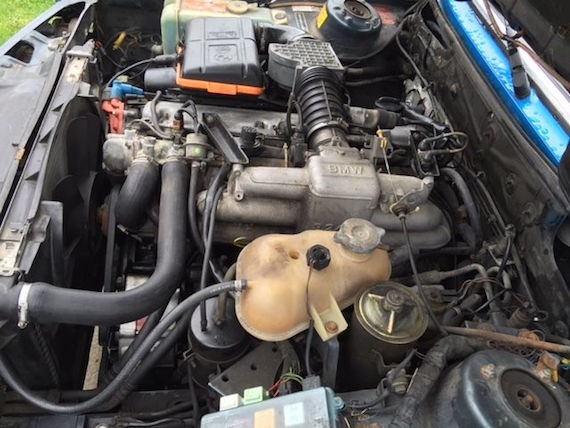 For sale is this rare and unique piece of automotive history: the 1985 e28 BMW M535i. (If you are not familiar, please read the History section at the bottom first.)

This M535i was imported back in 1985 by a private owner as BMW never officially imported these into the United States.
I'm not sure if I'm the 2nd or 3rd owner but the car is in very good shape for it's age and runs very strong. It has 165k mi
but has had quite a bit of maintenance over the past year. If you have any questions please ask before bidding.

Exterior: This is a rare car with the original Euro small bumper from the factory. This is not a retrofit!
Very solid with little to no rust (see pictures of door frames) The exterior looks great as you can see from the photos.
All emblems have been replaced with OEM BMW parts just as everything else on the car. The chrome trim around the front and rear glass has been replaced, the fog lamps, and other lights as well.

Brakes: The brakes were completely overhauled starting with the front using OEM BMW 4 piston Brembo calipers and 324mm performance rotors, SS brake hoses and all new hardware. Then the rear were replaced using BMW E34 Euro M5 brake calipers and rotors as well as SS brake hoses and new hardware. Additionally, new brake lines were installed from front to back. This car stops much better than many sports cars today with this BMW original big brake kit.

Wheels: The car comes with 2 sets of wheels/tires. The original M-Tech wheels are NA and you cannot find tires made in that size so the wheels that come with it are Borbet 16″ wheels with brand new all season tires (less than 50mi on tires!) Also included is a set of staggered BMW 17″ Style 32 wheels (pictured).

Interior: The interior is in fair to good condition for it's age with minor issues. The most noticeable is the cracked dashboard, and missing caps to where the window crank would be had this car not been equipped with power windows. The windows do work including the sunroof, the driver side mirror is power adjustable (Euro models did not have a passenger side mirror) and the A/C system was rebuilt and recharged 2 years ago. The cloth is in good shape with only minor wear and tear but shows off the M badges very nicely. The steering wheel also has the M treatment along with other small items.

Mechanical: Besides the above mentioned items, the engine has also recently undergone a complete tune-up including valve adjustment, gaskets replaced, spark plugs, wires, air filter, a couple of sensors were aging but had not failed so they were replaced preventative, the alternator and all the belts were replaced at that time, cooling system serviced, fuel lines replaced, etc. The engine runs very well with no issues and pulls strong in the city or on the highway. There is no overheating at any point, and idles smoothly. The transmission shifts with no issue and the clutch feels very strong. The shifter linkage is loose and may need replaced soon. The steering and suspension are tight with no play in the front end, but the shocks may need replaced soon.

This car turns heads wherever I go and I get more compliments on it than on any of my other toys. If you have any questions please feel free to ask prior to bidding. Thank you and good luck!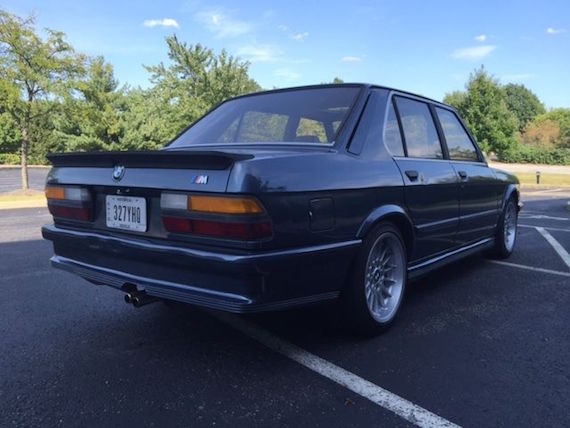 Obviously I'm not sold on the M535i being held in double-special-classic regard, but for $7-8k it's a nice, small-bumpered E28 that will be fun to drive and chat with interested strangers about, even if this is a catalyst version with just 185hp. One thing this big-bumper defender can't help but mention – everyone loves the "clean" look of the smaller Euro bumpers, but is it really any better for the bodywork to just go down? Looking back at other performance-badge models of the era, I guess so (3rd-gen Camaro RS anyone?). But I digress. Overall, this is a great-looking E28 package that could be made even better without much effort.
-NR