We're quite familiar with the Porsche 930 here at GCFSB. Dating back to the mid-70s these iconic performance coupes set a high bar for their combination of performance and refinement, even if their handling could be difficult to master. They are much loved cars and we feature them frequently when we come across nice examples. Even so they can begin to blend together as the majority we come across vary little in their interior and exterior colors. That doesn't necessarily make them less desirable, but they do fail to stick in our memories. The example we see here, an Oak Green Metallic 1980 Porsche 930 located in Oregon, should be an exception. With its Oak Green exterior complemented by a Green leather interior this 930 stands well apart from most others, and even if its exterior shade whispers to you rather than shouting it is sure to draw plenty of attention. 1980 was the first year Porsche had withdrawn the 930 from the US market forcing fans to continue their lives without such a beast. If you were ever one who wiled away many an evening wondering, "what if?" then this could be your chance to rekindle that '80s magic.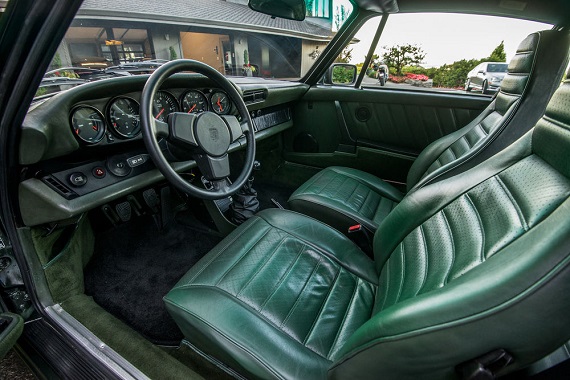 Year: 1980
Model: 911 Turbo
Engine: 3.3 liter turbocharged flat-6
Transmission: 4-speed manual
Mileage: 54,487 mi
Price: Reserve Auction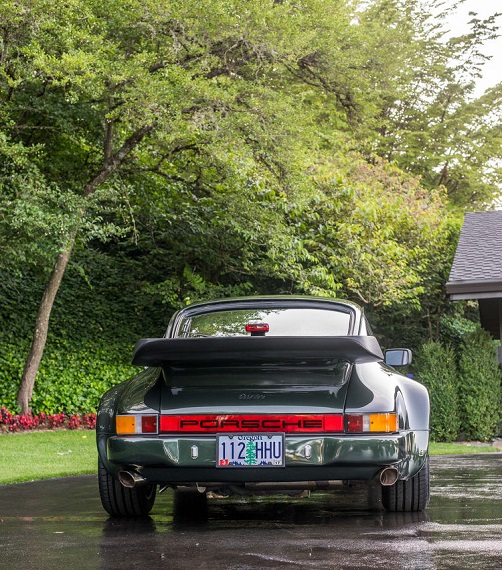 This very collectable 930 is one of only 830 produced making it one of the lowest production model years. As you would expect this low 54,487 miles, numbers matching 930 is finished in its original rare color combination of oak green metallic with green leather interior. It was imported from Germany in 1984 and has extensive ownership and maintenance records. The file on this vehicle shows an engine and transmission rebuild at 40k miles. Just recently the car was treated to complete servicing including new rings, head studs, cylinder head reconditioning, clutch, new tires and wheel refinish plus much more totaling over $24,000. Upon further inspection you'll notice the Kokeln Turbo, B&B Tri-Flo exhaust, Aire-Tek induction, Euro style bumpers and front oil cooler all adding up to 297.7 rear wheel hp per 2011 dyno sheet. The paint is a very nice repaint and interior is in like wise excellent condition. There is some waviness on the right side of the upper passenger dash pad and a few rock chips in the paint as you would expect. Overall this is a very nice car that is ready to drive. Please contact me at 541-410-5682 with any questions. I would consider trading up to an 89 or 94 Porsche speedster. Thank you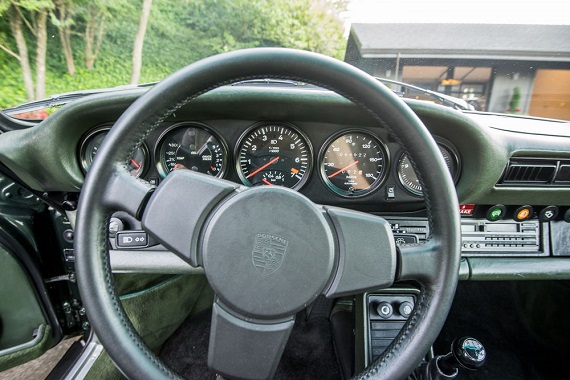 Oak Green Metallic is a fairly uncommon color from this period and this is the first 930 I can recall seeing wear this fantastic shade of green. Needless to say, it's really nice. The contrast with the black Fuchs wheels and other trim pieces on the 930 works so well to provide balance but without either color really dominating the other. For whatever reason greens aren't really as popular as the various blues and reds that we come across and at least when speaking of the exterior I've never understood the lack of appreciation. The interior, well, that I understand and I'd have loved to see this in another shade. While the green interior certainly will be a rare feature it does make things too monochromatic overall. The green and black contrast still kind of works, but simply not to the same effect as we get with the exterior. Still it's a great looking 930 and while there are a few modifications that owners may want to return to their original form this should fetch pretty decent money.
-Rob