It doesn't happen very often, but this car stumped me. Until now, I was unaware that the east German company Sachsenring produced a Kübel, or Jeep-like version of their famous model 601. Intended for military and border guard use, this was a variant with no doors, a canvas roof and a steel body, with exception of the front clip. Some may remember that civilian Trabants were made out of Duroplast, or a cotton based resin, due to steel shortages in Eastern Europe. This particular Tramp for sale in Missouri was brought over to the US by an automotive engineer who used it infrequently on short hops around town.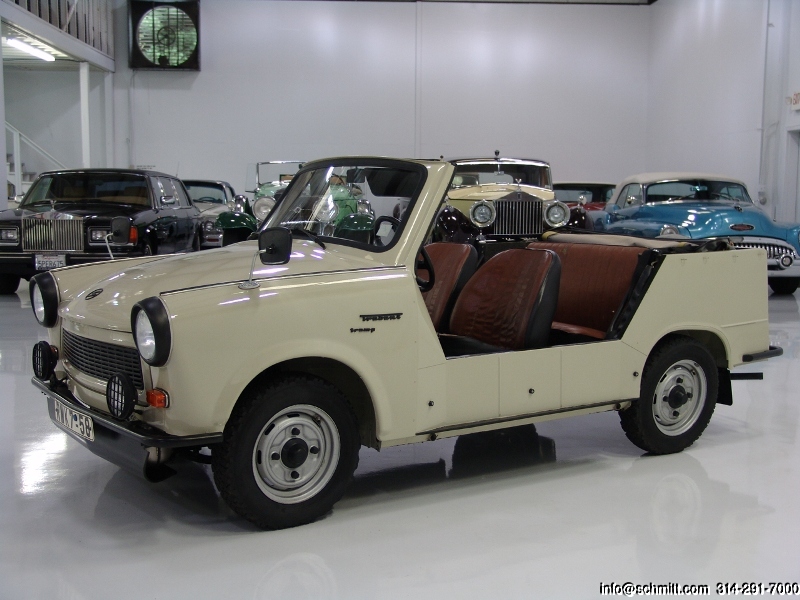 1985 Sachsenring Trabant Tramp Convertible. Believed to be the only one in the United States! Ultra rare Tramp convertible. Only 1,337 original miles (2,154 km). Border Patrol unit, like new condition inside and out. Four-wheel independent suspension. Iconic car with a huge cult following. Clear Missouri title. Fun to drive! Incredible mechanically simple and built to last. Ready to drive anywhere two cylinders can take you!

This 1985 Trabant was last owned by renowned automotive engineer, Peter Dawson. After a legendary motorsports career, which included initiating the MOPAR performance parts group within Chrysler, Dawson developed an affinity for unique cars. This Trabant has only 1,337 miles (2,154 km) and is an amazing automotive icon. It is also very fun to drive and will draw a crowd where ever you go! Powered by a 601 cc two-cylinder, two-stroke, air-cooled engine, backed by a four speed manual transmission, this charming little car will leave you smiling at its no-frills approach to motoring. This car has never been driven in rain or snow, always stored indoors, and is in excellent condition throughout. Everything on this car works perfectly.

Like the Beetle, and the Mini, Trabants are legendary cars. And like the Mini and Beetle, it is often referred to without any mention of its manufacturer, Sachsenring. Often disrespected, most times undeservedly, the venerable Trabant was in production for nearly 30 years with 3.7 million produced. Nothing is made nearly 4 million times without getting quite a few things right!

How did the Trabant come into existence? Before WWII, the factories in Zwickau were the home of Horch, a manufacturer of very high quality cars, including Audi. They were both part of the Auto Union group which also included DKW. When hostilities ended, Zwickau in East Germany fell under communist rule. Initially the factory was used to produce much needed tractors and trucks, but cars were badly needed as well.

Steel was rationed and in short supply, so research led to the development of Duraplast, a composite made up of a phenolic resin reinforced with cotton fibers. Duraplast panels are formed in a press similar to the process of pressing steel panels. A material still in use today, Duraplast proved to be very strong. In independent crash testing, Trabants were found to perform better than many small cars produced in Western Europe. With Duraplast bodies, very simple 2-stroke engines, and front wheel drive, the Trabants were durable, but also very easily repaired.

The Trabant P601 body style was retained until the end of production in 1991, leading many to believe that the cars stayed the same and no further development took place. In reality the cars were constantly developed and every year saw the introduction of a number of changes. The power output of the engine gradually increased, and engine improvements allowed it to run with much less oil. The brakes were improved, and the electrical system was upgraded from 6 to 12 volt. There were many other changes and the majority of them were able to be retrofitted to earlier cars.
In Europe, particularly Germany, a trend called "Ostalgie" or East Nostalgia, has taken hold. Cars from the Cold War period such as this Trabant have become fashionable once again. I can't say how big Ostalgie is in the United States, but it doesn't seem rampant from what I can tell. At a shade under $20,000, I think it's safe to say this seller won't come close to getting his asking price. This car has a very limited market and is not very usable in modern day traffic. Also, it may be hard passing emissions tests in certain states with a two-stroke engine. If I had to peg a realistic value, between $5,000 to $8,000 seems about right for a piece of East German history, but even that could be considered a bit high. I can't help but think, however, what a neat conversation piece this would turn out to be at the next military convention or show.
-Paul