You've seen them on this site before, we like German station wagons, particularly those that come with M, RS, or AMG badges.
The owner of this wagon made an attempt to fill the gap left when BMW decided not to make an E39 M5 Touring. The car sort of gets it right. I say only sort of because while it looks the part, it started life as the lowly 525iT. We have seen some better M5 Touring clones using the 540iT as a starting point. The car does have an M5 body kit though to give it a more aggressive look.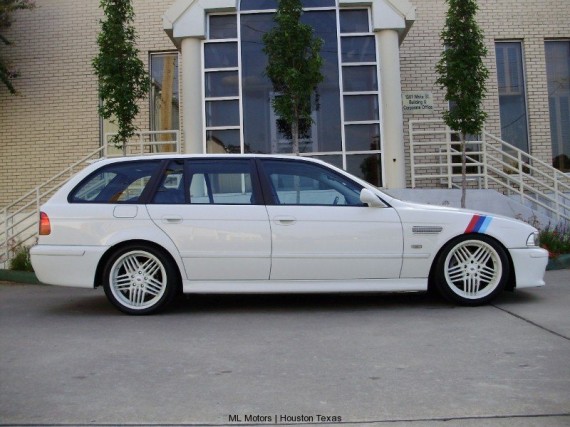 To make up for the lack of cylinders and power this 2.5 liter six has been boosted by an ASA / Infinitas supercharger with an intercooler. Power estimates aren't given, but depending on what kind of boost this setup is running it could be putting out closer to 250 horsepower rather than the stock 180. Unfortunately power is still fed through the stock automatic.
I like the Alpina Dynamic replica rims painted to match they add to the look. The eyebrows and M badges and tricolor fender flags also look nice. A dual exhaust, roof spoiler, adjustable suspension and even some interior goodies complete the upgrade.
The car is a two owner vehicle with 84,200 miles. I'd like to know how many miles since the supercharger was installed.
A nice looking car with a buy-it-now of $14,900. Even with the upgrades that is probably a bit pricey despite the mods and looks. We all know you never recoup those costs. I'm sure some folks wouldn't believe that the car is a decade old.
~Evan