Seeing the RUF CTR2 in a Road & Track high-speed shootout in middle school ushered in a new era in my car appreciation – the tuner era. Now much more commonplace, I had never before seen the fantastic excesses of speed possible when aftermarket engineers set their sights on improving the best of the best. Ridiculous power is ubiquitous these days, but while many tuners have eschewed clean aero add-ons for the automotive equivalent of gaudy triple-E silicon implants, Alois Ruf has stayed classy through over three decades of Porsche tuning. Clean proprietary wheels are often the only exterior modification as Ruf lets his engine work do the talking. In the mid-80s, Ruf took the poster-star Slantnose 930 911 and worked his magic, ending up with 374 turbo-charged horses ready to lay waste to the all comers.
1986 Porsche 911 Ruf BTR Slantnose for sale on eBay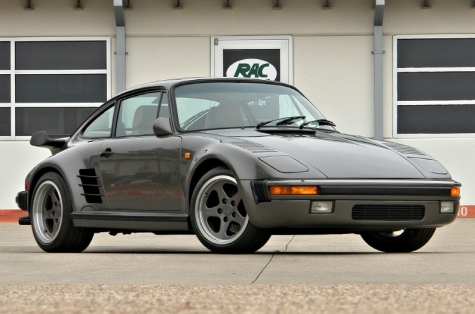 Not a lot of info on the listing, but three numbers seem the most important:
100 – The total number of Ruf BTRs produced
12,748 – The obscenely low mileage
123,900 – The asking price
It's a shame this car has only traveled 13k miles, because I'm sure it's a blast. It's tough to judge the market for a car like this, but even with the low mileage and rarity, it seems priced a bit high. That said, the seller seems ready to wait to get their price, so more power to them in passing on this most rare of 911s.
-NR