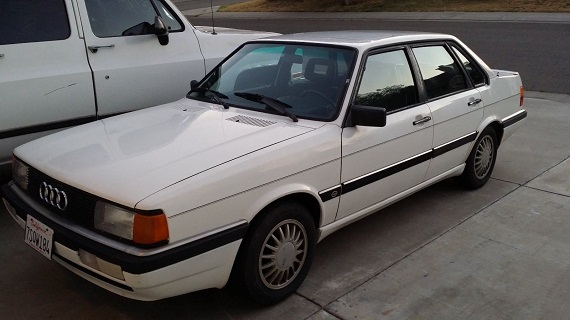 Well, here it is – my first car. Okay, mine was a 1986, but it too was Alpine White with Brazil Brown velour. For all intents and purposes, the opening photo for this advertisement could be the same as the one I bought back in 1995. It was a pretty popular color combination on the Type 85 quattro. Coming from a family with European cars but never an Audi, the technology was intriguing. And, being 18 when I bought it, I did all sorts of stupid stuff with that technology. Locking the diffs on the highway? Yup, I did that a few times, because light up indicators on the switchable differential board were the talk of my friends. I also redlined the car pretty much every chance I got. On my first drive, with the car not even registered, I crested 100 mph. Fall soon turned to winter, and I turned into Hannu Mikkola, sideways as every – and I mean every – opportunity. It was a particularly snowy winter in New England from 1995-6, and my work lot was covered in a solid layer of slushy ice. Every morning I'd arrive, get onto the ice, cut the wheel hard and pirouette in a 270 degree slide into my parking spot. I drove through one memorable blizzard from Westerly to Hartford and back in the high speed lane the entire way, only dipping below 65 when someone lost control in front of me. One time I challenged my lifted Jeep-owning friend to see who could make it through 2 feet of snow. By this time, my CSQ was lowered on Eibach springs, but even though the snow was up to the headlights, it didn't stop. The Jeep? It got stuck. I'd like to think that all of this was because this was I was a driving God, but the reality was that the survival of my 4000CS quattro – and, more importantly, me – came down to how robustly that B2 was built.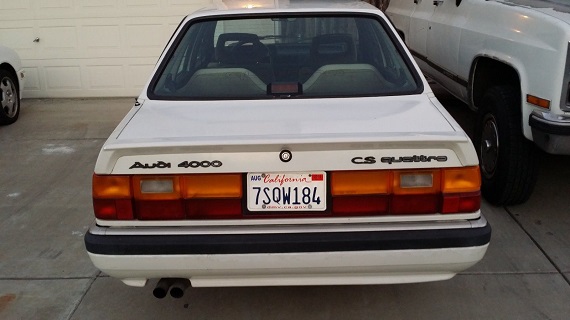 Year: 1987
Model: 4000CS quattro
Engine: 2.2 liter inline-5
Transmission: 5-speed manual
Mileage: 180,000 mi
Price: No Reserve Auction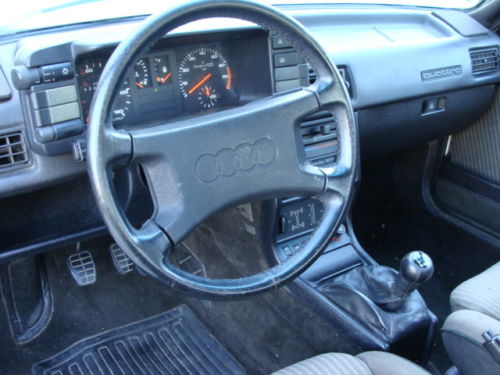 Buyers with zero or low feedback must contact me before bidding – I will cancel bid if not contacted.

1987 AUDI 4000 CS QUATTRO

Quattro AWD 180k Miles 5 Speed Manual

Clear California title. Current registration and insurance. Daily driven for work commute. Very reliable and comfortable to drive.

Paint clear coat is pealing, some rust on right rear wheel arch.

Clean interior with sunroof. Original radio, power antenna is not working. Left rear passenger power window is not working. Right side view power mirror is not working. Clock in dash is not working.

I drive this Audi all over northern California and the San Francisco bay area – never any problems. I would not hesitate to drive it anywhere. New thermostat, fuel pump, fuel filter, oil, air filter, camshaft lifters, wipers and battery.

Car is 30 years old and is for sale "as is". I recommend all buyers to do an inspection or have it inspected before bidding. California buyers will get a current smog certificate.

Call or text with any questions: Patrick 505-603-0392

Buyers with zero or low feedback must contact me before bidding – I will cancel bid if not contacted.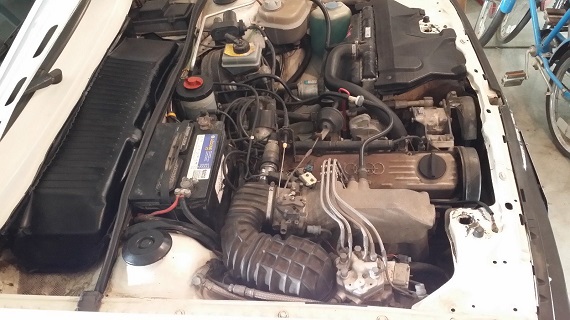 Like this example, my power antenna also didn't work well when I picked the car up. And pretty much all of these 4000CS quattros were similarly equipped – power windows, steering, brakes, locks, sunroof, and antenna. There just weren't many options to select outside of leather. 1987 4000CS quattros are numerically the least sold out of the four production years here, but today they seem to be the ones which pop up for sale the most frequently – probably the rule of attrition, as I think the stories of my exploits above were pretty typical of 4000 owners.
The seller discloses some maintenance and it looks to me like the car has a newer starter, too. There are some trim discoloration issues which are typical and easily remedied. However, not disclosed is that the car was probably crashed. There are a few reasons to think this; one, the badges are misplaced on the rear. Second, the seller states the "clearcoat" is failing – but L90E Alpine White has no clear coat. The AW Coupe GT I have has a similar issue where it was repainted with a single-stage with clear where it was in an accident a while back. Lastly, the rust on the rear fenders is probably indicative that the original zinc coating – which holds up well – was broken. Generally, that's the only time these cars rust. Outside of that, this is a pretty complete, remarkably clean example all in all, and the bidding has already reacted, with one soul anteing up $3,500. I'd wager market value to be around $4,000 – $5,000 unless someone nostalgic like me wants to relive two decades ago and has some disposable income.
-Carter