It's crazy to think that once upon a time, before all this Panayenne nonsense, a V8 was unheard of for Porsche's road cars. Underneath the long bonnet of this blindingly-red 928 lies a 5.0l V8 that pushed out 316hp in 1987, over 50% more than the 5.0L V8 in the contemporary Ford Mustang. Engine displacement aside, there's no mistaking this 928 for a Fox body with the spaceship chic looks, updated for 1987 with a spoiler and new front and rear fascias. Today's car is blessed with a row-your-own 5-speed in place of the more common slushbox, so you've got that going for you. Which is nice.
Year: 1987
Model: 928 S4
Engine: 5.0L V8
Transmission: 5-speed manual
Mileage: 94,300
Price: $16,500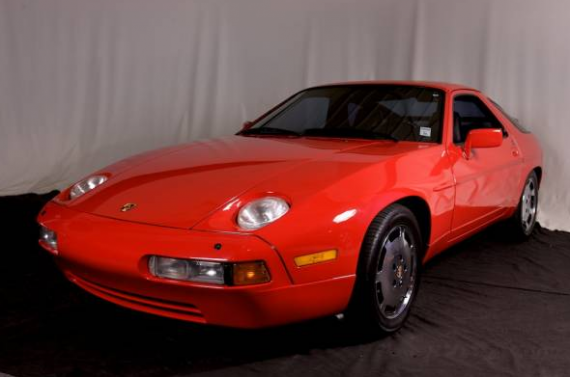 This 1987 Porsche 928 S4 is in Indy Red with Black interior.

It has the highly desirable and rare 5 speed transmission.

This car was originally sold by Paul Miller Porsche Audi in New Jersey in April 1987.

MSRP $64,745.00.

This car has been in California since 2004 and has had four owners from new.

Factory Options include:

– Heated seats left and right
– Sport shock absorbers
– Limited Slip differential

The interior is original, and the leather is soft with no tears.

All electrical in good working order include seats, windows, sunroof, stereo, wipers, and lights. (Interior lights and the trunk release are in- op.)

This car has been serviced by Devak in Redwood City, CA since 2004.

All VIN tags are in place.

All books and records and original window sticker will be presented to the new owner.
I really like the S4, and despite the high maintenance costs this seems like a decent price for 300+hp, good looks and Porsche quality. The red on chrome is bit much for me (how about GOLD wheels to complete this look), especially because I think the 928 looks so damn good in dark grays and blacks to fly under the radar. Those are my only qualms though, because this is an awesomely '80s car that would be a ton of fun for the price of a base Civic (to buy, at least…).
-NR