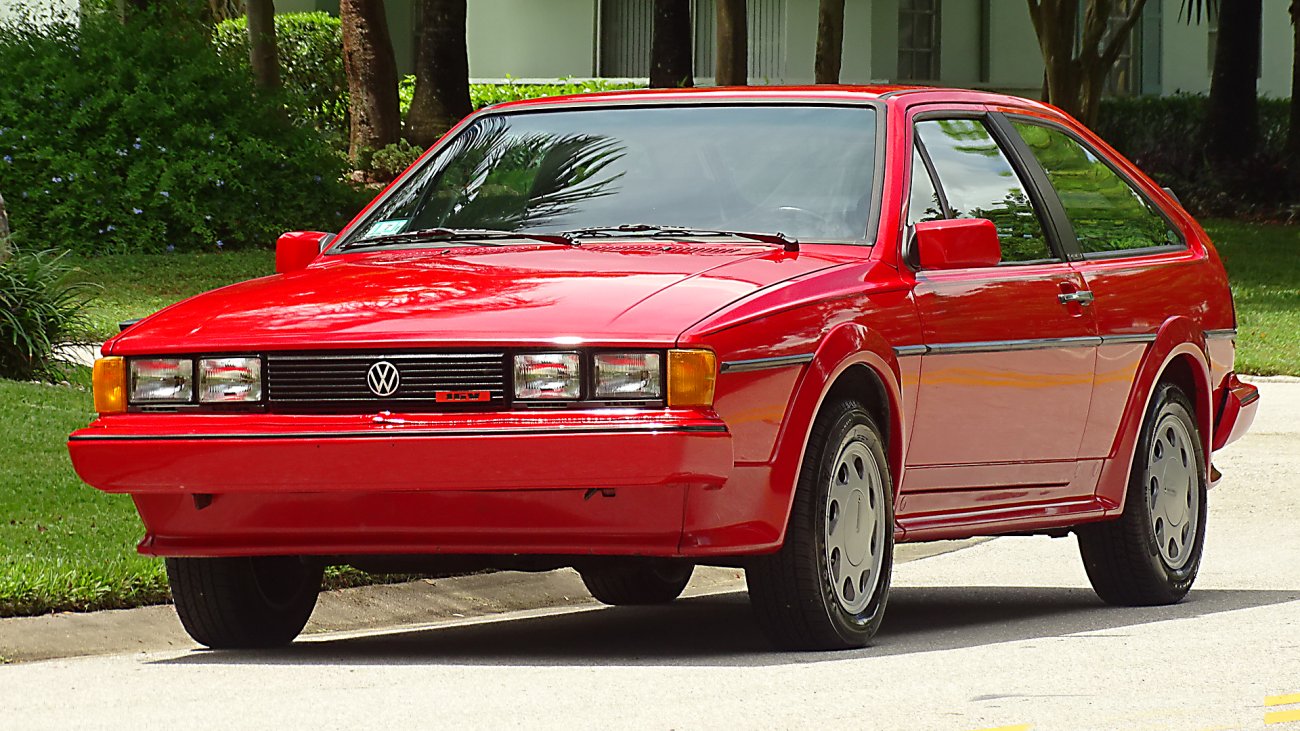 The arrival of the second-generation Scirocco in 1982 was, to be honest, not much of a revelation. It's not as though I don't appreciate the design, though how it came about is somewhat suspect. Volkswagen canned Giugiaro as the replacement designer for the exceptionally beautiful and unique first-generation car, moving in-house to Karmann for the second go at the Golf-based sport coupe. The result looked rather suspiciously like Giugiaro's Italdesign Asso di Fiori from 1979 and Asso di Quadri from 1976, though – the car that became the Isuzu Impulse. Two years later, and Viola! the Scirocco II debuts from Karmann with a near-identical shape. On top of that, the mechanicals continued to be based upon the first generation Golf.
It wasn't until 1986 that VW coupe fans finally got to rejoice as the addition of the PL 1.8 liter dual-cam inline-4 finally joined the lineup. Based on Oettinger's head design and now with 123 high-revving horsepower, the Scirocco went a bit more like the wind it was named after. The wide-ratio, economy-minded gearbox of yore was gone too, replaced by a close-ratio gearbox. Like the GTI and GLI, 14″ 'Teardrop' wheels and a new bodykit heightened the boy-racer appearance, and the 16V models got all matchy-matchy before the Golf and Jetta, too, with body-colored painted bumpers.
Today they're hard to find in good condition at all. This Tornado Red example spotted by one of our readers sure is great, though!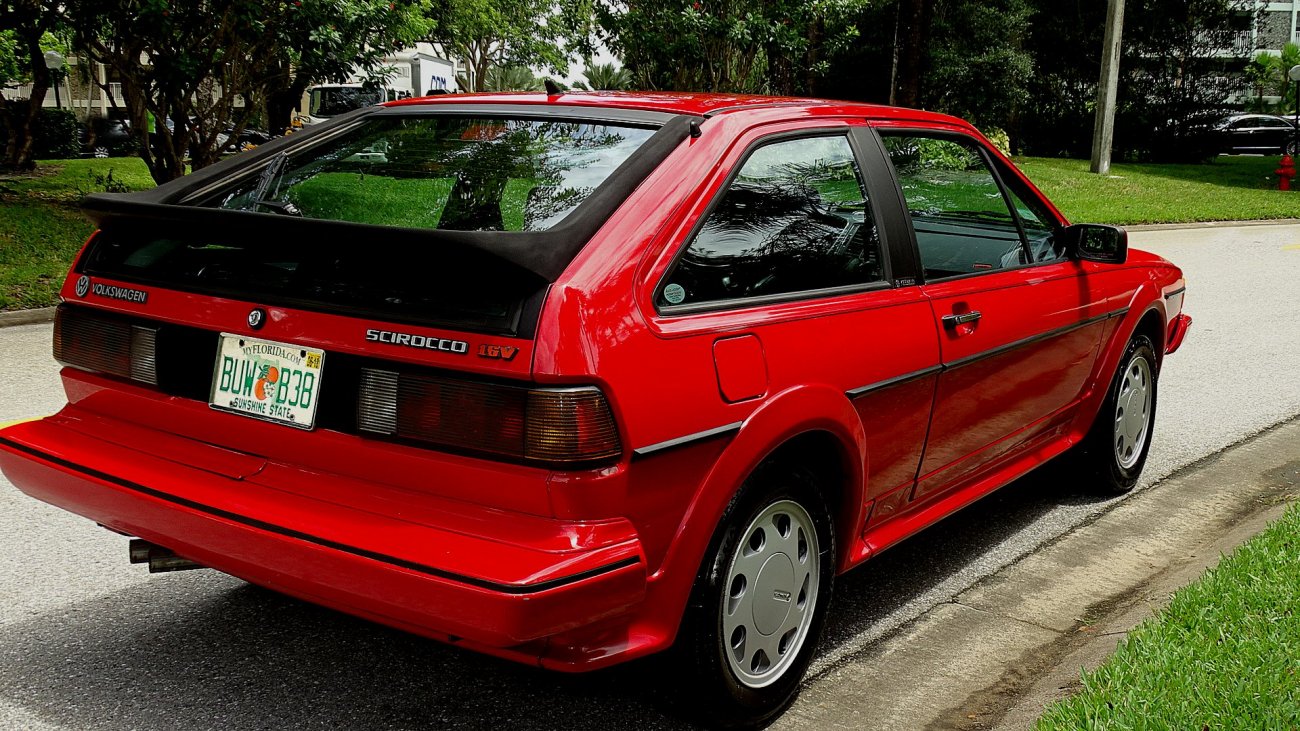 Year: 1987
Model: Scirocco 16V
VIN: WVWCB0537HK005755
Engine: 1.8 liter inline-4
Transmission: 5-speed manual
Mileage: 99,000 mi
Location: Fort Lauderdale, Florida
Price: Reserve Auction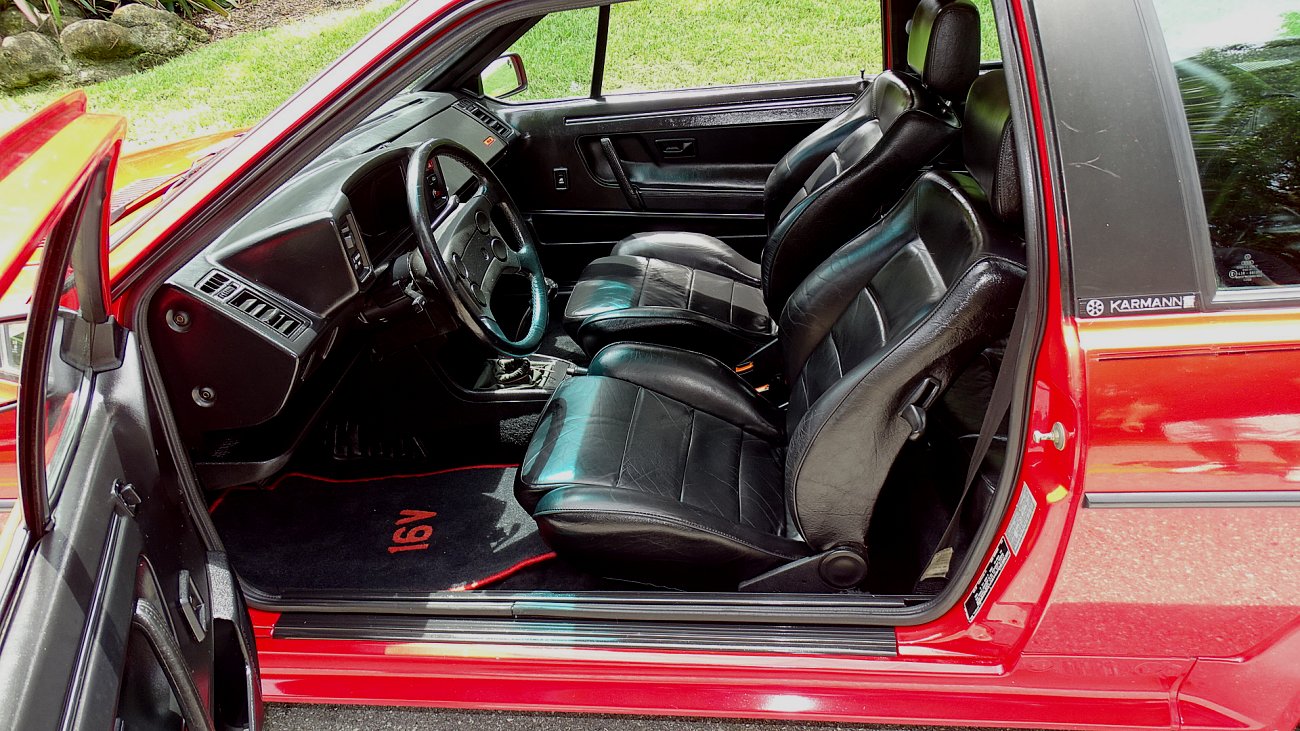 1986 VOLKSWAGEN SCIROCCO

ONE OWNER 16 VALVE 5 SPEED MANUAL

There are 50+ photos AND A LINK FOR THE VIDEO Please give them time to load

1986 VOLKSWAGEN SCIROCCO 16 VALVE ONE PREVIOUS OWNER. HAS AN ORIGINAL RED EXTERIOR FINISH IN EXCELLENT CONDITION BUMPER TO BUMPER. THE SOFT LEATHER BLACK INTERIOR IS IN FANTASTIC CONDITION THROUGH OUT THE INSIDE. HAS POWER WINDOWS, POWER STEERING, BRAKES AND HAS AIR CONDITIONING BUT NEEDS A BLOWER MOTOR INSTALLED BUT COMES WITH A BRAND NEW ONE IN THE BOX. NEW SET OF FIRESTONE TIRES MOUNTED ON FACTORY ALLOY WHEELS. RUNS STRONG WITH THE 16 VALVE 4 CYL. ENGINE AND 5 SPEED MANUAL TRANSMISSION. NO KNOW MECHANICAL ISSUES. JUST A REALLY NICE HONEST OLDER VOLKSWAGEN SCIROCCO THAT ARE BECOMING HARDER TO FIND AND HAVE BEEN GOING UP IN VALUE EVERY YEAR. THIS QUALIFIES FOR ANTIQUE PLATES AND INSURANCE.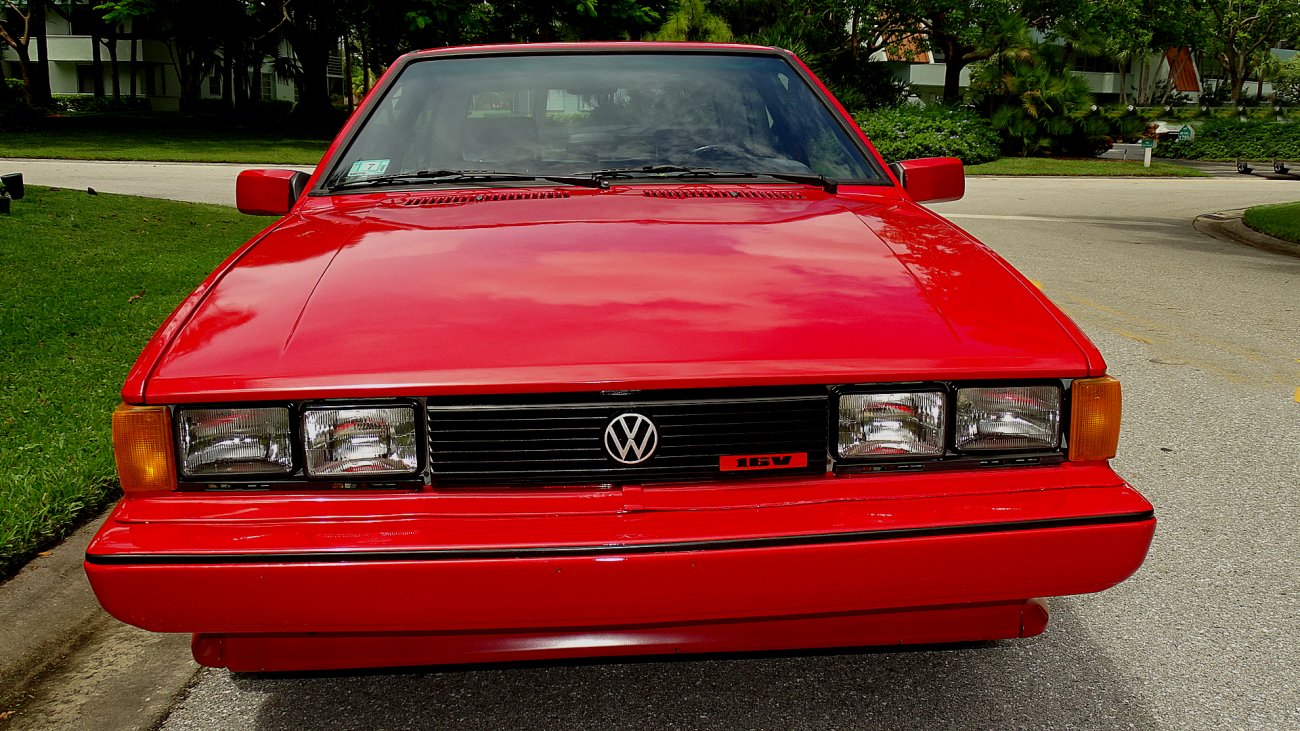 The seller claims the exterior finish is original, but in all honesty looking at the car I find that hard to believe. It's very hard to get Tornado Red to be that reflective – never mind 35-year-old Tornado Red. Several spots look suspiciously fresh. The car was ordered with leather upholstery and power equipment, and the total price in 1987 was just over $15,000 – about half of what it would cost you to get into a 944. They were a solid performance deal, even if there was faster Japanese company for the same or less money. This one looks really sharp though there are some question marks, and bidding could go high – nice examples now sell for far more than a basic 1987 944.
Thanks to our reader Wojciech for the spot!
-Carter