Warning!
This post is in our archives. Links in this post may have been updated to point to similar cars available to bid on eBay.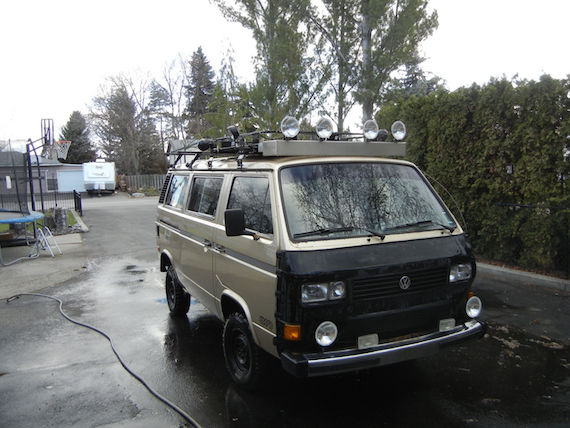 The seller of this van affectionately calls it "Big Ugly" after 15 years of rough and tumble ownership. There's plenty of blemishes and rusty seams to make it not just a clever name, but if you're not too worried about aesthetics this van has a lot going for it. A Westy kitchenette is installed and fully functional and it runs well. He says it needs a few coolant hoses and possibly other things he doesn't know about, but if you purchase Big Ugly at the Buy It Now of $12,350 he'll take it in and get them done along with up to $2k of any other repairs. Bidding is currently closer to $5k right now, so maybe some haggling needs to be done on the phone. Anywhere in that range, it's a lot cheaper than 95% of the Syncro vans you see.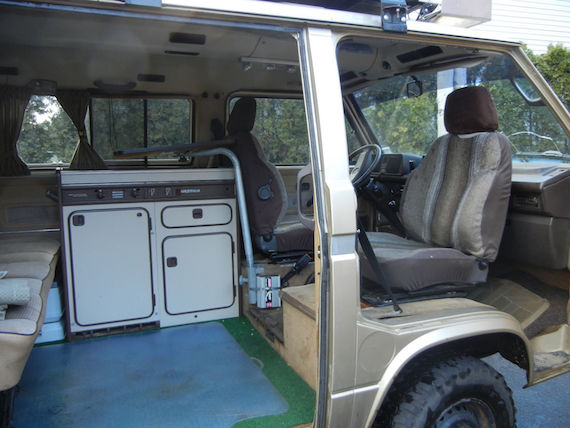 Year: 1987
Model: T3 Vanagon Syncro
Engine: 2.1 liter flat-4
Transmission: 4-speed manual
Mileage: 234,000 mi
Price: Reserve Auction, $12,350 Buy It Now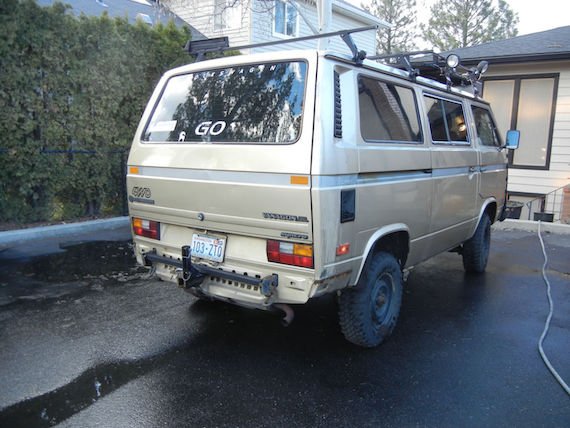 VIN# WV2YB0255GG025534

1987 Volkswagen Syncro with Westfalia Kitchenette.

I apologize to everyone who bid previously. I did not have the VIN# listed and E-Bay de-listed me. I added the VIN# and set it to start on a Saturday and end on a Saturday to try and make the bidding fair to everyone. Sorry for the delay…

Good luck and happy bidding….

This is a 4 speed and also has the extra low "granny" gear. I have owned this Syncro for about 15 years for the last 3 it has been mostly stored in my brother's garage. I do take it out a few rimes a year and drive it to work and back and have the oil changed. This year I replaced the battery a few weeks ago. But I have now decided, regretfully to part with "The Big Ugly" as I call her.

Exterior- Paint is ok. Some is chipped and some is discolored. There is some seam rust and rust in a few other places. I provided pictures of sample rust areas but not all are pictured, Overall not too bad and most is fixable with replacement panels form GoWesty or Bus Depot. Had a somewhat minor collision in the driver's front corner. Was on ice and going slow but did some damage. It is covered by the bra. I haven't removed the bra in several years so there may be some rust under there. A few dings and minor dents. The worst spot is drivers side rear panel. Rear bumper is removed and tow hitch for bike racks etc. is welded in place. Works well and much better than the "bolt on" hitches. Racks up top stay on. Front rack in a basket type rack with a plywood base. I have sat up here at many national parks. It is very sturdy. Rear racks are standard Thule with one ski/snowboard rack. All lights up top work except 2. Usually just need a wiggle of the wire for the 2 to work. The 2 not working right now are the driver's side area light and the passenger side rear facing. All the rest up top and in front all in working order and all on individual switches. Headlights, tail lights and turn signals all work. All 5 tires match and have been rotated regularly. Still lots of life left in them. All glass is intact. Front windshield has a few cracks.

Interior- Carpet is in ok shape. Front seats are not original and have seat covers. They have lots of adjustments and both spin to face the rear. Stereo is in place but the amp was stolen so as you see in the pictures I just put a spare amp I had on the floor and hooked it up. It stays with the van. Dash in ok shape with no major issues. Speakers up front all wired and work. One speaker in the rear is missing and the other is not wired. Ceiling mounted ac blows as a fan ONLY. AC is present but not working. Never has worked as long as I have owned the van but blower works good for air circulation. New battery under passenger seat. Battery under driver's seat in unknown but working condition. Inverter mounted next to driver's seat. I have removed the middle seat. I have installed a Westfalia kitchen unit. There is a small propane tank under the seat that fuels the stove and fridge. Yes the fridge works. Yes the stove works. Yes the sink works. The sink is piped to a 5 gallon water tank under the rear seat. A rv water pump delivers the water to the sink. The sink drains under the van. I have drapes on all windows and have drapes for the front side windows. I have a screen door for the rear and the side door. I have an accessory light wired above the stove for cooking. There is a small portable toiled next to the kitchenette and it stays with the van. It fits perfect and at night it fits between the two front seats.

Drivability- I know of no issues except 2 coolant hoses that need to be replaced. Should be able to drive pretty much anywhere once the water leak is fixed so I recommend shipping. There is a bypass pipe on the exhaust. I have no smog check so it's not an issue and it runs great. Van has NEVER left me stranded. I have taken this van to countless national and State parks. I have once or twice lived in in for just over 3 weeks while touring. She is not pretty and she is not perfect. I should add that I have 2 jacks, a repair manual, an owner's manual, and a spare computer (these run $500-$1000 if you can find them). I also have one or two (I have to look) spare "lockout" actuators. These will be included as well. The current lockout works as it should to lock the rear differential.

This would make an excellent restoration candidate or drive as is with all its "character". Even though it is running and driving, I would not recommend driving a long distance without an inspection repair as needed. I'm sure it will need the normal tweaking as is normal with these vans and of vehicles this age. I have not gone through everything to make sure it works but it was all in working order when stored and if something isn't working it should require just basic maintenance to get it working properly.

Please e-mail me with any questions, or if you prefer to talk, please send your phone number and I will call you. If you want to see any other pictures, please let me know and I will take them and send to you. You are also welcome to come see it in person…please contact me.

Please ask questions before bidding. If you are winning bidder, then it is considered sold to you at the final price and afterward is not the time to evaluate the condition and bargain on pricing. Please be sure you are comfortable with the Ebay auction process before bidding. Thank you for looking. This is really a special find and I really regret letting it go but we have too many toys and this one has to go. Item is sold AS IS and WHERE IS, FOB Spokane.

ONLY FOR A BUY IT NOW PURCHASE—To encourage long distance bidders, if you use the buy it now option, I will take the van into my local shop and have them fix the leaky radiator hoses. I will also have them fix anything reasonably needed mechanically (I expect it to be $300-$400 but will pay up to $2000 if they find issues I was unaware of) to ensure a safe drive home. I should be able to get this done within a week of receiving full payment depending on shop availability. To sweeten the deal I can store the van for up to 2 months to allow you to make arrangements to fly into Spokane and drive the van home for your first adventure. My hope is for this van to find a good home. They are amazing adventure vehicles but do require regular upkeep and some DIY knowledge. This van is not real pretty but it is sound and I have taken it everywhere…good luck. Go!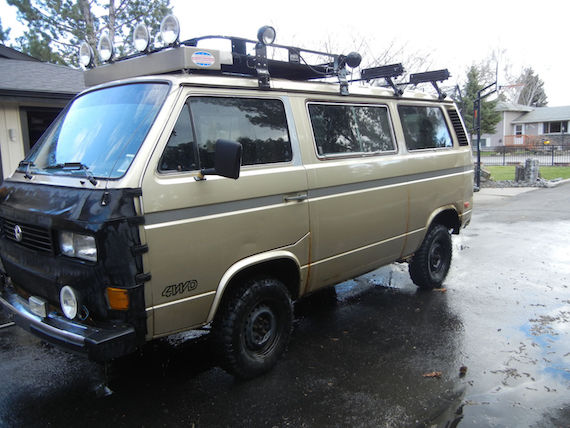 We know two things about this van: it will be a project, and it has a lot of potential. With the mechanical maintenance taken care of, it's an all-terrain camping machine for two people. With a little sprucing up on the visible bits, it's a sweet little van you can still call Big Ugly thanks to the wheels and myriad lights. If you spend some money on GoWesty panels and really clean it up, you have a $30k van. Those all sound like good options if you're excited about a project and can reach a good price with the seller.
-NR