The unyielding rise E30 M3 prices has pushed them out of the range of reason for most enthusiasts. With standard examples pushing into the high teens, I wonder if an interested party these days might as well just go full hog and get the nicest example they can find. Today's M3 is one of those, with the desirable 2.5L conversion done with a rebuild just 20k miles ago, along with the standard improvements like suspension, brakes, exhaust, etc. All that with a beautiful exterior utilizing the sexy and rare red-lined Evo bumpers, why pay $20k for good when you can $30k for great?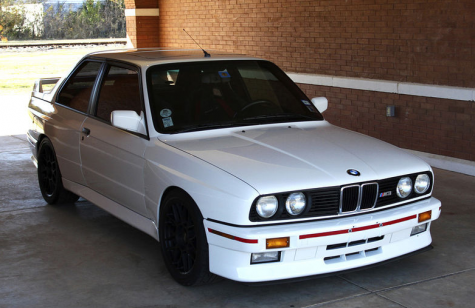 The seller's summary:
This 1988 (Build date 7/1987) E30 M3 started life as a 2.3 liter US Spec vehicle, yet has been transformed into a 2.5 liter EVO Spec beauty. 20k miles on the engine since the no expense spared rebuild. This M3 has been meticulously maintained, garaged from the elements, and it shows.

Redline full synthetic oil is used exclusively, and the engine does not leak a drop. The oil is replaced like clockwork, every six months. Transmission, and Differential fluids are also synthetic Redline, and were all changed within the last month.

The dash shows little signs of wear, and no cracks whatsoever. The only noticeable interior wear is on the side bolster of the driver's front OEM seat. Cobra Imola race seats are currently installed, and that includes Schroth Harnesses on both seats. OEM seats are included with the vehicle.

The suspension consists of Ground Control Coilovers with a springrate of 700 lb fronts, and 550 lb rears. New Group N Bilstein Shocks on both ends. Ground Control Camber Plates. Rear Powerflex Bushings on sub-frame and Control arms, with Bimmerworld rear camber kit. New front wheel bearing were installed on both sides.

17″ Apex ARC-8 wheels with Kumho tires 235/40/17

15×8″ Revolution track wheels, with Toyo R888 225/50/15 tires (Included with vehicle)

Brakes include both stock pads, and Hawk front race pads for track use. BimmerWorld Stainless Steel brake lines.

Clutchmaster Stage 4 Clutch and Pressure Plate.

Engine: 2.5 EVO spec engine, 11:1 CP pistons, adjustable cam gears, Schrick 284/278 cams, EVO oil pump (shimmed), new E36 chain tensioner, EVO valve springs, Evo air box, all new valve shims, and valve job.

Iigo custom 2.5 chip

Exhaust: SuperSprint Race

This M3 is one of the finest examples available. It is driven everyday, and has been highly dependable. The AC unit needs a hose, and a recharge, but other than that it is in perfect working order.
I love the look of this M3. The Evo bumper is a nice touch that stands out on the Alpineweiss, and the restraint shown in not including the Evo II cattle-guard front spoiler keeps a clean look. The bite is even greater than the bark thanks to the mechanical work, as it should be. Bidding is at $13k with 2 days left, far short of the seller's $29,950 Buy-It-Now price. Relative to the rest out there, it's probably worth it. However, unless a bidding war starts up in the next 48 hours, maybe it's a sign that $30k is still on the fringe of acceptable E30 prices if it's not a low-mileage garage queen.
-NR