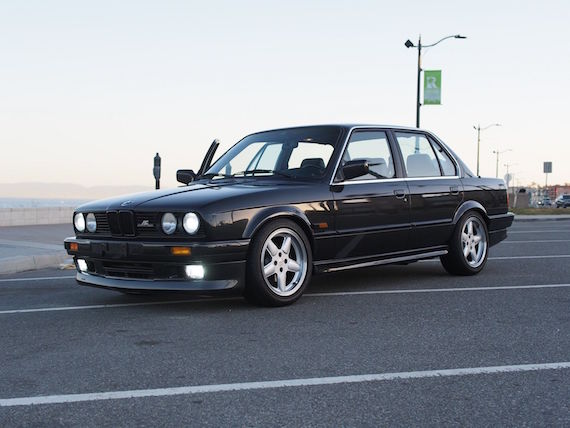 Thanks to a Road & Track tuner feature, AC Schnitzer (along with Ruf, TechArt and HPA) was one of the first tuners to really catch my imagination. Big chunky 5-spokes and wings fore, aft, and midship were plenty to turn middle-school me into a daydreaming Autobahn master. In this day and age and much like the cars they tune or the pop stars we are force-fed, aftermarket design has become a caricature of hyper-stylized aggression. There was a time, however, when bodykits and wheels were subtly aggressive extensions of classic designs. This 325i sedan is exactly that, having received a bodykit, exhaust, wheels, and suspension that make it look more like an appetizing foreign model rather than a crazy tuner cartoon. Originally a Euro model that was imported to Japan and then Florida, it's covered 43k miles on the road and nearly half that amount in shipping. The automatic is a bummer, but with so few miles and such beautifully restrained modifications it can be forgiven. The exhaust and suspension will help make the drive more exciting (as long as it doesn't have the sad sound of good exhaust droning across an auto trans' overly-smooth revs), and the bodykit and wheels will put a smile on any BMW fan's face. Eventually a manual swap and some engine mods would help it keep up with its appearance, but for now it's a very cool E30 that won't break the bank.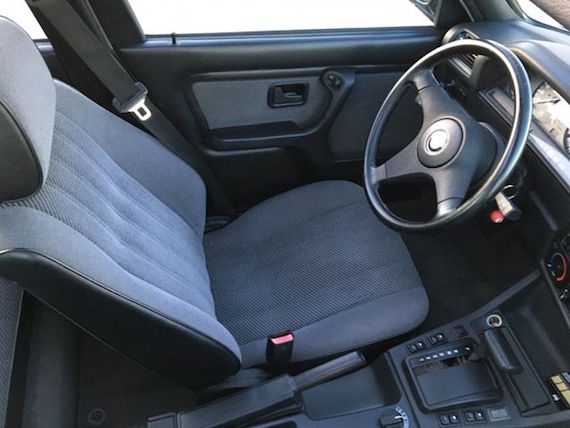 Year: 1989
Model: 325i
Engine: 2.5 liter inline-6
Transmission: 4-speed automatic
Mileage: 43,659 mi
Price: Reserve Auction, $13,000 Buy It Now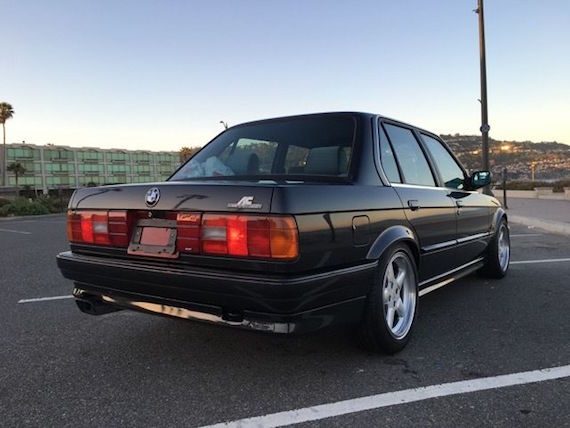 This is a Euro Spec 1989 BMW 325i with AC Schnitzer modifications and original 70k kilometers, (about 43k miles). The car was legally imported from Japan and registered in FL by the importer last year.

The car is absolutely immaculate inside and out. It runs as you would expect from a 43k-mile BMW. The exterior is virtually flawless. There is very minor paint scratch at the bottom of front spoiler, but any other imperfections are so minor that they are not visible in photos. The paint looks amazing and is free of scratches, dents or oxidation. The glass is all original and the wheels are free of curb rash or scuffs.

The car is 100% rust free and appears to have been garage kept. The interior is all original with the exception of the radio. A non-smoker's car. No rips, cuts or cracks in the seats, headliner or dash. There is even still some of the new car smell in it. The car runs great and it is huge fun to drive. Engine pulls very strong, transmission is smooth and suspension feels very tight. It has cold ac and all electric features work as designed. I installed new front brake rotors and pads as well as replaced all drive belts and the air filter. The AC Schnitzer exhaust sounds deep and mean, but not excessively loud. The car has original AC Schnitzer body kit, wheels, exhaust and suspension.

At this point it is hard to tell if the mods were done when it was new or later on. If you see and drive this BMW, you will have no doubt that the miles are original. This is one of the finest examples of an E30 I have seen.
This car was registered in FL and was brought to CA few month ago. It is currently in CA under temporary registration.

I am letting this gorgeous car go because of the difficulty of registering it under California regulations. (it's not impossible. If you are in CA, feel free to ask me what it would take)

It should have no problem registering in any other state.

1989 BMW 325i 3-series 4-Door Sedan
Exterior Color: Charcoal
Interior Color: Gray
Stock Number: 11748
Mileage: 43,659
Engine: 2.5
Fuel: Gasoline
Transmission: Automatic

Title: Clear
VIN: WBAAD21080AF62466

There's plenty of bidding interest but while $13k isn't out of reach for great non-M E30s, it's probably too much for an automatic car regardless of the mileage and styleage. Classic Bimmer enthusiasts are the only ones who will push cars up that high, and I don't know many of them who want the shifting done for them. If the reserve can come off in the high four figures, someone is going to have a very tidy and unique E30.
-NR