Jeremy Clarkson said it best: "I love a fast Ford." While I'm not the biggest Ford fanatic, there have been models from the Blue Oval that have caught my eye, specifically those from Europe. While the US market was given a taste of the bread and butter Ford Sierra in the form of the Merkur XR4Ti, we never got to sample some of the tastier examples, such as the RS Cosworth.
Beginning with a 2.0 liter four cylinder, the RS added a DOHC Cosworth head, Garrett turbocharger and intercooler for an output of around 200 hp. These models were built in Genk, Belgium by Ford's Special Vehicle Engineering Group. So, while this isn't a true German vehicle, many ordinary Sierras emerged from the Cologne, Germany factory. One could consider this a relative of one of the most successful European Ford models of the 1980s.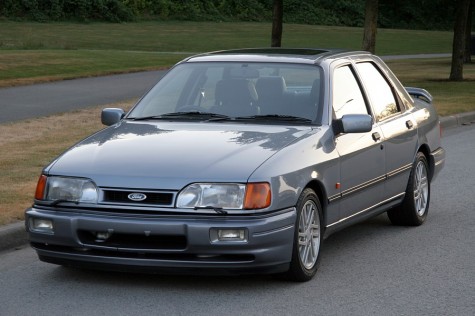 You are bidding on a wonderfully preserved 22,432 miles 1989 Ford Sierra RS Cosworth. Originally manufactured for the British market, it was imported to Japan when new and lived in a private collection until we imported it to Canada in 2004. Since it's arrival in Canada it was added to my personal collection and it has been driven only 1,132 miles. It is now properly registered in British Columbia, Canada. This is a true 2 Liter Cosworth powered machine – 204HP mated to the Ford's reliable T5 transmission propelling 2600lb chassis. The Exterior color is Moonstone Blue Metallic, the interior is Dark Gray Leather. As you can see from the pictures – the condition is "As New". It is true "Museum" quality. The body is straight and there are no dents, the paint is original and in excellent condition. No corrosion anywhere, no curb marks on the wheels. The tires are as new. The interior is spotless, the leather is soft and supple, no tears or scruffs. The dash is in excellent condition, no cracks or warping. The carpets and headliner are as new. The stereo is Japanese market Sony with 10 disk CD changer mounted in the trunk. Everything works. The AC is ice cold. There are no oil leaks. The car is fully serviced and there are no mechanical issues. All fluids have been changed in 2011. Service records are available. This exiting automobile drives exceptionally well – power delivery is smooth and seamless. The transmission shifts smoothly and positively. The handling is neutral and controlled. The 4 piston brakes are race proven. The exhaust sound is intoxicating.

Complete safety and mechanical inspections were performed on this vehicle upon its importation from Japan: there are no oil leaks, all fluids and filters were replaced. All suspension bushings are good. Independent party pre-purchase inspection at your expense prior to bidding is welcomed and strongly encouraged.

As you can see from the pictures, this is one exceptional vehicle. Please, do not e-mail me with ridiculous offers, I will not respond to them. I will, however, answer all serious inquiries promptly and will provide all additional information serious buyers might require.

This vehicle is listed for sale locally. It can be viewed in our showroom in New Westminster, BC, Canada. Attention US bidders! As noted earlier, this vehicle was sold new in UK, which makes it non-compliant with US DOT. EPA does not get involved with vehicles that are 20 years old or older. Some modification may be required to make this car DOT compliant.
For me, this car is simply awesome. Cosworth engine, great color, amazing condition and smart stance. I like the fact that it is a sedan, as well. True, the styling is a bit more formal, but it sets it apart from the multitude of hatchback models on the used market. If only it weren't for the shackles imposed on car enthusiasts by the United States government, this would be a car that I would seriously consider snapping up.
Recently, the British show Wheeler Dealers had a segment highlighting the Sierra Cosworth:
-Paul