The first Porsches were built in a small mill in Gmünd, Austria shortly after World War II. Ferry Porsche, son of Ferdinand Porsche, had been in charge of the small company while his father was imprisoned for war crimes. Upon his father's release, a new factory was built across the street from the Reutter Karosserie in Stuttgart, Germany.
The first Porsche 356s started trickling over here to the United States in the early 1950s thanks to importer Max Hoffman, who was also responsible for bringing iconic cars such as the Volkswagen Beetle and Mercedes-Benz 300SL to these shores. These Porsches garnered praise among a handful of enthusiasts who were enamored with its performance and build quality. These cars set the stage for the introduction of the 911 in 1964 along with a succession of racing and sales victories along the way.
Here is a very early Pre-A 356 for sale in New York City.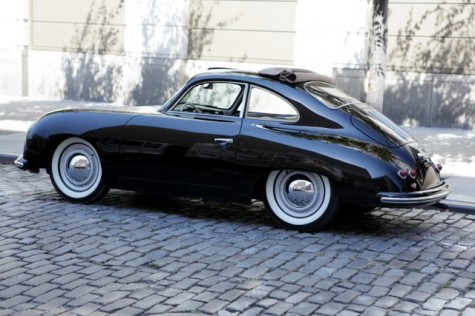 1953 Porsche 356 Pre-A Sunroof Coupe

Matching Numbers, Certificate of Authenticity, Rare Golde Sunroof, Fresh Restoration by World Renowned Porsche Expert

This 1953 Porsche Pre-A 356 Bent Window Sunroof Coupe is Black with Green leather interior. This is a very rare car and an excellent example of its kind. It retains its original engine and is painted in the original color of Black. What distinguishes this car from similar Pre-A coupes is its rare Golde Sunroof. The car comes with a Certificate of Authenticity from Porsche confirming the original color and matching numbers. The car is extremely well detailed, having just received a complete high-level restoration. This included a painstaking engine rebuild by a world renowned Porsche expert. The car has less than 550 miles on it since the engine was rebuilt.

We sold the car to a client almost immediately after we purchased it and just recently got it back. Our client invested another $15,000 carrying out small upgrades and getting the car to his extremely exacting standards. He only put 500 miles on the car. He had a new Alpine radio and iPod adapter professionally installed. It is easily removable without any effect on the car should the new owner not care for it. The car was also fitted with a 6 volt battery tender adapter for ease of use.

Being the first iteration of the 356 series, one of the earliest and most important sports car designs to emerge after World War Two, this car embodies an important moment in automotive history. With early 356s becoming increasingly expensive and hard to find, this is a good time to buy this important and beautiful piece of Porsche history. The rarity and high quality restoration of this example guarantees that it will always be highly valued and as such is an excellent investment.
These early 356s don't come up for sale very often and when they do, they surely are not cheap. For those Porsche enthusiasts looking for an example of where it all began, it doesn't get much better than this.
-Paul