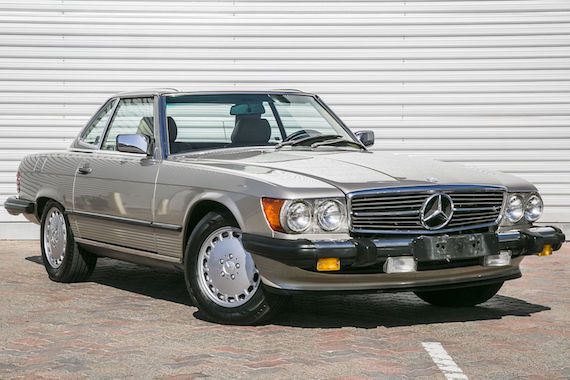 There used to be an R107 parked near where I live. It was green, in mint condition and it sparkled in the sun like it was new. I once saw the driver, a smartly dressed young woman in her mid twenties. An unusual car for a young person to own, I thought, especially in buttoned-up DC. Did she have impeccable taste in cars? A love for classic Benzes? Rich parents who'd gifted her their old roadster? All of the above? It's no longer there, so I cannot ask her. But I do notice these cars more and more these days, as I realize the R107 might well be the definitive classic Mercedes. Timelessly styled, precision engineered and still exuding that ineffable sense of old money, they will soon be collectible, if they are not already. A friend from graduate school recently bought one. When I see the pictures of him on Facebook sitting in it, I can't help but admire it. And feel a hint of jealousy.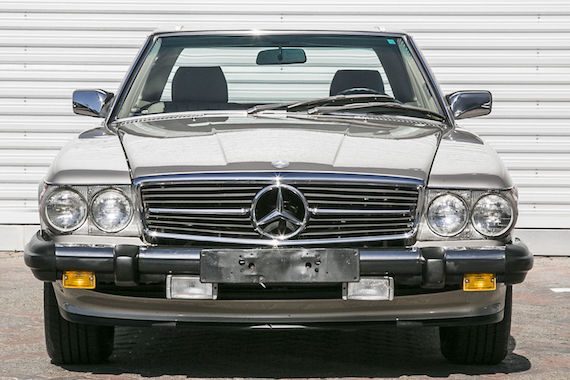 Year: 1989
Model: 560SL
Engine: 5.6 liter V8
Transmission: 4-speed automatic
Mileage: 126,365 mi
Price: Reserve auction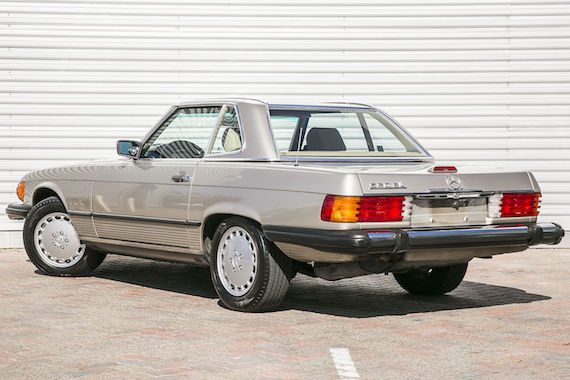 1989 Mercedes 560SL Convertible

This is a beautiful example of the Mercedes 560SL. It is Smoke Silver Metallic in color with light beige factory leather interior. The factory hard top is in perfect condition with functionality of the rear defrost for those cold southern California mornings, where it has spent its entire life having been purchased new at Mercedes Benz Pacific Beach in San Diego. It still lives in San Diego and shows like its never seen more than a little bit of rain in its 27 years. All body panels are straight and paint is in very good condition. It has new Michelin Defender tires that provide a quiet confident ride and will last the new owner a good long time into the future. Under the hood the dried cracking sound deadening has been removed and replaced with new thick factory replacement pad, making it look very nice and muting the large V-8 that moves this thing along at modern speeds.

It is equipped with the factory Becker Grand Prix cassette deck. The radio works great but I currently don't have a cassette to try in this vintage deck. The interior is in nice working order with the seats remaining relatively supple having only a few small wear spots on the drivers seat bolster and seatback. The steering wheel is clean and in very good condition. The dash is crack free showing little to no wear. The air conditioning blows cold, blowing harder out of the outboard vents than inboard. The wood in the center console is in good condition however does show some light wear. The power windows work perfectly with new window rubber channels on the hard top as well as new rubber A-pillar channel on passenger side. The hard top also has a new rubber gasket where it rides on the rear deck, providing a quiet ride and confidence for those quick trips through the car wash. The factory soft top will need replacing in the future as it is displaying some brittleness and a seam rip in one window, however functions all the same. The trunk is lined with the factory original carpeting and retains the factory tool kit as well as spare tire and alloy wheel. The car has two top handle wrenches and has had the rubber / plastic windshield header lock bushings replaced for additional water tightness.

The engine pulls strong with a nice exhaust note and has a fresh California smog as of Dec 2015. The car accelerates nicely to as fast as you dare to take it and handles beautifully with a tight precise steering rack rarely seen or felt on todays cars. It has new bilstein shocks and a totally sorted suspension. The brakes have been inspected and have plenty of pad and rotor life to make future spirited driving safe. It stops promptly without incident and belies the weight and build quality of these truly classic Mercedes Coupe Convertibles. The transmission shifts positively and does not appear to hunt for gears. When moving from park to drive or reverse it is quiet and smooth.

It retains its original owners manual containing many service stamps from the selling dealer as well as Heinz Gietz Mercedes in La Jolla.

Please feel free to ask any questions prior to bidding and know you are bidding on a beautiful example of one of Stuttgart's finest.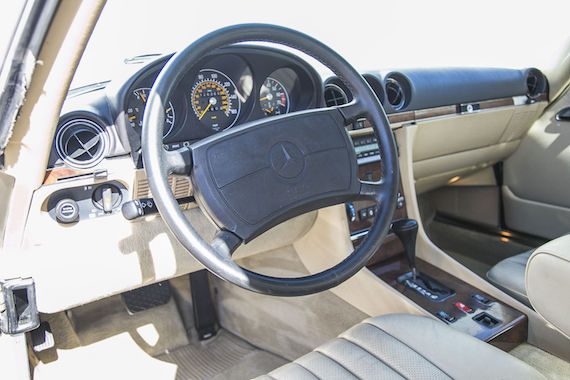 This particular example is a range-topping, final production year 560SL in Smoke Silver. I've derisively called this color "grandpa beige" before, but on the R107 it looks gorgeous (especially when nicely detailed, as here). The 5.6 liter V8 sitting under that long hood produces a relatively modest 227 hp. No matter – this nose-heavy tourer is for cruising the boulevard, not drag racing. I could think of no better car to do that in.
Condition looks excellent inside and out, with only some minor interior wear noted. The 126k miles on the odometer is a welcome sign for two reasons. First, it's high enough to put this out of the sights of collectors looking for museum pieces, which should keep the price down (ultra low mileage examples have shot up in price recently). Second, Mercedes engines from this era need to be driven to keep them in good health, and this one clearly has. I would expect this to sell for somewhere in the $13-16k range. That's still not a lot of money for a durable and classy roadster from the golden age of Mercedes-Benz history.
– Craig