Warning!
This post is in our archives. Links in this post may have been updated to point to similar cars available to bid on eBay.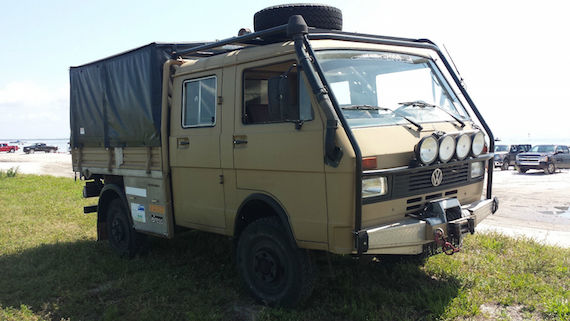 The LT45 is Volkswagen's Sprinter-like, light-duty van/truck that was sadly never officially sold here. Like the seller says, however, it serves as a great "Goldilocks" between the Syncro T3s and Unimogs we love to feature here – not too big, not too small, but just right and with all of the capability. Featuring two locking diffs, diesel power, seating for 6 AND a multi-use truck bed; sounds ready for whatever kind of adventuring you can throw at it. Exterior framing and a snorkel look tough but mean heading into the jungle is possible too. The canvas-covered truck bed means its only achilles heel may be winter camping, but I do love that it looks like there's some suspended-bed contraption back there currently. A little easier to park than a Mog and certainly more space than a T3 van or DoKa, this Goldilocks means business.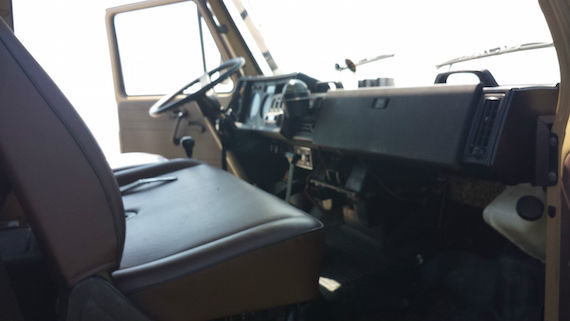 Year: 1989
Model: LT45 DoKa
Engine: 2.4 liter diesel inline-6
Transmission: 5-speed manual
Mileage: 90,000 mi
Price: Reserve auction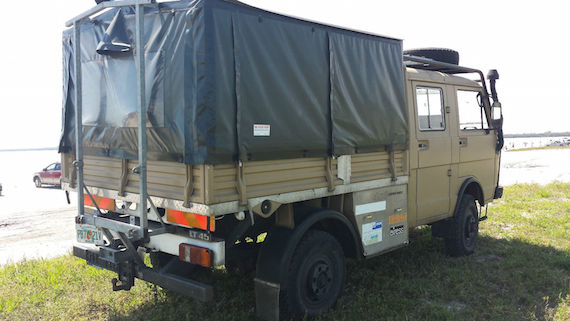 Today we offer a very rare 1989 VW LT45 Turbodiesel 4×4 expedition overlander truck who started his life as a rescue vehicle,somewhere in Europe.

Its not a syncro,its a true 4×4 with dual lockers,mated with a 5 speed manual transmission and a strong 2.8 liter 6 cilinder turbodiesel motor.No ac but

an RV style rooftop ac could be added easily since there is also a ONAN gas generator aboard.Its 220V 50 Hertz euro style but an low coast inverter

will make that 110v/60 hertz without a problem.This rare VW has 90000 miles or 150000km on the clock so lots of life left in it.Truck also comes with

1 spare and 4 extra wheels.This truck is a great fit for people who think a syncro bus or doka is too small and a unimog is too big.With the roomy doka

(doublecab) its easy to take the whole family and friends with you.Outfitted with snorkel and roofrack,and a winch on the roofrack,for hauling a small boat.

Tires are all 4 almost brandnew.i can honestly say,truck needs nothing except a new owner.The rear seat in the cab can be made into a bed and under the

tarp in the back is also a bunkbed type of bed.2 storage boxes come with this truck.There is also an auxilery battery and offcourse truck has extra lights in

front and a heavy winch.Ive been driving it whole week last week and got a lot of looks and i was pleasantly surprised on how nice it drove,not fast but so

comfy and easy.He feels good around 55/60 mph.Im sure im forgetting stuff but will add them later when i think of it.Please remember,my vehicles are

European imports and have a KM speedo!The drivelines are old school,same as in Volvo and parts are commonly avaible,All my vehicles are sold as is,

where is,no warranties implied.If i think of more,ill post it later.Please check my other listings,Thank you.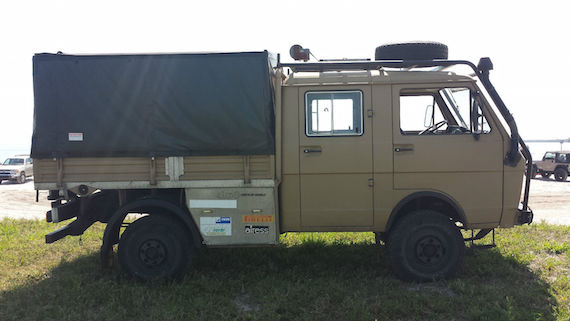 Bidding is just over $10k as I write this – I would expect the seller is hoping for much more. A Unimog or Syncro Vanagon with this level of adventure preparation would sell for several times that. It's a pretty great and unique 4WD proposition no matter what, but under $20k this might be the best adventure value we've seen in a while.
-NR