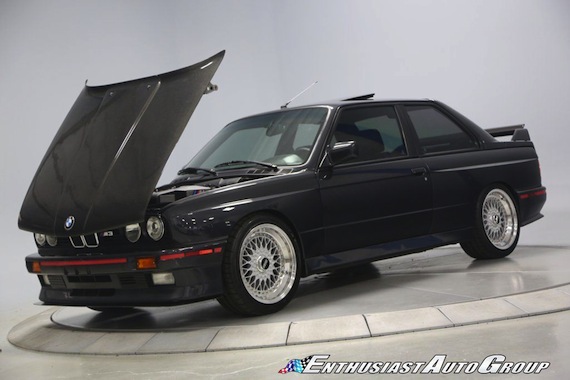 I almost threw up when I went through my saved eBay searches today and saw a stock Alpineweiss E30 M3 with 67k miles that was asking $59k and had been bid up over $40k. The ceaseless rise of the E30 is just crazy, folding values over on themselves and dollars into sellers' pockets. I still love the M3 as a car, but the insanity surrounding them has tainted my love with disgust and disdain. As I tire of the creampuffs setting new records every time they come up, I become more interested in what I've grown to think the E30 M3 was about: making it into the Bimmer/racer you wanted. I've joined the scorn at removing the S14 before, but as I fall more in love with my S38 every day, I now see it as the ideal E30 swap. With more character, rarity, and power than the standard E36 swaps, getting an M3 (or any E30) with one of these beasts interests me greatly. Today's E30 M3 comes fully redone after a big-mileage life, and looks extra awesome for it. A Sport Evolution bodykit backs up the significantly improved grunt on the outside, and the creator has made an awesome choice with a plaid interior on ///M seats. At this point in time, this is my ideal E30 M3.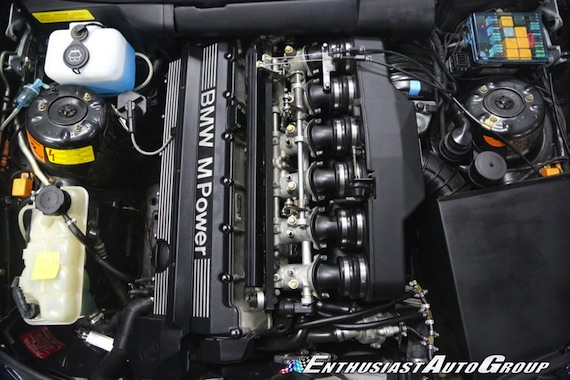 Year: 1989
Model: E30 M3
Engine: S38B36 3.6l inline-6
Transmission: 5-speed Getrag 260
Mileage: 205k on chassis, 16k on rebuild
Price: Reserve auction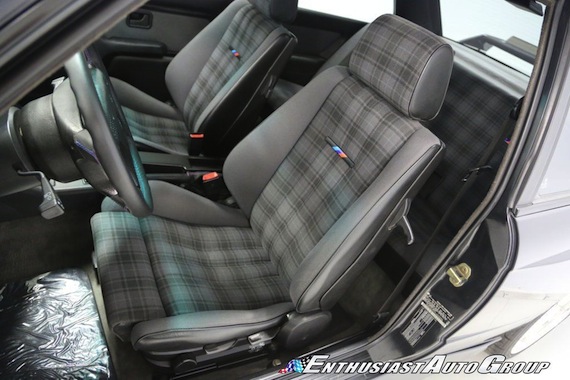 1990 BMW M3 S38 Engine Description:

Diamondschwarz on Sport Cloth Interior, Stunning S38 Engine E30 M3!

Vehicle Specs:

S38 3.6L Inline 6 Cylinder Engine
E34 M5 Clutch Kit
Getrag 260 5-Speed Gearbox from E28 535i, better low end ratios in 1st, 2nd and 3rd gears
3.73 Limited Slip Differential
Cold Air Intake with Heat Shield
Full dual exhaust with X-pipe + catalytic converters with Magnaflow muffler (passed smog in CA)
Ground Control Suspension with KONI Dampers
Fully Reconditioned Polished 17" X 8.5" BBS RS Wheels
Deep Tread Remaining on Bridgestone RE-11 Sport Tires
Euro "Smiley" Smiley Head Lights with City Lights
Carbon Fiber Hood with Windshield Washer Nozzles
EVO Hood + Bumper Seal Kits
EVO Red Bumper Trim
Euro Headlight Grills
Front Carbon Fiber Splitter
MA Shaw EVO 3 Rear Spoiler with Adjustable Carbon Fiber Gurney Flap
Leather Steering Wheel with M Tri-Color Stitching
M Tri-Color Seat Badges
M Tri-Color Leather Shift + Hand Brake Boots
Air Conditioning Delete
Privacy Glass Window Tint

The condition of this car is fantastic! The exterior finish shows excellent! The interior is also very nice with no rips, tears or significant wear marks. This car has resided in California and Washington since new! The body and undercarriage is extremely clean with no signs of rust or corrosion.

The S38B36 engine was rebuilt with new pistons, rings, bearings, seals, gaskets, match ported head, new timing chain guides + tensioner, water pump, thermostat, radiator + fan clutch.

The rebuilt engine is stock with the exception of 3.8L cam gears and a performance chip. Although the engine is relatively stock, it still produces 282 hp + 260 ft./lb's torque at the wheels!!

The body received an extensive 2-stage full exterior repaint in 2010, no expense spared.

The engine rebuild and installation was also performed in 2010; at the time of restoration, the chassis had approximately 189K miles. Since the M3 was completed, the car has driven 16k miles matching the odometer.

This S38 E30 M3 is not for the faint of heart!

This car pulls very hard through the RPM band while still retaining the E30 M3's excellent handling abilities!

Enthusiast Auto has completed our Comprehensive Pre-Purchase Inspection and Work Order verifying the condition of this M3 as a Wicked Fun Driver + Investment Vehicle.

Clean Vehicle History Report – No Accident History. Non-Smoker.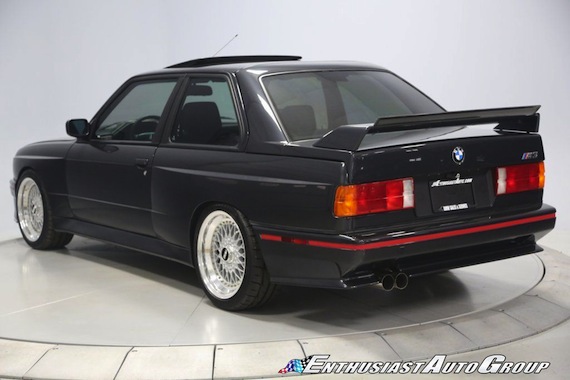 Yep, I'm in love. This may well go towards that $40k mark too, but I like the uniqueness and bold-but-appropriate choices. And no S14 is going to haul like this, as the E34's lightly modified S38B36 is now making B38-levels of power. Screw the creampuffs; let's get fast and wild.
-NR