Warning!
This post is in our archives. Links in this post may have been updated to point to similar cars available to bid on eBay.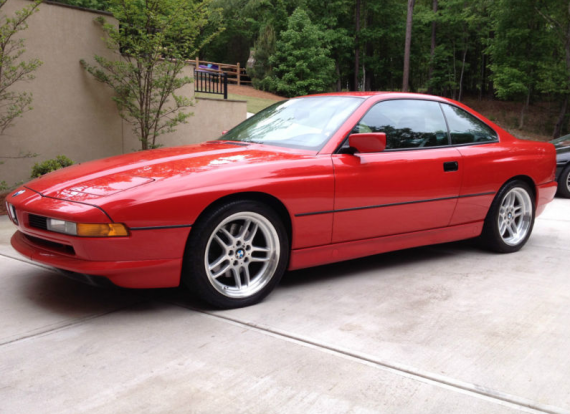 Even with the huge, fast and luxurious 6 series available these days, it lacks the special halo status present with the 8 series. Even as they dig in to their third decade, the allure is clear in these gorgeous and rare wedge-shaped coupe. Today's 850i is a gorgeous example of the breed, hiding its 179k miles well in shining red on chrome M-Parallels. Lots of documentation and just 2 owners is reassuring for a high-mileage car, though lots of miles on a V12 is always a concern.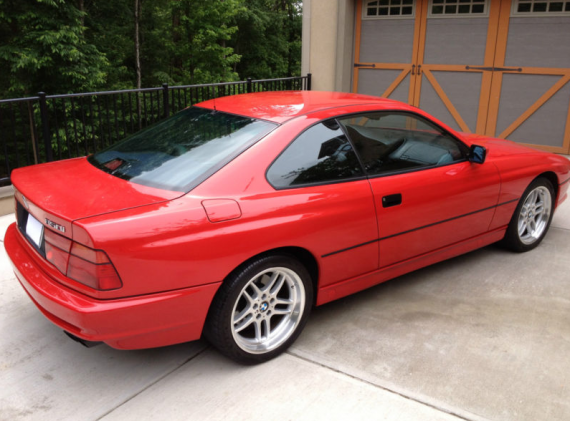 Year: 1991
Model: 850i
Engine: 5.0l V12
Transmission: 6-speed manual
Miles: 179,000
Price: Currently $14,700 with 16 bids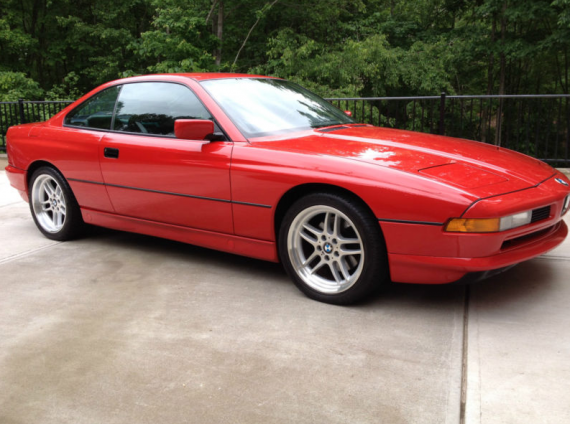 This immaculate BMW 850i in "M8" clothing is a rare find indeed. I use the term "M8" loosely as BMW never created such a thing, but this may be as close as it gets cosmetically. The 5.0 liter 12 cylinder 850i was BMW's flagship as you probably know and was pretty scarce to find in the MANUAL 6 SPEED version. This example comes with factory BMW "M" badging on the trunk lid, staggered M Parallel 18" wheels, and of course, the "M" logo on the leather shift knob. The car is completely stock except for these "M" items and also xenon HID 6000k headlamps, keyless entry and the in dash head unit. Other than that, the car is extremely original and untouched, why try to change a great thing?

TO VIEW OVER 50 MORE HIGH DETAILED PHOTOS OF MY 850i, PLEASE CLICK ON OR COPY AND PASTE THE FOLLOWING LINK INTO YOUR BROWSER, ONCE THE PAGE OPENS, CLICK ON "VIEW ALBUM" THEN CLICK "VIEW SLIDESHOW." the photos are pretty amazing and are worth looking at.

http://www.shutterfly.com/share/received/welcome.sfly?sid=0Aat2zNozZM2TC-g

As the photos tell, the car is in ridiculously nice condition and very well maintained. I've owned it since 2003 and I'm the second owner. I've never offered the car for sale until now. Obviously, I'm not a dealer flipping this car but a true car guy who LOVES BMWs. I've actually owned 7 BMWs over the years, currently own a Lotus Espirit and BMW M3, and I'll be in the market for a new M6 after my 8 series sells. I only have space for 4 cars in the garages. The car comes with both keys and absolutely every piece of paperwork and documentation since it was new. I have receipts for all maintenance and work performed over the years. The car also comes with every single manual and brochure provided when new including the ORIGINAL WINDOW STICKER for $79,000.
This 850i (e31) has always been garage kept. All moldings, rubber seals, window gaskets, etc are in excellent shape. The paint looks like glass and the body is absolutely arrow straight. There is no rust on the car. The wheels are mint with zero curb rash. The car has always been Adult owned, and never raced or driven hard. In fact, I'm the only person who has driven it for the last 10 years other than service techs. The 12 cylinder engine starts and runs smoothly and strongly without hesitation. Shifting is smooth and steering is precise and accurate. The tires are well balanced, with good tread left. There is no unusual shaking, pulling or vibration while driving. The motor has plenty of torque and the car corners very well. This car is simply a blast to drive and handles nicely at speed on the interstate, in fact, the windows will roll themselves up automatically at 100 miles per hour. I couldn't believe it when I read it in the manual and had to try it myself… incredible.
On the inside, the original leather seats are in excellent shape. I only weigh 165 pounds and I'm very easy on the seat bolster when sliding in or out. The car has the proper, standard BMW smell on the inside. It's never been smoked in and I don't use air fresheners to mask odors. All controls, switches and gauges function properly. The AC blows cold and the 12 speaker factory audio has been upgraded with an in dash AM/FM CD player with MP3 audio jack so an ipod, iphone or other MP3 player can easily be connected. I've kept the original BMW radio also. The car comes with a nice retro, factory BMW "cellular telephone" option. I've left the antenna on the car for the coolness factor, but it can easily be removed for a cleaner look. Every once in a while, I'll pull up to a stoplight holding the large phone, pretending to be in a conversation. Needless to say, it's always good for a laugh to see the reaction from other drivers. This phone option is listed on the window sticker, I think the phone was at least $2000 or so back then, wow.

The car has a good 2 owner autocheck (carfax) record with clean title. I currently hold the title with no lien on the vehicle.

Here's a listing of factory installed options on the car:
Manual 6 speed gearbox, ASC traction control, BMW cellular phone, Dual climate control, power windows, power locks, dual power seats with driver memory, power tilt and telescoping steering wheel, cruise control, power 3 way sunroof, power mirrors, ABS brakes, intermittent wipers, rear defrost, BMW computer with outside temp, fuel mileage left, average speed, fuel consumption, diagnostic check and speed limit warning with chime (very nice feature for avoiding tickets.)
Upgrades include 18" staggered fit M parallel wheels, keyless entry, CD player with MP3 connector, R134 update to the air conditioning, and HID xenon 6000k headlamps similar to the standard ones on new BMWs.
Overall, this 850 has the features and upgrades found on much newer BMWs. The car really doesn't look or feel it's age. The lines are so classic, and really timeless in my opinion. To my knowledge, the car doesn't need anything and is solid to drive pretty much anywhere. We have taken it on trips up to the mountains or to the coast plenty of times with no issue. The body has several extremely minor stone chips or blemishes due to normal driving and age which have been touched up. The rear bumper cover was replaced by BMW in 2000. This shows on the Autocheck report. All maintenance has been performed as necessary over the years, the belts, hoses, clutch, dual batteries, tune up items, brakes, fuel / air filters, etc have been replaced as necessary along with normal wear and tear items. All work performed has been documented with receipts. I don't think it would be possible to find a nicer example of an 850 no matter the mileage or price. My car looks and drives like it's barely reached 20,000 miles. I guess at this point, the 850's just getting broken in…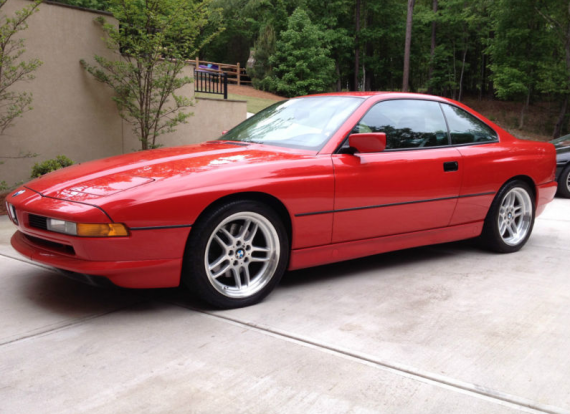 I'd raise an eyebrow at an ///M badge even on the M-produced, S-VIN-having 850CSi, so here I find it unacceptable. Beyond that, it's a beautiful car that has been well taken care of. If you're prepared to deal with the implications associated with high-mileage V12s, this is one of the cleanest of the bunch.
-NR