A pertinent point that may explain some of the details on this car is that the seller is named Cornelius. While it's not the highly sought-after CSi, it still possesses a lovely BMW V12. I was going to call into question the overall styling, but it's really just the large gold wheels that polarize potential buyers. The repaint in its original color is gorgeous, and on stock wheels it would just be a fantastic E31. The wheels are a pleasing design, you'd just have to be a gold-rims kind of guy or gal. This 8er really has been given the royal treatment though, with few issues or aging parts left unturned.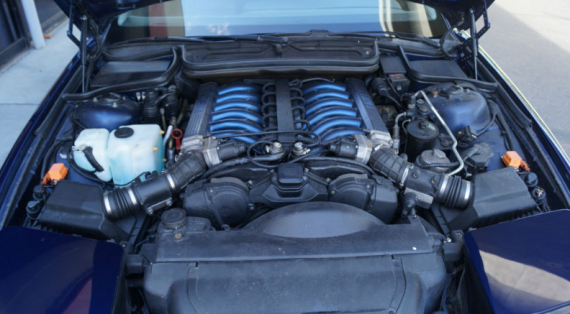 Year: 1991
Model: 850i
Engine: 5.0l V12
Transmission: 4-speed transmission
Mileage: 151,000
Price: No-reserve auction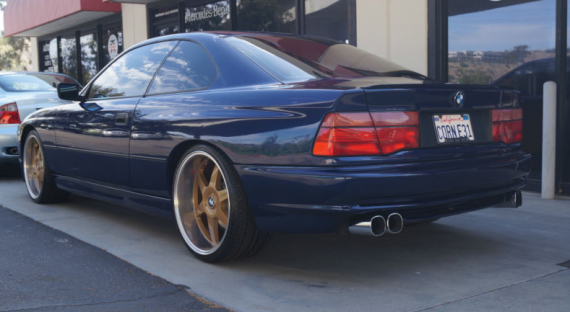 100% FULLY RESTORED BMW 850I, PLEASE CALL CORNELIUS WITH ANY QUESTIONS. THIS CAR HAS TO MUCH TO LIST YOU WILL HAVE TO CONTACT ME IF YOU ARE SERIOUS BUYER. ADDITIONAL PHOTOS SHOWING THE FULL RESTORATION AND NEW HEATING CORE OF THE CAR ARE AVAILABLE. ENGINE AND TRANSMISSION HAS BEEN FULLY SERVICED AND RESEALED. CAR HAS NO LEAKS AND NO MECHANICAL OR ELECTRICAL ISSUES.

NEW INTERIOR
14K FULL ORIGINAL FACTORY REPAINT
NEW BMW 850i FLOOR MATS
NEW HORNS
ALL NEW RUBBER AND TRIM PIECES FOR DOOR SEALS
NEW HEADLINER
NEW STEERING WHEEL (FROM A 850 ALPINA B6 CSI)
NEW GEAR SHIFT LEVER
NEW SEAT BELT FASTENERS
NEW SUNROOF MOTOR AND RESEAL
NEW SEATS
FRESH TRANSMISSION SERVICE
FRESH ENGINE FULL SERVICE
POWDER COATED MANIFOLDS TO MATCH CAR
NEW PAINT JOB (ENTIRE CAR)
UPGRADED BREMBO BREAKING SYSTEM
MK FRONT SPOILER
MK WHEELS
4 BRAND NEW TIRES
CUSTOM PAINTED MK WHEELS
REMUS EXHAUST
2 NEW CATALYTIC CONVERTERS
CUSTOM PAINTED REAR TRUNCK SPOILER
8500 SOUND SYTEM iPOD INTERGRATION
GPS NAVIGATION (UPGRADED HEAD UNIT IN GLOVE BOX)
CUSTOM PAINTED MK REAR VALANCE
CUSTOM PAINTED MK FRONT NOISE PIECE INSERT
NEW SHOCKS
BRAND NEW UPGRADED SPRINGS EIBACH
NEW ONBOARD COMPUTER READOUT UNIT
UPGRADED FACTORY GERMANY CD PLAYER UNIT
NEW RADIATOR
FULLY CHARGED AC UNIT
NEW BELTS
ALL NEW SUSPENSION AND BALL JOINTS
FULLY UPGRADED SUEDE HEADLINER
2 KEYS AND MANUALS
ALL SERVICE RECORDS AND RECEIPTS ARE AVAILABLE UPON REQUEST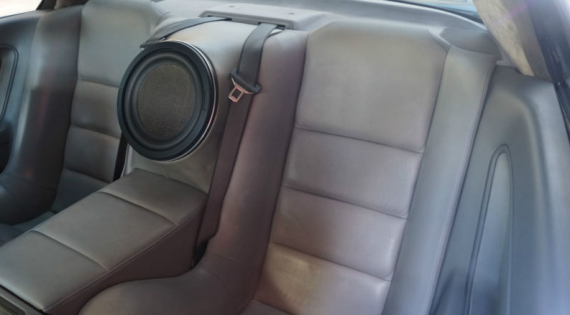 That is the most creative use of the divide in a 4-seater I've seen yet. Sure, some cars have beverage coolers or writing surfaces, but this has a WOOFER. Despite wheels that may not be for everyone, an automatic, and questionable woofer placement, this is one of the most active auctions I've ever seen, with 45 bids at time of writing and plenty of time left. A pretty good indication that overall, despite a few head-scratchers, this is a very good value for a very pretty E31.
-NR