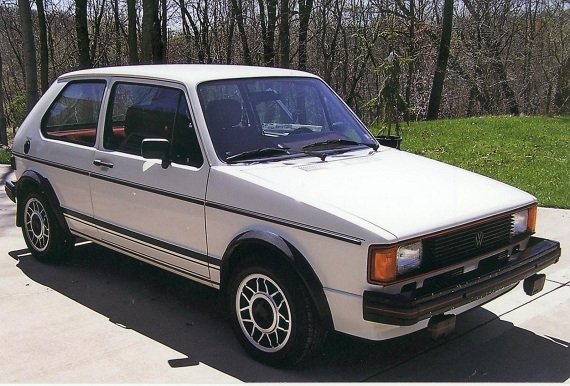 Like the E30 M3, the 944 Turbo and the Audi Quattro, the first generation Volkswagen Golf had a reputation as a bit of a legend in its own time. The father of the "hot hatch" craze of the 1980s, the GTi coupled practicality with performance at a reasonable entry price. For some owners, though, the 100 odd horses under the hood just weren't enough, and for those well-to-do customers who wanted to scare Porsches and Corvettes on their daily commute, there was the Callaway Turbo option. This particular car had Callaway bump it up to "Stage II" with a scant 1,800 miles on the clock to the tune of $4,500 – in 1983! Since then the car has traveled few miles and appears to be one of the most pristine we've seen in a long time, coupled with a rare color combo: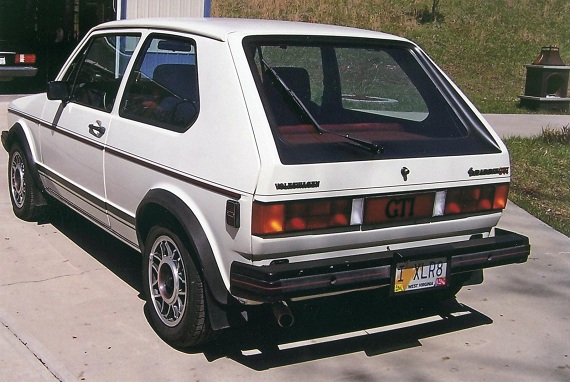 Year: 1983
Model: Rabbit GTi Callaway Turbo
Engine: 1.8 liter turbocharged inline-4
Transmission: 5-speed manual
Mileage: 18,561 mi
Price: No Reserve Auction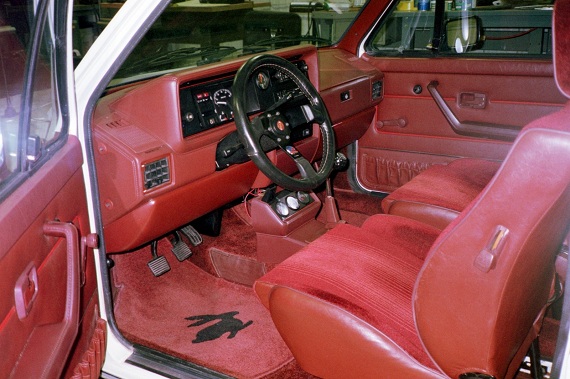 In addition to the many standard items, additional options and information include:

*AM/FM Auto/Rev Cassette Stereo Model: 1983 Rabbit Engine (Call. Turbo)

*Vent Windows 4 Cylinder Fuel Injection

*Color Coordinated Floor Mats Transmission: 5-Speed Performance Trans.

*2-Door Hatchback, GTI 3-Way Catalyst

*Fuel injected engine Title: Clear

*Dual Rear Speakers Color: White with burgundy Interior

*Callaway Stage 2 Turbo Fuel: Gas

200 HP with Intercooler Mileage: 18,561

HISTORY AND CONDITION – One-owner, great-condition 1983 VW GTI that has been garage kept and has only 18,561 actual miles. Purchased December 31, 1982. Turbo installed by Callaway TurboSystems in Old Lyme, Conn., and picked up on 9-2-83.

The owner consistently followed protocol for engine warm-up and cool down after boost (turbocharger) used. Instructions for oil, gas, and engine care are written in front of Owners Manual. All maintenance records are included. Upgraded steering wheel, but original steering wheel is in good condition and goes with the car. A red pin strip was added to the black stripe to match other red trim; easily removed if desired.

Tires have been replaced; battery replaced in 2009. The inspection sticker is good until May 2014. Interior of car like new. Cloth upholstered contoured sport seats, front. No tears, holes, etc., anywhere. Some paint chips on black aluminum bumpers, could be touched up, if desired. The car has original factory paint…no restoration. Questionable if another original 1983 VW GTI Callaway Turbo with this low mileage and in this great condition could be found today.

The owner had a lot of fun driving this car on weekend outings, especially around curves for its handling and quick response at a stop light or passing other cars. This car is an antique so insurance and licensing will not be too hard on the pocketbook. Owner was an engineer who appreciated the technical research and endurance testing for "…a sophisticated product of engineering for which this vehicle was designed for maximum efficiency and driving pleasure," as stated in the Owners Manual.

This 1983 VW GTI was highlighted at the time by Car and Driver (see Nov. 1982 edition), Road and Track, Motor Trend, Volkswagen and Porsche, and other news magazines. It's been listed in Automobile magazine as 1981-1984 Volkswagen Rabbit GTI – Collectible Classic. Although rare, this VW GTI has been well cared for and is in great to excellent condition for its age.

Turbocharger cost was an additional $4500.00, added to the cost of this 1983 VW GTI. As a Collectible Classic, this car should maintain or increase in value with inflation.

(Car to be auctioned; reserve will be placed. Reserve the right to end auction; but if it finalizes, will quickly honor your winning bid. Please put deposit of at least $500.00 via PayPal and the balance via wire, check, or other secure method. Buyer is responsible for vehicle pick-up and/or shipping. Effort will be made for inspection of vehicle at buyer's time and expense prior to close of sale).

On Oct-16-13 at 10:27:50 PDT, seller added the following information:

ADDENDUM TO ORIGINAL AD

Just recently located the complete file compiled by the owner before, during, and after the installation of the Callaway Stage II turbo kit at Callaway TurboSystems in Old Lyme, CONN. It includes the following:

*Excerpts from major Auto magazine articles singing the praises of the 83 VW GTI.

These are from the dealership where the car was purchased with the dealership business

card attached.

*The original window sticker and the original check written for the purchase of the GTI.

*All of the research done by the owner before making the decision to go with the

Callaway System (includes brochures from other turbo systems, magazine articles, etc.)

*Brochures, parts lists, price lists from Callaway TurboSystems and receipts of parts and

installation of Stage II kit including the addition of front stabilizer bar and stiffener and

heavy-duty clutch.

FOLLOWING ITEMS & ANSWERS MAY BE OF INTEREST TO BIDDERS

A number of additional recent pictures are included for bidders' consideration along with the following information:

1. Regarding original window sticker – In owner's file with other items including

Callaway Stage II turbosystem installed when car had 1850 miles on it.

2. This is a no-rust car and has never had any rust repair. One possible exception

is some surface rust on suspension, exhaust, or where there are some paint chips, like

on jacking points. The undercarriage is original and has never been retouched,

cleaned, or repainted, so there is some flaking of the original black paint on

suspension components and surface rust is present on these areas but would be easy to

clean and repaint, if desired. Everything is solid.

3. There is a GTI filler plate by the license plate that would be easy to take off, if one

wanted, and put the license plate back in that area. The license plate bracket is bolted

to the underside of the bumper with 2 bolts so its removal will not result in holes in

the bumper that would be visible except from underneath.

4. As mentioned above there has never been any undercoating or painting done to the

undercarriage. It's original and nothing is covered or hidden from view.

5. Pictures of some of the original paperwork, sides of car taken in Oct 2013, included.

6. There are no dents or creases in the body ever!

7. The owner added an extension to the original shifter. It screws

on and can be removed and replaced with the shift knob.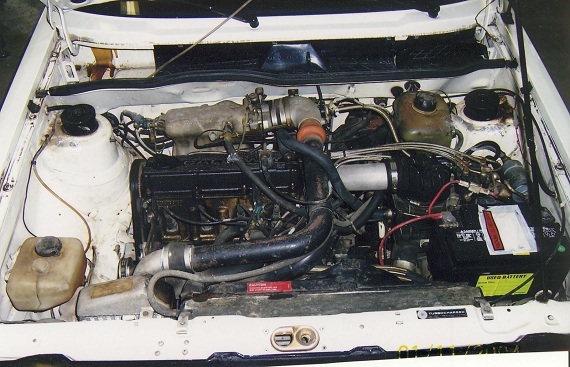 Talk about setting the market; Rabbit GTis are hard to find in clean condition, and when they're it great shape they have been commanding strong money. We've seen some big dollar Sciroccos in the past few months, but with strong bidding this car has already exceeded $10,000. That's impressive considering that there are several non-stock items on this car; the steering wheel and shifter extension are interesting to say the least, but the Callaway installation looks typically messy and the front bumper is chipped up, and the rear panel has left holes in the bumper. Despite this this is one of the few clean GTis in white with red interior, and my guess is the super-low mileage on such a tough package to find clean is driving the bidding. The question is, "How high will it go?"
-Carter