Warning!
This post is in our archives. Links in this post may have been updated to point to similar cars available to bid on eBay.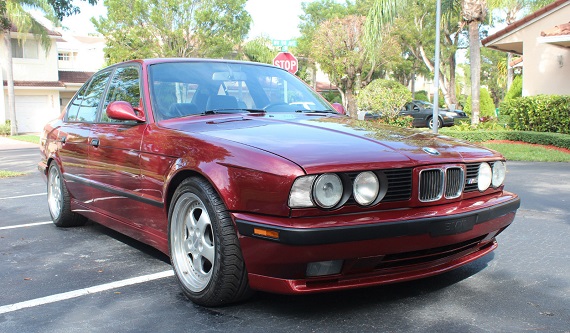 The E34 M5 may be the least-loved of the breed, but who is going to argue with a 3.9 liter stroker S38? I adore my S38B35, and the thought of a torquier, gnarlier Dinanified inline-6 with an extra pint of volume makes me tingle. This Calypso Red M5 has made the rounds, first selling on BaT in 2012 for a relative pittance before spending the last year-plus trying to spin a profit. The speculative seller has repainted it but accrued fewer than 1k miles, making clear his intentions to cash in on a rare, tuned M-car. The reality that E34s aren't appreciating like E30s or E38s has apparently begun to set in, as he's asking now asking $6,500 less than in 11/2014. If you're looking for a monster E34, this is probably the way to go. But when you could be getting an E39 with 60 more horsepower and a generation newer everything, does anyone like the E34 enough to pay the premium? I'm guessing the seller is going to have to have more patience or less pride before this M5 can start spinning its wheels again with a real driver.
-NR
The below post originally appeared on our site November 28, 2014:

What's the best deal going amongst BMW M cars? One could certainly argue that it must be the E34 M5. With the classic and refined looks of the third generation 5 series comes both great build quality and legendary reliability that helped to solidify BMW's place in the luxury market today. Of course, it doesn't hurt that there was an equally legendary series of engines under the hood, and without a doubt the shining star of that lineup and the model range indeed was the M5 with the original S38 motor screaming its last song. Despite the rush on all things M from the 1980s and general good shape that many of the E34 Ms appear in, they're also generally quite affordable compared to the rest of the examples of BMW Motorsport's influence. Part of that was that the package didn't stand out quite as much as either the E28 or E39 M5 did. It was subtle, understated and almost whisper quiet in its delivery of a performance package; out of the box, it even almost looked like it had white wall tires due to the unique two-piece M-System wheels. To solve the perceived lack of gusto compared to the competition, one could turn to BMW specialist Dinan to turn up their luxury rocket ride to 11: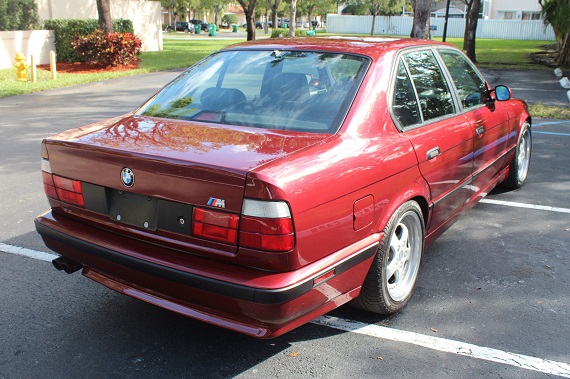 Year: 1991
Model: M5
Engine: 3.9 liter inline-6
Transmission: 5-speed manual
Mileage: 125,000 mi
Price: $22,500 Buy It Now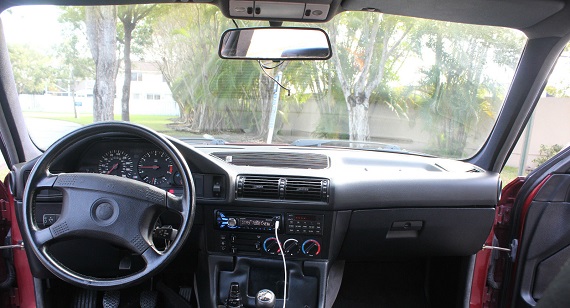 This is truly a Unique E34 M5!

It has a brand new paint job in Original Calypso Red.

The vehicle will include a complete book with all of the receipts and services done to the car.

Interior: The interior of the car need some mild work and care. I would give it a 7 out of 10. Very good shape considering it is a 20+ year car!

It has a Dinan Upgrade that includes all of the following modifications ( I HAVE ALL PAPERWORK TO DOCUMENT THE PROCESS):

Stage 3 Suspension which includes:

4 Lower Springs
1 25mm front bar ADJ
1 19mm Rear Bar ADJ
1 Set Camber Plates
Load Levering Adaptor Kit

Dinan Brake Conversion

Dinan Speed Delimiter (Turbotrornics 7)

Dinan Performance Chip.

Dinan M3.9 Stage II

Dinan High Performance 3 Piece Wheels

If you require any additional photos or info please don't hesitate to contact me at any time!

Rear 5 Emblem is missing but I already Order an original one from BMW.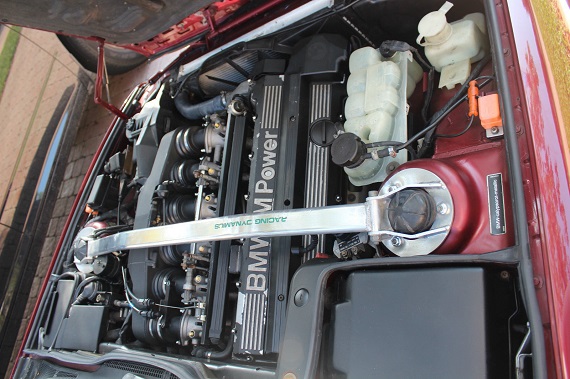 I never really liked the first generation of Dinan wheels if I'm honest. Good looking? Sure, they're a nice and understated looking 5-spoke. The design reminds me a bit of the original Acura NSX wheels. But much like the M5 itself, they're perhaps a bit understated in their delivery. This car didn't just get wheels alone though, as behind those wheels and tires lie brake and suspension upgrades from Dinan to help deal with the extra power. Since BMW had already done that with the standard M5 to deal with the upgraded powerplant, that hints towards the added performance of the 3.9L stroker from Dinan. While it doesn't transform the M5 into a F40, the 3.9 reportedly was good for about 340 horsepower – but boy, was it going to cost you. Figuring the list of modifications alone from Dinan are about $25,000 and a 3.9 stroker from Korman or Metric Mechanic is in that same ballpark today, you'll begin to appreciate why the owner of this car has asked a serious premium over a standard E34 M5. However, is it worth it? The exterior looks quite nice overall and the Calypso Red is a unique and good looking color. Unfortunately we don't see much of the interior at all; were I paying top dollar for an E34, I'd expect it to be pretty spotless, and this one doesn't seem to be that way. However, the big salt in the wound comes when you hear that this car was available a little over two years ago for only 1/3 of the price. Even accounting for a repaint (which it arguably didn't look like it needed recently), it's hard to see where the additional $20,000 is coming from. Kudos to the seller on what appears to have been a stellar deal in 2012, but the buyer may feel like there is some negotiation room there based upon the relatively flat E34 market and the last sale price.
-Carter