This car has been up for sale numerous times, I even posted it on this blog over two years ago.
Something strikes me as odd that this car hasn't traveled in those two years, the mileage hasn't changed much. In fact it has covered less than 5,000 miles since 1997, stashed in a collectors garage. One of the times the car was on eBay, in Fall of 2009, it had apparently sold for $8,700, but looks like that sale didn't go through. Now it is up for sale for $12,500.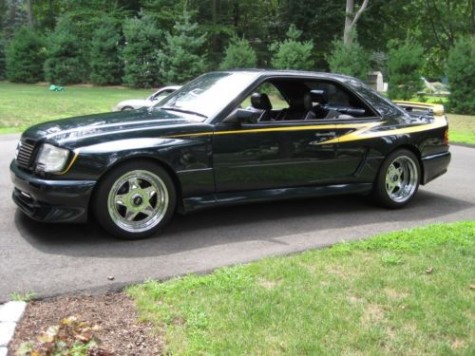 If you disregard the strangeness of the fact that no one seems to want to drive this car, the price is not too shabby for a genuine low mileage Koenig car. If this was a big body Benz with that mileage buyers would be more likely to bite. Plus this one was owned by Ken Griffey Jr. as indicated by the custom speedometer gauge face, which should appeal to some people.
The dark green paint is a unique color, but the custom yellow striping and boy racer trunk lid spoiler are kind of a turn off. Of course if you are in the market for a Koenig car you aren't interested in being inconspicuous.
The current owner purchased the car earlier this summer from the collector who had basically parked it since 1997. This seller had some work completed to make the car more road worthy. It looks like it could still use some work to fix the handling and touch up some paint and chrome issues. Maintenance on this should be a breeze as it still sports the standard 3 liter inline six of which parts are plentiful.
If the right collector finds this it might sell at the opening ask price. More likely though I bet it goes through with no bids, which is strange when you think about what a new Koenig Specials conversion cost. The rareness of these cars coupled with the low mileage of this one may tickle a collector looking for an investment the right way, but lets hope the car doesn't get locked up off the road for another decade.
~Evan