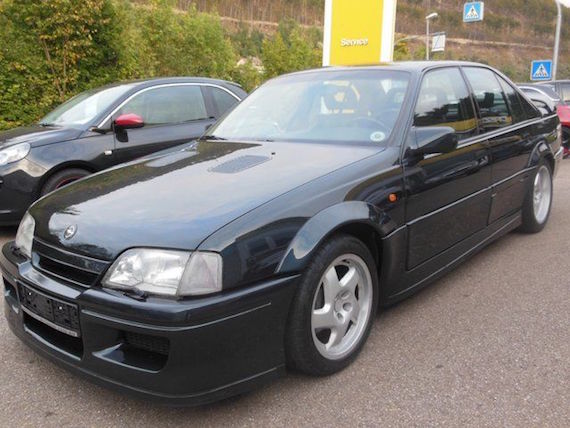 The first generation Omega was a mid-sized luxury car offered in Europe by Opel, the German subsidiary of GM, between 1986 and 1993. Sold in Britain under the Vauxhall marque and rebadged as the Carlton, my friend's dad had a mid spec model when I was growing up. I always thought of it as a poor-man's BMW 5-series. And I don't mean that in a bad way: it was actually a pretty admirable car, offering luxury features to the masses like ABS, an on-board computer and a dazzling (at the time) LCD instrument display. I suspect most people by now have forgotten all about them. But there is one very special edition of the Omega/Carlton that enthusiasts of my age could never forget, the one breathed on by Lotus. The British sports car manufacturer took the hottest version of the car, the 3000 GSi, enlarged the 3.0 liter 24v motor to 3.6 liters, added two Garratt T25 turbo chargers, a six speed manual gearbox taken from a Corvette and an aggressive bodykit. The result was a menacing and breathtakingly quick uber sedan, with 377 hp on tap and a top speed of 177 MPH.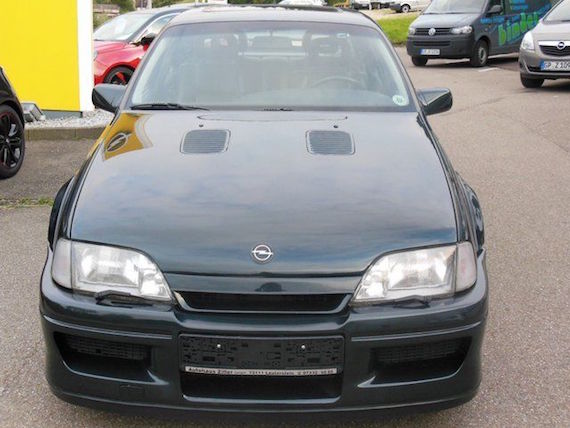 Year: 1991
Model: Lotus Omega
Engine: 3.6 liter inline-6 turbo
Transmission: 6-speed manual
Mileage: 102,000 km (63,379 mi)
Price: € 38,500 (~$42,925)

Fuel Type: Super
special Edition
Checkbook
6 speed transmission
elec. sunroof
Driver's seat height-adjustable
Electric window regulator 4-speed
Head rests in the fund
headlight washers
Light alloy rims 17 inch
Adjustable steering column
center armrest
The following repairs were carried out by us:
Coupling with flywheel replaced
Coupling bell reinforced (usual weak point at pickup of release lever)
Release lever new
Battery new
Transmission completely overhauled, all synchronizer rings and bearing new.
Brake discs rear new
4 new tire
inspection new
TÜV new
2 previous owner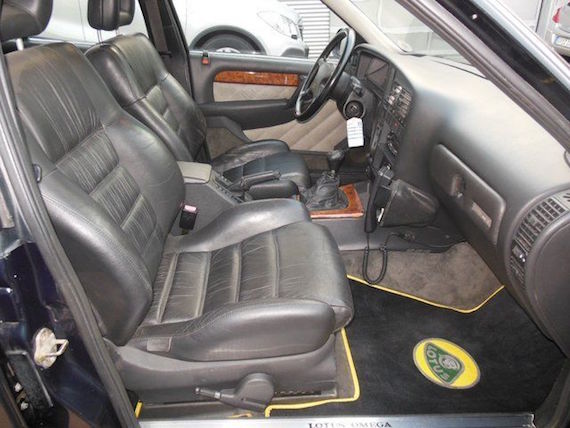 Production began in 1990. Ultimately, 950 examples were built, 630 of which were in Opel-LHD spec, like this example for sale in Baden-Württemberg in southern Germany. Lotus had hoped to build more, but its plans were scuppered by the recession of the early 90s, which put the £48,000 car out of reach for many of its target customers.
Only one color was offered – handsome Imperial Green – and the paint on this example looks to be in good shape. The photos in the listing show an apparently stock car in good condition, with the leather seats showing some minor creasing from age. The Google translation of the ad copy is a bit stilted, but it does at least suggest some recent maintenance work has been completed on the transmission, while the tires and rear brakes are said to be new.
The asking price is a lot of money – about $42,000 USD – and I have no idea where you would get this serviced if you brought it over to the States (a Lotus specialist?). But as a furiously fast and yet oddly discreet car, the Omega makes for a perfect sleeper that commands extraordinary respect among those who know what it is. It would certainly make for an interesting ride to take to a local Cars and Coffee.
– Craig