The 1991 Volkswagen Cabriolet Etienne Aigner Edition is back up on offer, this time with a Buy It Now price. If you're looking for a summer cruiser and a manual gearbox isn't high on your list of priorities, keep reading…
It's not the fastest or flashiest of vintage German iron, but the Mk1 Volkswagen Cabriolet has a strong following and offers a good point of entry for drop top Teutonic motoring. In the 1980s and 1990s, Volkswagen was known for it's plethora of special edition models, mostly available to the European market. A few made their way to these shores, however, one of which was the Cabriolet Etienne Aigner Edition. This special Cabriolet was available in three colors, Midnight Blue Pearl, Bordeaux Red Pearl and the color we see here, Mangrove Green Metallic. All of these Cabriolets had an interior to compliment with Aigner cloth seats and included in the package were Le Castellet style alloy wheels. This example for sale in North Carolina has but 56,639 miles on the clock, perfect for the VW collector out there.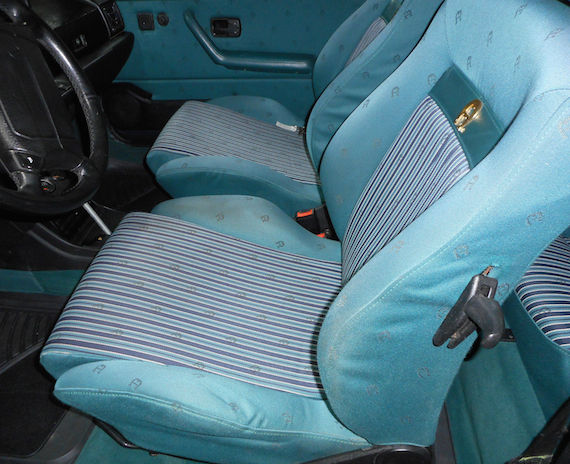 Year: 1991
Model: Cabriolet Etienne Aigner Edition
Engine: 1.8 liter inline-4
Transmission: 3-speed automatic
Mileage: 56,639 mi
Price: $6,800 Buy It Now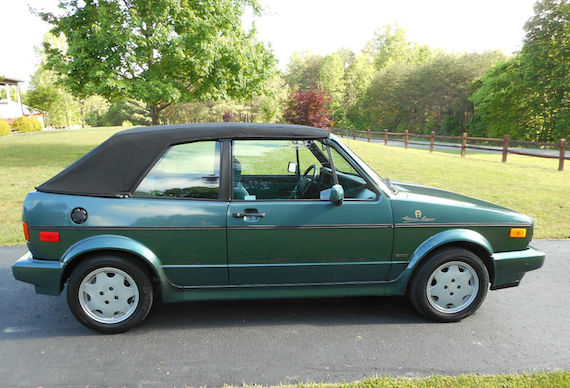 Hi. Thank you for looking at my auction. This is my 1991 VW Cabriolet Etienne Aigner Edition. The color is Mangrove Green Metallic in which 639 were made for then USA market and 998 world wide. This edition was brought to America for one (1) year(1991) and the price was $19,600. Etienne Aigner is a popular European clothing and accessories designer.

This VW Cabriolet has low (56,639) miles on it and is in excellent condition(see photos). This car has been garaged since new according to previous owners and myself. It has a clean Carfax with no accidents or defects and is a smoke-free automobile. The exterior has minor dings and light scratches that are hard to see. The A/C could use a recharge. The windshield has a few bubbles of rust just below the windshield seal.(see photo). Interior is in great shape as well as the seats.

Below is a list of the recent service within 1000 miles.
* oil filter with Amsoil Synthetics
* Timing belt
* Front struts and mounts (Sachs)
* Water Pump
* Alternator belt
* A/C belt
* 4 Newly resurfaced powder coated and clear coated rims
* Bridgestone Tires 80% tread

This VW drives tight and is absolutely stunning to look at. It has never been taken out of its factory OEM styling or modified. Any one desiring a 3rd party inspection will be allowed with my supervision. I will answer any questions about this vehicle at your request. After the auction the winner must pay $500. on my Paypal account. I am a private seller and will sell this automobile as/is and give no warranty. I can assist for delivery pick up but the full price of the cars reserve must be in my account before the car can be transported. Thanks for looking at my auction. Good luck.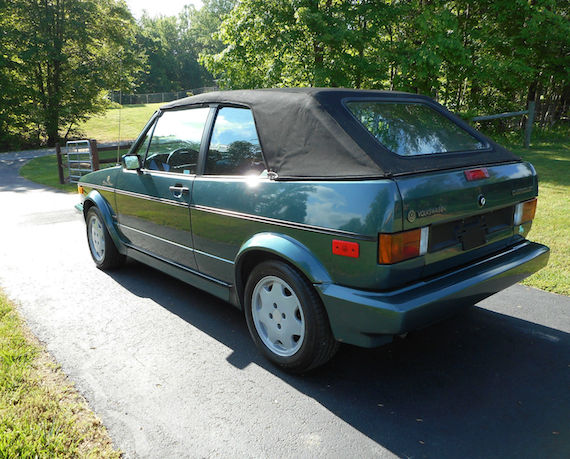 After some digging, I was surprised to find out that these Aigner Edition Cabriolets with the 3-speed automatic are more rare than their 5-speed manual counterparts. A total of 1,460 Aigner Edition Cabriolets were produced, 809 of which were 5-speed manuals, leaving the other 651 examples equipped with the automatic gearbox. I'd suspect that someone wanting the cache of this special edition package would be more interested in cruising about, so the 3-speed automatic should be fine. Cabriolets of this vintage are hovering around the $5,000 to $8,000 territory for those in good shape, so given the mileage and rarity of the trim package on this one, I'd suspect we'll probably see something close to the higher end of that range.
-Paul