I like to try and feature something a bit special on Fridays here at GCFSB and I think it's safe to say this super saloon falls into that category. The Opel Lotus Omega and its sibling, the Vauxhall Lotus Carlton, were for a time the fastest four-door car you could buy, with a 0-60 time of 5.2 seconds. Starting with rather humble Opel Omega mechanicals, the boffins at Lotus upgraded the 3.0 liter inline six to 3.6 liters and strapped two Garrett turbochargers to boost power to 377 horsepower and an impressive 419 lb ft of torque. A six-speed manual gearbox from the Chevrolet Corvette ZR-1 was deemed adequate to handle the power of this machine, if it was a bit crude in comparison to the rest of the package. Upgraded brakes and suspension bits along with 17" Ronal wheels rounded off the package.
In two years, a mere 950 cars were produced, all wearing the shade Imperial Green. About 60% of which were the version you see here, the Opel Lotus Omega. Similar to the current MINI Cooper, these cars were a German and British collaboration, but are significant enough to gain our respect here at GCFSB. With a fiercely loyal following the Lotus Omega and Lotus Carlton still fetch strong money on the used market. This Lotus Omega for sale in Switzerland is a lightly used example with only 8,500 miles on the clock.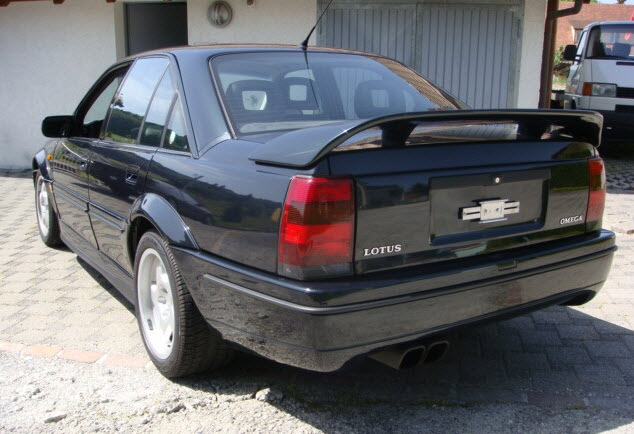 One owner, Swiss delivery. All documents, perfect condition (the corresponding km). Guaranteed accident free and mileage. Production Number: 566
Compared to that other brute, the Mercedes-Benz 500E/E500, the Lotus Omega has faired better in terms of market value, no doubt due to their rarity. Closing in on $49,000 makes this a car for the serious collector; punters need not apply. A quick search of Mobile.de, a large German automotive classified site, only brought up four examples for sale, ranging from a 1991 model with 40,000 miles for $26,000 USD to a 1992 model listed at a little over $37,000 USD with 56,000 miles. It appears $25,000 to $30,000 is the sweet spot for these cars, so this extremely low mileage example is for those who really want an unmolested, almost like new example.
Right now, the Lotus Omega and Lotus Carlton are eligible to be imported to the United States under the Show and Display Law only. For those in need of a good laugh or an example of government run amuck, check out the Code of Federal Regulations in Title 49: Transportation, § 591 for more details. But have faith enthusiasts. In 2015, these cars will be exempt under the 25 year rule and will be able to be enjoyed by anyone willing to go through the motions of getting one of these Q-ships stateside.
To get a taste for what the Lotus Omega is like in action, here's an Autocar review of the similar, right-hand drive Lotus Carlton with a bit of drifting action at 2:30:
-Paul