When someone uses the phrase "the best," you tend to take it with a grain of salt, right? We've featured a lot of cars on GCFSB this week that might come close to living up to that phrase, but for me, there will always be one car in history that is head and shoulders above the rest: the Mercedes-Benz 600.
The 600 was designed as an prestige vehicle for heads of state and VIPs that would offer little compromise in a money no object package. Unveiled in 1963 at the Frankfurt Motor Show, this car cost a hair over $20,000, making it the most expensive new car on the market. This new car packed a new engine, the M100, 6.3 liter V8 with 300 horsepower and 434 lb ft of torque, enough to launch this behemoth at a rapid pace and cover a quarter mile in 17.2 seconds, faster than some small sports cars of the period. Whether you opted for the short wheelbase (SWB) model you see here or the longer Pullman variant, passengers were treated to a high level of luxury, with beautiful wood veneers throughout, rear curtains, an available rear compartment divider and a choice of leather or this car's plush velour.
This 600 SWB for sale north of Stuttgart looks the business in dark blue over gray cloth.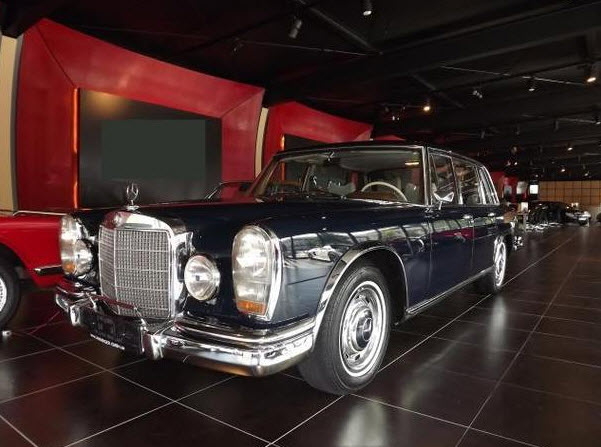 Two rear curtains, console bar with freezer. The mechanicals and hydraulics are fully functional, interior is in excellent condition. Recent service. Vehicle was completely repainted in the original color. No non-standard modifications.
A 600 SWB in good condition that has been used as intended will run you around $70,000 to $100,000, with examples that are near concours or with exceptional provenance pulling into the $100,000 to $150,000 range. This car is in good shape and sorted, but it is a bit of a hard sell at close to $200,000 with almost 100,000 miles and a repaint. Perhaps the market is a bit different in Europe right now, but with an economic crisis upon them, I tend to doubt it.
If I was part of the 1% and needed a car in which to be drive, this would be my ultimate choice for transportation. It's not a logical choice and it would certainly be more cantankerous to maintain than a modern day machine. It would be worth it, though, to see people stop and stare at this car's sheer presence. So big was this car that it was nicknamed the Grosser Mercedes, or "larger" Mercedes. Is it any wonder, then, that this car was popular with dictators the world over?
The 600 was a legend in its time, but a lot of real life legends selected this limousine for their personal transport. This particular 600 SWB featured in the following clip from Mercedes-Benz was owned by Elvis Presley.
-Paul