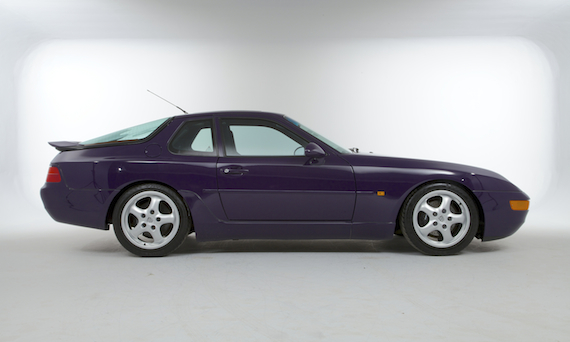 At the 1992 Paris Motor Show, Porsche would introduce one of the last evolutions of their venerable front-engined, four-cylinder model that traced its roots back to the 924 of the late 1970s: the 968 Club Sport. This was a lightweight special of the 968 that had a few amenities deleted such as AC, sunroof, rear seats along with a good amount of soundproofing. Around 50 kilograms (~ 110 pounds) was saved, which resulted in a modest increase in acceleration to 100 mph of a half second. However, for those track day enthusiasts out there, this was certainly a more suitable platform to begin with than a bog standard 968. This 968CS for sale at 4Star Classics in the UK is one of a handful of RHD models, made even more unique as it is painted in a special order Amaranth Violet.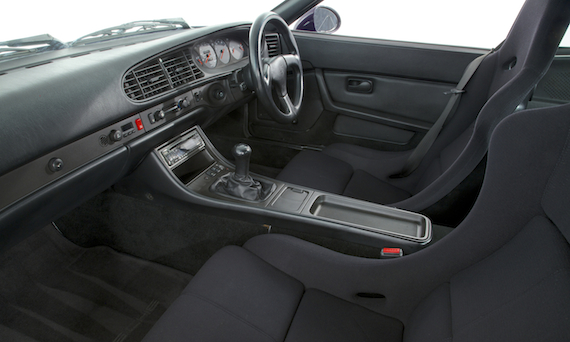 Year: 1994
Model: 968 Club Sport
Engine: 3.0 liter inline-4
Transmission: 6-speed manual
Mileage: 75,005 mi
Price: £24,995 (~ $39,054 USD)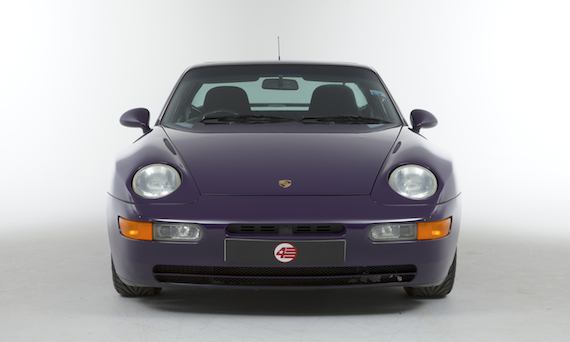 MODEL HISTORY
In 1993 Porsche launched a track day prepared purist's version of the 968 called the 968 Club Sport (CS). The car was a lightweight, sportier version weighing over 50kg less than the standard 968. The lower weight was achieved by removing and replacing several of the standard car's components.

Inside the vehicle the electric windows and mirrors were replaced by lighter, manual versions. The rear seats, trunk cover and electric opener for the rear hatch were removed. In addition, some of the sound-deadening material, the airbags, and cassette holder were eliminated. In the engine bay various covers were deleted and the heavy battery was replaced by a lightweight version.

Furthermore, the CS was lowered 20mm by using another set of springs on the front and adjusting the sway bars on the rear. It was available with bucket seats from the factory but also with a comfort option retaining the same seats from the base model 968.

EQUIPMENT
Removable sunroof, Recaro sports seats, Immobiliser, Alarm, Porsche carpet mats, Sony CD player, Digital clock, Rear wiper, Space-saver spare wheel.

EXTERIOR
This genuine Club Sport is finished in Amaranth Violet, a very rare colour for the CS as it was not a standard option. The paintwork, although not totally concourse, displays a deep glassy shine and presents well.

Aside from a very light graze on the driver's door mirror, the Porsche is completely scuff-free. All lenses are very clear with no cracks or moisture to be found. The car is nice and straight down both sides with no signs of any corrosion to the bodywork.

INTERIOR
By not featuring many of the luxuries normally associated with a premium sports car, this 968 retains its original track-day feel on the inside. Upon entry you are immediately greeted by the lightweight Recaro bucket seats, which show no signs of any wear at all. Free from any scuffs or scratches the door cards present very well, as do the dashboard and centre console.

The steering wheel retains an excellent texture with the gear knob displaying only minimal wear. The carpets are immaculate throughout and are protected by a fitted set of Porsche mats.

As the CS does not feature an electric rear hatch opener, the luggage area is accessed by pulling a 'T' handle behind the passenger seat. The generously proportioned luggage compartment is in fantastic order. Hidden below the carpet lies the tool kit and unused space saver wheel, complete with air compressor.

ENGINE & TRANSMISSION

Lifting the bonnet reveals a very orderly engine bay, filled with an example of the last four-cylinder engine Porsche ever made. On close inspection all components appear in good order with only minimal surface wear, with most if not all factory stickers remaining in place.

This example has benefited from the addition of a strut brace, which increases the rigidity of the front axle and improves directional stability and cornering response. Following our full mechanical inspection the car has been given a clean bill of health.

WHEELS, TYRES & BRAKES
The Club Sport sits on the correct 17″ Cup Design alloy wheels. All four have recently been refurbished to very high standard and present flawlessly.

The wheels are shod in a matching set of Toyo Proxes tyres, each with plenty of tread. Furthermore, the front and rear vented discs, and 'Porsche' embossed callipers display nicely between the spokes.

HISTORY FILE
Having covered 75,005 miles in its life, this Porsche is complemented by a service history stamped almost entirely by Porsche specialists up to 67,306 miles, with the most recent service having been carried out at 73,718 miles.

There is a wealth of invoices present in the history documenting works carried out and parts replaced, including a cambelt change and extensive service in 2010. What's more, this example was featured in the May 2010 issue of '911 & Porsche World', a copy of which is included in the history file. Present also is the original leather document holder, stamped service book, 968 handbook, as well as several previous MOT certificates.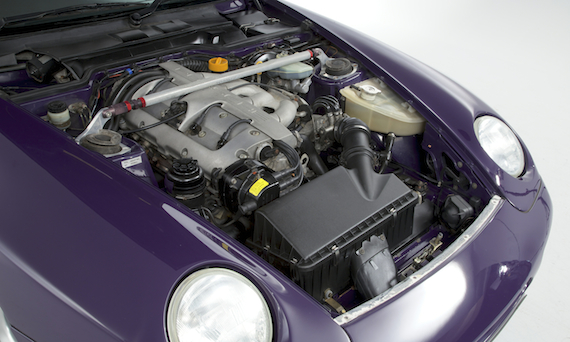 Pablo, our resident expert on all things 968, weighed in on this particular car. According to figures, there were 856 Club Sports made in 1993, 536 in 1994 and 531 in 1995 for a total of 1,923 made. Of these, 179 were right-hand drive. So this is a rather rare piece, made even more rare by the uncommon hue that it wears. Porsche Cars Great Britain catered to customers even more by offering up a racing suspension, safety cage, battery cut off, plumbed in fire extinguisher and kevlar hood and fenders, none of which we see here.
Interestingly, the UK market was also given an exclusive 968 model, called the Sport, which flüssig magazine covered not too long ago. I've always been a fan of the 968 Club Sport. It represents that last gasp of pure performance that Porsche was known for before the expansion of the lineup towards sedans and SUVs. The new Porsches aren't bad cars, but there's just something special about these 968s. Every time I come across one in my travels, I can't help but admire them.
-Paul