I can't claim to be the most well-versed writer on GCFSB when it comes to Mercedes, but I do fancy myself an inquisitive life-long learner. Along those lines, whether it's a W210 E55 or a W202 C36, the lethal bloodlines of AMG continue to blow my mind. The latter is the centerpiece of this wagon heart transplant, holy grail to all who believe in sleepers just beyond stock. Badass wagons are an instant +1 in gearhead culture. So what better than to throw a 276hp, 3.6L straight-6 (originally designed to contest the E36 M3's smaller and less powerful 3.0L I6) into an innocuous grocery-getter. Sounds like the basic ingredients for a heavy dose of KICKASS.
1995 Mercedes E320 w/ C36 swap for sale on Denver Craiglist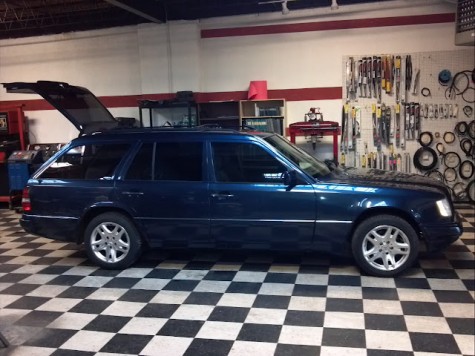 From the mechanic seller:
Rare 124 chassis wagon powered by a really rare low mileage (115 k) AMG engine & transmission transplanted from a C36 AMG. Not a soccer mom's wagon any more, unless she's Danica Patrick. 3rd row seating folds down as will the middle row seats to make an expansive cargo area. You can camp in this car. Factory roof rack with an included ski/bikeand a receiver hitch to take an included 4 bike carrier make this an impressive weekend warrior machine. Equipment includes tinted windows, MP3 compatible 8 speaker stereo, prewired for an included XM receiver, retractable / removable factory cargo cover/dog net, electric seats & windows, cold A/C, 16″ Mercedes factory wheels with great tires. Any new parts needed when swapping the engine were replaced. Mechanic owned, it's in better shape than any other one you could find. New ceramic brake pads for no nasty black dust & squeal typical on most Mercedes. The engine & trans were resealed in the swapping phase, there's not a drip of anything under this car. All new service items were included too, of course. Mobil 1 oil & filter, transmission filter & synthetic fluid, spark plugs. Two front airbags & SRS seatbelts along with ABS brakes & legendary Mercedes body safety designs make this a very safe car for you, friends & family. Full disclosures: the car has 200,000 mile on it. I swear you can't tell by looking. It's a beautiful head turner, inside & out. There's not a single crack in the dashboard. There is some cosmetic cracking in the (real) wood trim piece at the shifter. The window tinting has scratches in a couple of spots, not that you'll really notice, especially while driving. There is a wear spot on the driver's seat where it's practically invisible except when cleaning the car. The body is pretty darned good but you'll see a couple of dings. It's used & meant to be used. The glass is very good, even the Genuine Mercedes factory windshield is only a few months old. Will consider Mercedes trade.
Despite the inherent caution required with engine transplants, stuffing an AMG engine in the most mundane of MB 124 wagons is the stuff that all true car enthusiasts should respect. The only thing this car is missing is some AMG Monoblock wheels, which would hint at the potent AMG engine but keep the clean Mercedes look. All in all, if the car is truly drip-free and well done, $8k sounds like a good deal for a kickass wagon. AMG offerings like the E63 wagon are increasingly hard to come by with each passing generation, so why not go even more lowkey with a wagon that has the chance to waste the contemporary and humorously-similarly-named E36 M3? No shill of Nike, but just do it.
-NR