This interesting car falls into a strange place in the Mercedes line up.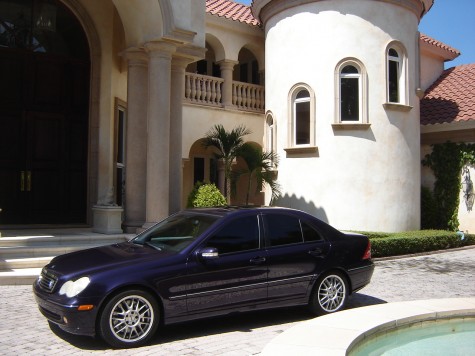 It started life as a run of the mill 225 horsepower C320, albeit one with a not that common cobalt blue metallic paint. The cobalt blue color is a really nice subdued blue that looks elegant, but not as boring as black.The car was sent to Renntech where the 3.2 was boredout to 3.8 and some additional enhancements, such as exhaust, intake, and rims were added. All completed the car is running a significant bump in horsepower all lag free and normally aspirated. Specs aren't given, but I beleive the 3.8 is rated at 291 bhp and 305 lb-ft of torque and the cost of that increase from Renntech was $19,000. That is a lot of cash for the same amount of horsepower to be had from a 50 shot of NOS. Total upgrades on the car according to the seller total $25,000.
What makes this a bit of an odd duck, is unlike other monster horsepower Renntech vehicles the horsepower isn't huge, and the gains put it right into competition with the AMG C32 that also came out in 2001. The C32 pumps out 50 more horsepower from its supercharger making this Renntech model a bit superfluous.
The car is listed on eBay at $13,900. With 92,000 miles on it you can find a C32 with that kind of mileage for the same price. I noted that the same car is listed elsewhere on the net for $11,900. Not particularly flashy or powerful, but a unique ride that cost way too much to convert when  new.
~Evan