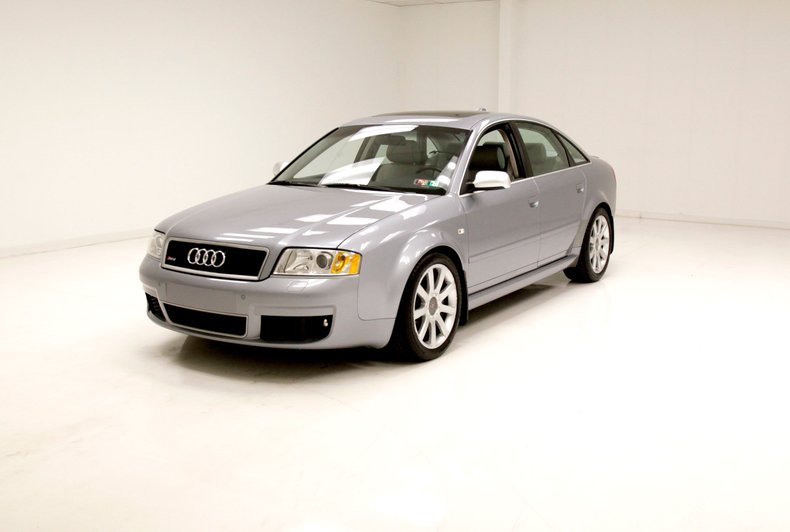 From the end of the C3 chassis we looked at the other day to the launch of the C5 was just a scant 7 years. The styling was evolutionary and instantly recognizable, but the C5 really broadened Audi's offerings in the U.S. market. Building on the success of the A4, Audi launched not only the normal sedan and wagon offerings, but the return of the S6 and introduction of new 2.7T performance models, along with the Volvo-challenging Allroad.
The pinnacle of the C5 was, of course, the twin-turbocharged all-wheel drive version you see here built by Audi's skunkworks, quattro GmbH. With assistance from VAG-owned Cosworth Engineering, the resulting BCY motor cranked out a peak 444 horsepower at 5,700 rpms and an impressive 415 lb.ft of torque between 1,950 rpms and 5,600 revs. The body, brakes, wheels and suspension were all upgraded by quattro GmbH too, with plenty of technology incorporated to transfer the power to the ground and keep the RS6 planted. Though it was saddled with an automatic transmission only and tipped the scales at a massive 4,050 lbs, the tenacious all-wheel drive, computer programming and massive power resulted in a 4.4 second 0-60 sprint, besting both the contemporary M5 and E55 AMG. The RS6 had 14.4″ front brakes, dynamic ride control, and meaty 255-section Pirelli P-Zeros to control that speed. Lowered ride height, flared sills and fenders and giant gaping intakes and exhaust along with signature honeycomb grills set the stage for how these cars have looked since.
The first RS model imported to the U.S., Audi expected to sell 860 at nearly $80,000 a pop. But they didn't. They sold more, such was the demand, with an estimated 1,200 making the journey to North America. But as with basically all complicated, fast older German cars, they're not worth what they were new, making them very tempting in the used marketplace. And there are a lot of used RS6s out there to choose from at any given time – currently, there are 10 available just on eBay. The thing is, you should avoid most of them. But not this one: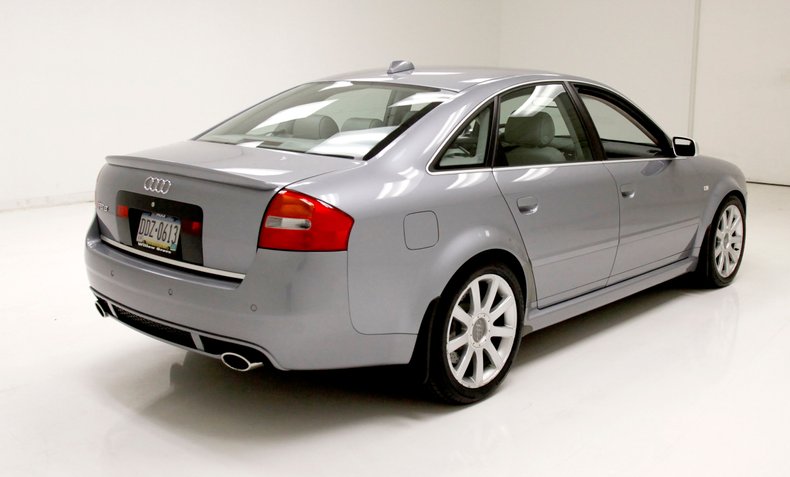 Year: 2003
Model: RS6
VIN: WUAPV64B23N904876
Engine: 4.2 liter twin-turbocharged V8
Transmission: 5-speed automatic
Mileage: 28,400 mi
Location: Morgantown, Pennsylvania
Price: $49,900 Buy It Now
Description

2003 Audi RS 6 Quattro AT5

The company name Audi is based on the Latin translation of the surname of the founder, August Horch. "Horch", meaning "listen" in German, becomes "audi" in Latin. The four rings of the Audi logo each represent one of four car companies that banded together to create Audi's predecessor company, Auto Union. Audi's slogan is Vorsprung durch Technik, meaning "Being Ahead through Technology". Audi, along with fellow German marques BMW and Mercedes-Benz, are among the best-selling luxury automobile brands in the world.

For consignment, a land based rocket ship disguised as an Audi RS6 Quattro AT5. To break that name down tells us much: RS means Racing Sport, the 6 is the model designation of the V8 twin turbo engine, quattro designates all-wheel drive and AT5 designates the automatic transmission, and it is a 5-speed. Quite the car, and quite the low mileage 28,397, and very well taken care of.

Exterior
All aero European rounded over surfaces and integrated lights and door handles this car can cut through the air like a hot knife through butter. Original Avus Silver Pearl Effect bathes all the expertly fashioned exterior panels which are minding their gaps very nicely. A rounded front body matching bumper leads the way with the 4 integrated rings badging on the grille. The side panels of this car are nearly perfect and body matching handles, a small trim at the mid-section and a rocker fairing are all bathed in the Avus Silver. Black trimmings surround the glass, and a seemingly seamless sunroof is on the top. On the back a small spoiler is on top of the trunk lid, more integrated rounded taillights, and dual chromed oval shaped exhaust protruding from the lower panel just below the bumper. Large 18-inch wheels keep the rubber to the road, and when you get on the accelerator you'll need every inch of those.

Interior
Audi calls it silver, so we will go with the manufacturer, but it covers the seats, which are comfy buckets in front with some tuck and roll inserts and smooth bolsters, highlighted by a dark gray piping throughout. A rear bench is nearly showroom and may not have been sat in very often! A console topped in silver then turning black on the sides and front, races forward to the dash. Here we have a nice storage box and the top doubles as an armrest. The shifter is wrapped with a gray toned burl panel as well. Buckets are all power adjustable. Doors are a mixture of some gray toned burl panels, molded plastic and a central light gray panel where the armrest and power toggles reside. The entire dash is very clean and has more peppering of the gray toned burl along with black molded plastic all neatly rounded over not unlike the exterior. The sporty steering wheel has paddle shifters which we will get into on the Drive-ability section. Black carpeting all clean is flooding the floors and a nice light gray tight headliner in pristine condition is above. Read on!

Drivetrain
Under all those German engineered plastic coverings which their cars are famous for, is a 4.2 liter DOHC Bi Turbo V8. It sports Bosch Motronic ME 7.1.1 EFI. On back is a 5-speed Tiptronic automatic transmission with paddle shifters on the steering wheel. It is a ZF 5HP24A version with a Torson T-2 center differential to spread power to both sets of wheels. On the back is a 3.197 final drive axle. Also noted is Servotronic speed sensitive steering, and we're off!

Undercarriage
Nary even a hint of rust, all cast aluminum all independent suspension, perfect floor pans, and the dual exhaust snaking its way towards the back of the car. Power disc brakes which feature 8 piston front calipers and large rear discs help with the woah horsey aspect after you've gotten too happy with your boot.

Drive-Ability
Slipping into the supple leather one has no idea of what they are in for in this unassuming yet well-appointed interior. It fires right up and on the test track it is a thrill ride. Seemingly unlimited acceleration, paddle shifting makes it even more fun, and excellent brakes. It handles like it's on rails and with the two turbos there is plenty of power to spare. All excellent, and just a check engine light illumination which led us to check, and we got error codes PO491, and PO492 which denote secondary air injection system banks 1 and 2. With all this power you can use the K-9 radar detection system which is installed and ready to detect.

A well preserved low mileage rocket ship for the road, performance all-wheel drive German engineered, aero sports sedan to say the least. All finishes are in excellent condition and it runs like the wind, you could say a Passat, or a Jetta, or a Golf, but actually it's an Audi RS6 Quattro Bi Turbo. Schnell!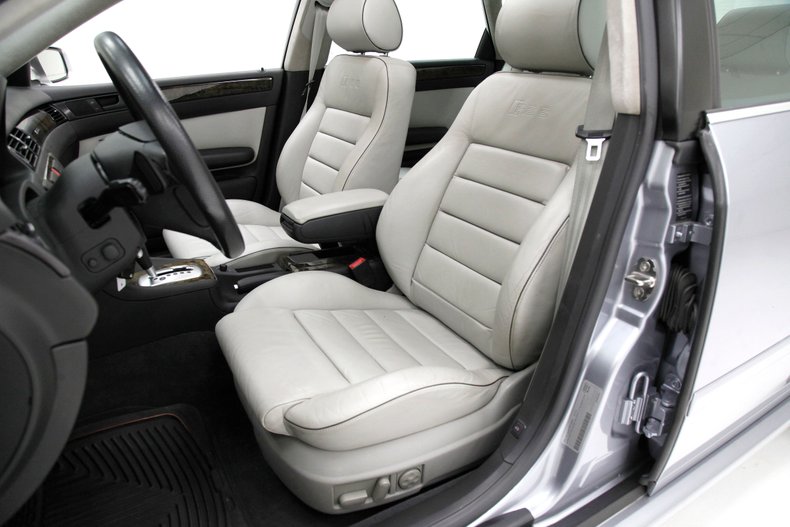 Gosh, I do feel like car designers today should occasionally consider how fast cars used to look. This is a clean, simple, and relatively uncluttered design – yet it exudes speed and has tremendous presence. Step inside and it's the same thing; no crazy frills, huge screens, or color-changing mood lighting; some heavily bolstered seats, some wood, and enough luxury to remind you you're in something special and not a night club. The color combination is great, too – Avus Silver Pearl Effect over Silver leather is unusual and nice to see. The condition is absolute top, and this is still a very fast car today. Are there comps for a $50k asking price? Not really – similar examples have sold in the mid-30k range. If you really want this color combination, though, it may be worth a premium to you as it doesn't come up every day.
-Carter