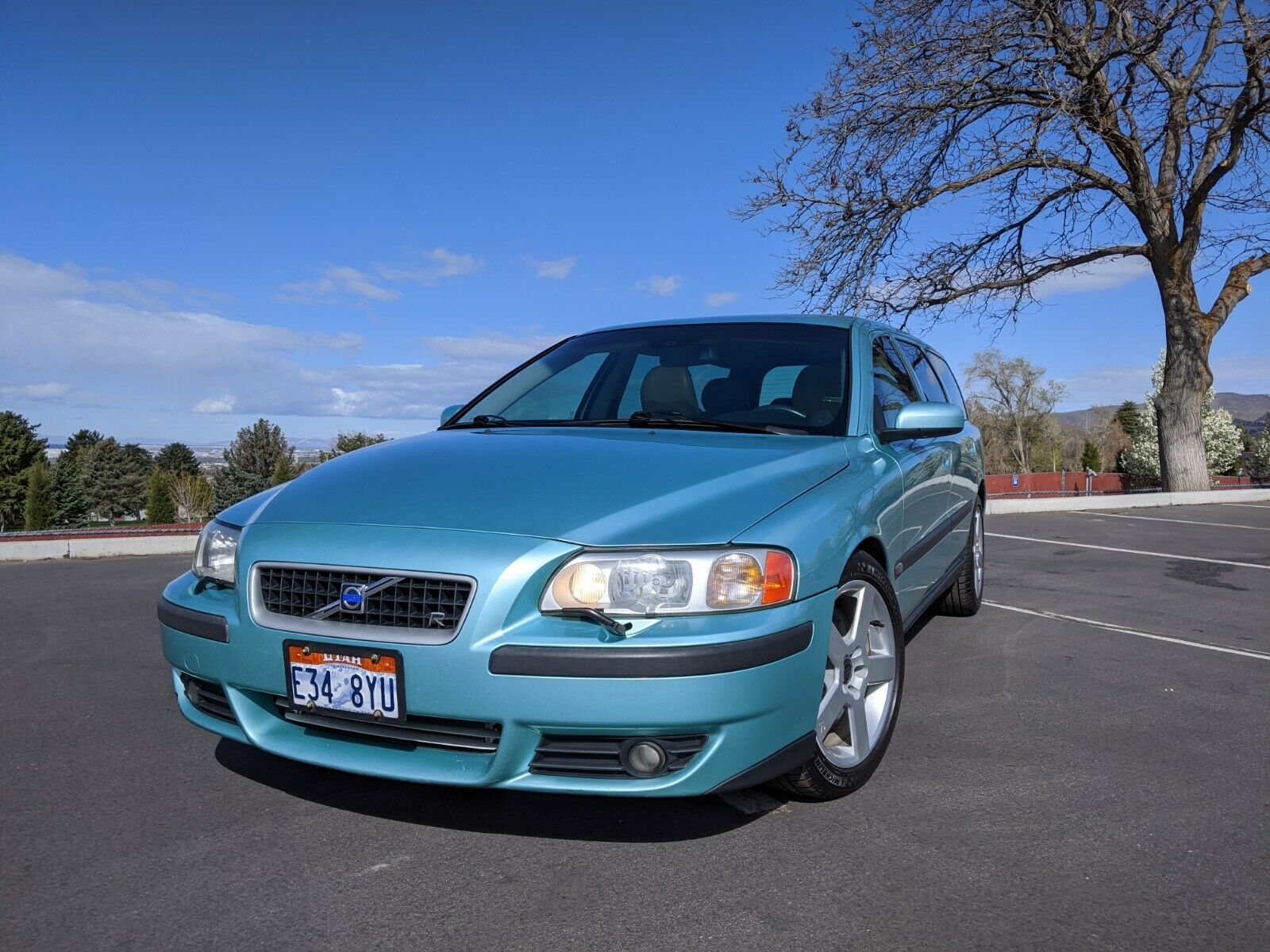 There's a running joke here at GCFSB regarding Volvos and SAABs. Without exception, every time we post one someone comments either here or on our Facebook page that those two manufacturers aren't German. It doesn't really matter that we explain nearly every time that though we know this, we still enjoy to look at a super Swede from time to time since – let's face it – a majority of people on Facebook don't actually read the articles that are posted, but rather just react to the headlines. Now, we could actually get into a discussion about how the Swedes are actually a Germanic based tribe if you go back far enough, or how many of their engineering principles fall in line with those of their Southern neighbors. We could mention that many of the newer Volvos and SAABs actually utilized German derived chassis from either Ford Europe or GM's Opel division.
In the case of today's ride, I'm not sure that matters much. We love colorful cars, we love wagons, we love performance wagons, and we love colorful Volvo performance wagons. So what do we have, but a Flash Green Volvo V70R to consider: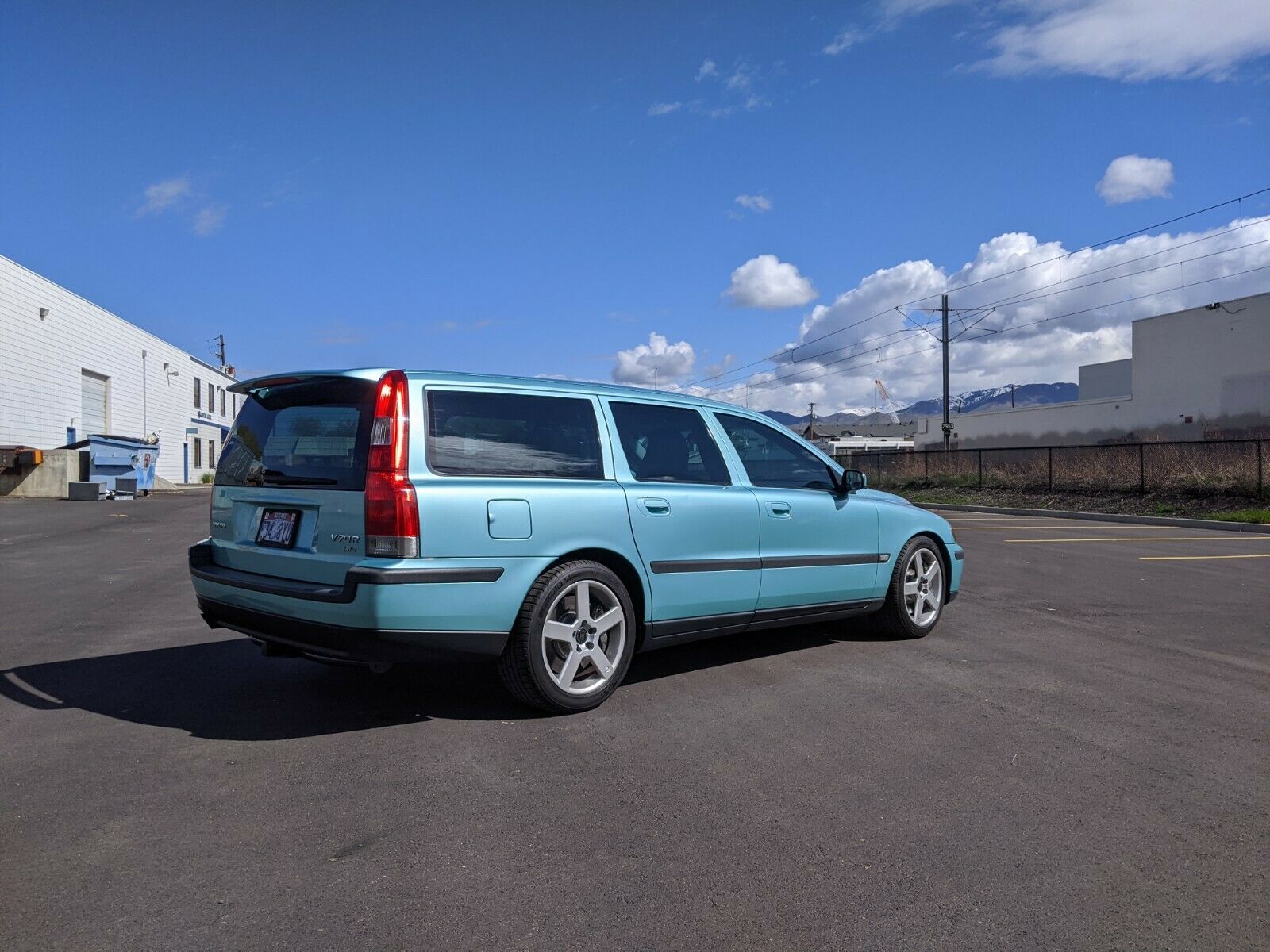 Year: 2004
Model: V70R
VIN: YV1SJ52Y642392881
Engine: 2.5 liter turbocharged inline-5
Transmission: 5-speed automatic
Mileage: 170,300 mi
Location: Salt Lake City, Utah
Price: Reserve Auction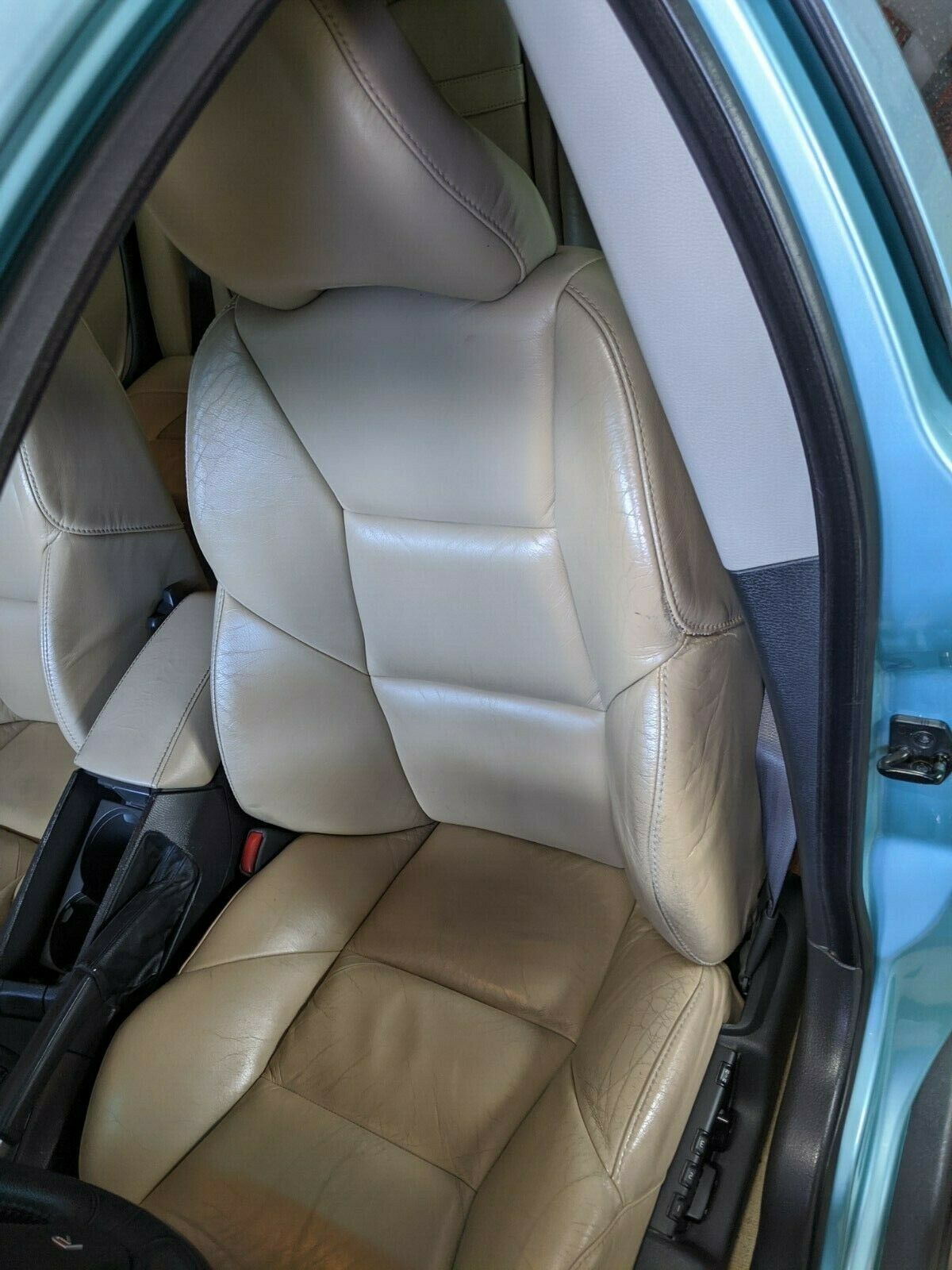 Thanks for looking at my V70 R.

It has the Premium, Touring, and Climate packages. VIN is YV1SJ52Y642392881. I received a CarFax when I purchased the car in 2017. There were two owners prior to me. The first purchased it from Ken Garff Volvo in Salt Lake City where it continued to be serviced for the next 120,000 miles. It was traded in to Ken Garff on another Volvo after eight years. The second owner drove it another thirty thousand miles and again traded it back to Ken Garff Volvo. I purchased it from there for the third time with 152,000 miles. From what I know it was almost entirely serviced by the dealer. I have a clean Utah title in my name. The car has no accident history that I'm aware of. I believe there is some paint work on the passenger side but I'm no expert.
Services:
The timing belt/water pump service was completed at the dealer in 2011.
Shortly after my purchase: "Stage 0". Full PCV system replacement, turbo vacuum lines and TCV replaced, transmission drained and flushed with 12 quarts of Mobil 3309, angle gear and rear differential fluid changed, Haldex filter and AOC fluid changed. Fuel, air, and cabin filters changed. Spark plugs changed with OEM. Brakes flushed with ATE SL6.
Sway bar endlinks front and rear July 201
Front wheel hubs/bearings Sept. 2017 along with front axles (have original axles).
Optional full-width AGM battery January 2018
Inner/outer tie rods, boots, and steering limiters Feb. 2018
Brembo rotors and pads front/rear Sept 2018.
Two of the Pegasus wheels have been refinished due to curb rash prior to my ownership. The Michelin Pilot Sport A/S 3+ tires were installed in 2018 and date coded 2017. They are also the uprated weight capacity to match the GVWR of the car.
Philips D2R headlight bulbs April 2019
I have always changed with oil with Castrol 0W-40. I also had two Blackstone oil analysis completed (can supply paperwork).
Modifications:
IPD "R" boost gauge and their pod
IPD subframe inserts
IPD intercooler elbow but I can include the original.
Yellow fog light bulbs but I also have the originals.
05+ power steering reservoir/hose filled with Pentosin
The factory exhaust resonator has been removed and replaced with a straight section (JRL mod on the forums). This was to prevent a squealing noise that occurs when you drive in the rain, common in R's.
The "bracket of death" was also removed at that time but can also be included if you really want it. Also a forum thing.
I added a Curt receiver hitch along with OEM Volvo trailer wiring. It was used to tow a motorcycle once or twice a year.
There is a GROM Aux unit added along with a port.
I also added Suntek Ceramic tint all around with a lifetime warranty.
Issues:
The 4C system is original. It still rides well and functions without errors but I want to be upfront about it. It does not clunk or leak. My theory as to why it still functions is the original owner lived in Wyoming and appeared to commute regularly to Salt Lake City. That is a lot of freeway miles in I-80. It also would explain the next issue…
The front bumper has lots of scraps and pitting as noted in photos. The front windshield also has pitting typical of freeway driving.
I tried to document other scratches and dings. The passenger side wheels have curb rashes. I had the driver side wheels refinished in 2019.
There is a very small leak on the angle gear. It occasionally leaves a dime-size drop but has never lost enough in three years to change the level.
The center console is missing the cover. The cd-changer can sometimes not eject a CD.
The car will show persistent codes in VIDA (no check engine light) for the air quality sensor and right mirror heater.

Feel free to ask me any questions. I have many, many more photos of the car but eBay only allows a maximum of 24, even with a premium listing.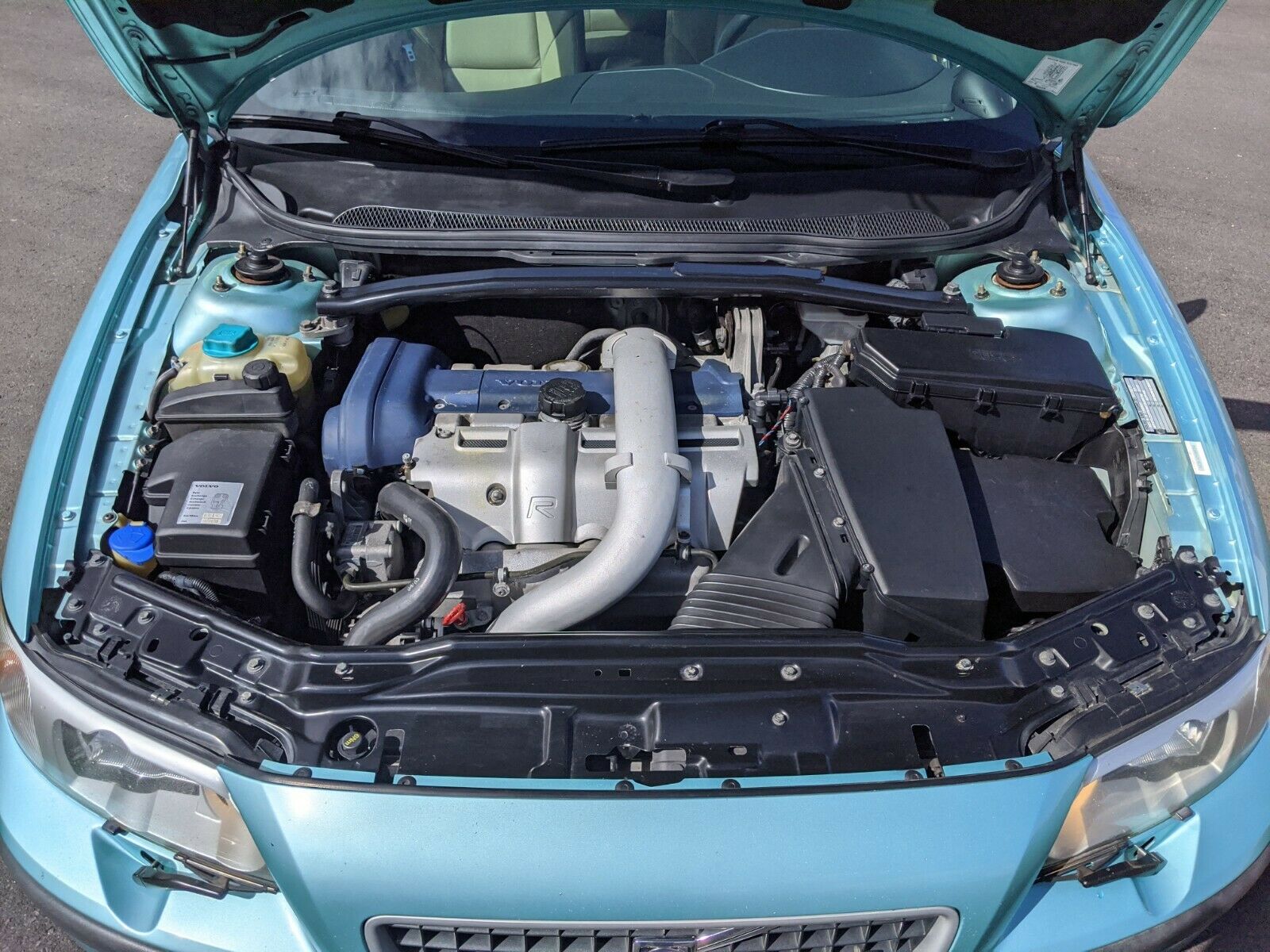 As I mentioned earlier, many of the newer Swedes either suffer or benefit (depending on your point of view and stance on racial marque purity) from chassis sharing. In this case Volvo's P2 chassis was internally shared with the XC90 and S80, and is directly related to a few Ford and Mazda chassis too. The V70R was the highest output of the P2, with 300 horsepower offered driving all-four wheels through a transversely mounted turbo five. Other highlights include heavily bolstered sport seats, Brembo brakes, and an Öhlins adjustable suspension. Then they decided to offer it in a few splashy colors, too. If it sounds a bit Audi-inspired, you're right. But if I'm honest, and though it developed more power, I think Audi's S4 was undone by the execution of the V70R. In the mid-2000s, it was not only better looking, it was cooler. And consider for a moment that a mere ten years before this car was produced, Volvo was still cranking out 240 Classics. Look, I'm not saying that's a bad thing and I love a good 240 too, but a competitor for German fast wagons they are not.
Here the Flash Green sure looks great, but the Gobi interior is really starting to show its age. Where this car is let down is by the automatic transmission and the higher miles. Bids are already to nearly $6,000 and the reserve is unmet as of yet. For that amount, you can track down an S4 Avant Tiptronic. Which would you rather own today? Gosh, I'll be honest. If it were between this car and an Audi S4 Tip, I'd probably roll in the Volvo.
-Carter