Longroofs are the perfect way to add a confused look on most people considering sports cars. "But how could a mom's car be a good driver's car?" "Wagons are slow." Etc. Well, real car fans know some of the coolest sports cars in the world have been wagons. RS2/4/6? E63 Wagon? Who doesn't want an M5 Touring (side note, I saw an M5 Touring with Antigua plates at a local gokart track. Foreign envy boiling)? Well, this isn't quite an M5 Touring, but it's about as good as we'll get in the States. With a twin-turbo 3.0l inline-6 and all wheel drive, this almost sounds like one of those fancy-fast Audi wagons! The cherry on top is the rare 6-speed manual, an ever-increasingly refreshing sight these days. Edging this 535xi a little closer to M5ness is an M-Sport Package and Dinan goodies, including chip and exhaust pushing the N54 to over 380hp and 420lb-ft. Not bad for the most popular car in Silicon Valley soccer field parking lots.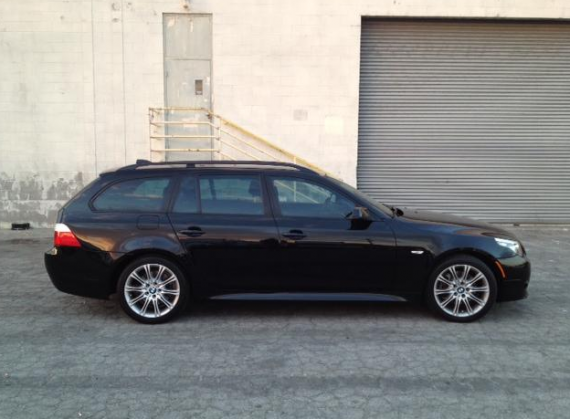 I think you would be very hard pressed to find another sport wagon–with the M-sport package, no less–fitted with a 6-speed manual in the US. This is a fully loaded car in immaculate condition. Additionally, the car has the Dinan Stage 3 engine tune and a custom fitted Dinan exhaust. Michelin Pilot Sports replace the standard run-flats. Immaculate condition. No dings. No wheel rash. Fully loaded, save for rear air bags. I have thoroughly enjoyed this car. It is special. Looking for the right home!
I was pretty surprised to see the potency of the Dinan upgrades (although Dinan only lists 2 stages and the ad says it's "Stage 3"). Combined with the standard-yet-rare option boxes already ticked, this is a kickass wagon. I've heard these aren't the most trouble-free BMWs, but if you're looking for a modern car that is fun to drive anywhere and that can handle a family, it's hard to deny the versatility and good choices present on this 535xi. $46k is a bit steep, but not out of line. Thank goodness it doesn't have M5 fender vents.
-NR