Even though it's a brand of which most Americans are unaware, Opel has had a long history in the United States. First being sold under their own badge through Buick dealers in the 1960s and 1970s, Cadillac tried their hand at rebadging the Opel Omega as their compact executive entry, the Catera. While the Catera was a huge improvement over Cadillac's last attempt at a small car, the Cimarron, fewer than 100,000 were produced during its lifespan from 1997 through 2001.
Saturn was the next division to grab the Opel torch, offering the L series, followed by the Aura, midsized sedans based on the Opel Vectra chassis. It also offered rebadged versions of the GT (Sky) and Astra, before the divisions untimely demise in 2010. Now Opel products have found their way back stateside by Buick dealers yet again, as the Regal has returned, this time a rebadged Insignia, which was the Vectra's replacement.
I've always wondered how hard it would be to simply rebadge the Regal back to its Opel roots. Apparently some industrious owner went ahead and answered that question outside of Chicago, offering up the remainder of their lease on a 2011 Regal (Insignia).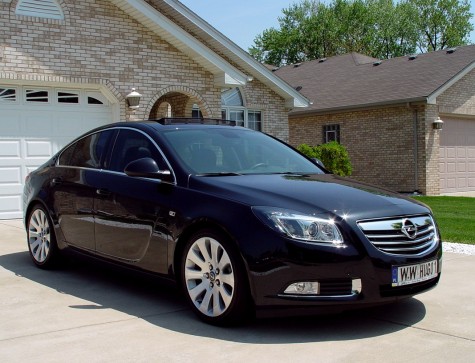 The owner is going back to Europe, and no longer needs it. Very unique car -over $15,000 invested, including suspension and wheels.

The car gets endless attention, as it is the only one like it in America. Winning bidder must have good credit and is responsible for arranging swap thru ALLY. Lease transfer can be done only after this auction is paid for in full. This car has everything including Bluetooth, XM, DVD player, etc. Gets 30MPG on regural unleaded. Payment $440/month with $14k buyout in 08/14.
I've driven the new Regal with the 2.4 non turbo engine and the 6 speed automatic, which is what powers this car. I was impressed by how refined it was for a four cylinder, having plenty of pickup off the line and being geared well to deal with most traffic situations. You could instantly tell you were in a German car from the minute you climbed behind the wheel, and it had a feeling of quality about it that kind of split the middle between a Volkswagen and a Mercedes.
The lease payment for this particular vehicle seems on the high side, so I'd question what the original purchase price of this car was originally. Still, if you just have to have an Opel stateside, you don't have a lot of options when it comes to a new car. I guess it just matters if you can deal with driving a car with a Buick badge on it or not. If not, there are plenty of lease deals on 3 series BMWs and C class Mercedes-Benzes that undercut $440 a month.
-Paul