Growing up, I used to collect car brochures. What started as a hobby turned into a storage nightmare. So as any good librarian would do, I cataloged everything and organized all of them in a file cabinet. I remember the 1989 Mercedes-Benz brochure distinctly. It was about a 50 page booklet, with a two page spread at the end featuring a silver 560SEL. Unlike a lot of other kids who grew up in the 1980s that dreamed of Lamborghini Countaches and Ferrari Testarossas, I dreamt of driving a big, black S class. While I've owned two Mercedes so far, I haven't had my W126 fantasy fulfilled. Which is probably why I was searching around today for clean, unmolested examples. Like this one for sale in California with only 25,000 miles.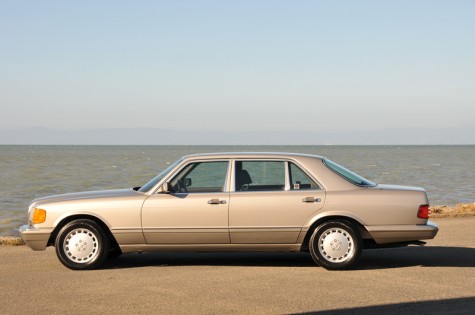 -Smoke Silver(702)/Dark Brown Leather(173)
-25,427 original miles, Single corporate owner until July 2011
-Original sales invoice ($74,233 cost new), original handbooks, original window sticker
-Original unused spare, unused tool roll
-Spotless interior trim, superb burlwood, perfect headliner, rear seat foot rests, non-smoker,
-All original sheetmetal, likely original paint as per electronic paint depth inspection (hood reads higher than other panels although shows no evidence of paintwork)
-Spotless undercarriage/wheel arches and engine bay.
-Every item functions as Mercedes-Benz intended
-A few very minor paint chips
-Superb wheels, recent Michelin 'Pilot' tires
-An amazing 126 series 'survivor' suitable to win at any Mercedes-Benz Club of America event.
-Major service and careful inspection just completed
-One of the finest 560SELs in the United States
I'm not a big fan of beige cars, but the tobacco leather is in great condition and makes the large interior look rich. Also, with features like dual airbags and anti-lock brakes, this is truly a practical classic that could hold its own against newer vehicles. I happened to peruse the Mercedes-Benz Classic website and they have a 560SEL for sale with a click over 60,000 miles on sale at EUR 36,750, or about $52,000. While that makes this car's buy it now price seem reasonable, from recent sales I've come across it appears a more realistic value would be settling in around the $15,000 to $20,000 mark.
It's common knowledge that most Mercedes-Benz sedans don't command the higher prices that coupes and convertibles do. However, if one Mercedes-Benz sedan is going to see values take off in the coming years, it would have to be the W126 S Class. More modern than the W116 without being as complex as the W140 that followed, these cars have withstood the test of time.
-Paul