For all the claims that the E30 M3's skyrocketing value is a bubble, the appreciation of nice E30s in general may just provide a foundation to float that bubble for a while yet. The finale in my trio of E30s is a very nice E30 in condition similar to the white M3 that began this series: 122k miles, well attended, although this 325is appears marginally cleaner. And yes, these Bimmers which are not far from the bread-and-butter, 24 hours of Lemons-type of performance car are going for higher prices than the E30 M3 when I first became aware of its awesomeness. Not saying there's no explanation for their desirability; nothing wrong with a well cared-for and clean example of the epic, sharp, game-changing sports sedan.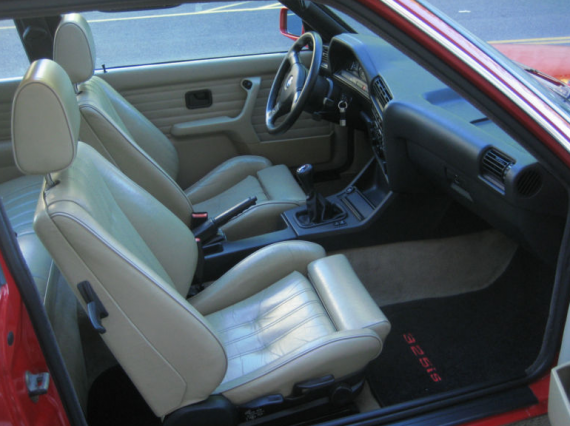 Year: 1989
Model: 325is
Engine: 2.5l inline-6
Transmission: 5-speed manual
Mileage: 122,000
Price: $10,000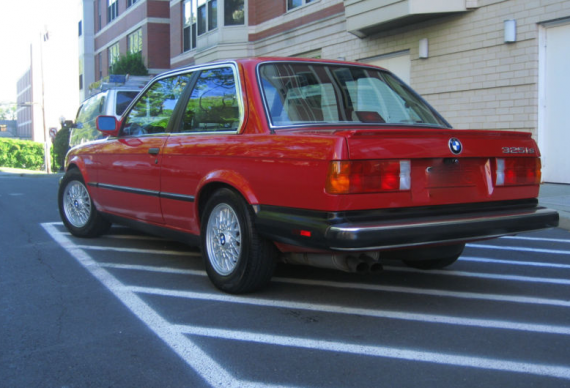 I am selling my 1987 BMW 325is. Only 122,000 miles, original paint and in near perfect condition. This car has been well taken care of, pampered inside and out. This car has been my passion for many years, but unfortunately it's time to part with her. Please check out the list of recent maintenance items performed along with the list of modifications. To say I was obsessed with this car would be an understatement.

Recent Maintenance
– Changed engine oil ever 5,000 miles
– Changed tranny and differential fluids
– Adjusted valves
– Flushed the coolant
– Replaced oxygen sensor
– Replaced fuel filter
– Replaced air filter
– Replaced air intake hose
– Replaced wiper blades
– Replaced antenna mast and antenna grommet
– Replaced timing belt and tensioner pulley
– Replaced cam seal and o-ring
– Replaced all belts
– Replaced all coolant hoses
– Replaced thermostat, thermostat housing and cover
– Replaced water pump
– Replaced spark plugs and spark plug wires
– Replaced coil, distributor rotor, cap and cover
– Replaced muffler and catalytic converter
– Replaced the front bumper trim
– Replaced front lower control arms
– Replaced swaybar end links
– Replaced swaybar end link bracket
– Replaced tierod assembly
– Replaced steering rack lock plate (for tierods)
– Replaced rear wheel bearings
– Replaced engine mounts
– Replaced transmission mounts
– Replaced drive shaft flex disk
– Replaced chrome trim around windshield
– Replaced chrome trim around rear glass
– Replaced shift knob w/ leather boot
– Replaced floor mats

Modifications
– European Grill
– European Ellipsoid Headlights
– 17×7 SSR Comp Wheels
– 235/40/17 Falken Azenis RT615 tires (only 2,000 miles on these tires)
– M-tech II Steering Wheel
– IE Stage 3 Race Springs
– Koni Sports (single adjustable)
– IE Camber Plates
– Suspension Techniques sway bars
– IE Rear Camber and Toe Kit
– IE Short Shift Kit and complete bushing replacement
– IE Sway Bar rear billet aluminum mount
– Aluminum Rear Shock Tower Mounts
– Powerflex E30/E36 3 Series Control Arm Bushing
– Powerflex E30/Z3/318ti Rear Trailing Arm Bushing
– Powerflex 3 Series Rear Subframe Bushings
– OEM BMW Stock Brake Rotors
– Bimmerworld Stainless Steel Brake Lines
– Hawk HPS Street Brake Pads
– Had the front spoiler sanded, primed and painted
– Custom 4 wheel alignment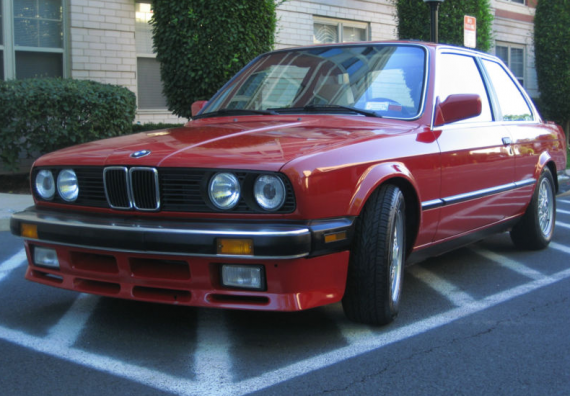 Well-maintained, simply beautiful, and improved but not changed; what else is there to say? This is an E30 that shines, even if it blends in for those not looking. Get those clean "is" models while you can, investors.
-NR