With July 4th being this weekend, a little red, white, and blue, is in order. So my thoughts were immediately drawn to some of the great BMWs that raced under the Motorsport tri-color livery. What better way to illustrate this than with a 1979 M1 in the proper Motorsport colors.
Red, White, and Blue 1979 BMW M1 on Craigslist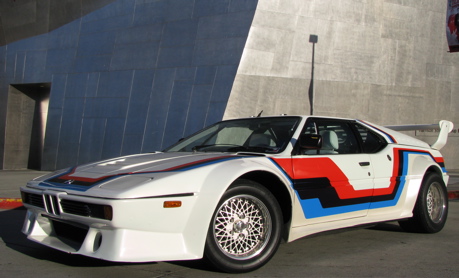 This Craigslist offering from Munich Evolution, in Seattle seems to fit the bill perfectly. The seller says this vehicle has unique history, and if you are going to spend $175,000 a little unique history would be nice. The Procar body, this was a single make race series M1s raced under, on this M1 and the great color scheme enhance the value. If you really want BMW's arguably first and only true supercar they can be had for less (see below), but this seems a fair ask price. The seller mentions that more info will be added about the car soon.
1981 White M1 Procar Widebody on eBay.
If the patriotic paint scheme is not your thing, than why not start with a blank slate in this all white 1981 M1 widebody currently offered on eBay. $150,000 gets you a AC Schnitzer installed Procar bodied M1 with 22k on the clock. It looks pretty clean and check out that vintage Blaupunkt equalizer.
Lastly, two non-Procar M1s are available through Motorcar Gallery Inc in Fort Lauderdale Florida. Perhaps an homage to Michael Jackson we have a black 1980 model and a white 1981 model. They have the white one listed on Hemmings for $173,500.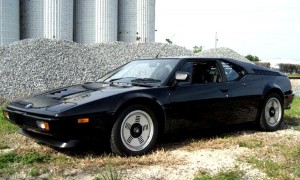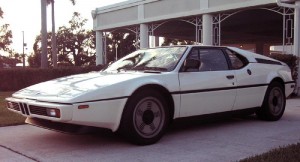 All else being the same the Motorsport colors look the best to me and the black looks better than the white. Ah decisions.
Only 456 M1s hit the market. The rear mounted 3.5 liter 273 horse power engine makes the thrumming sound that comes from a big inline six. It is a bit more raucous sounding than the deep cabin cruiser yacht sound you hear from the 1st gen M5. This nice clip shows an M1 at Nürburgring with no silly music or voice over to wreck the exhaust note.
In race tune, where up to 850 horse power could be had, the sound is powerful, as witnessed by this M1 at Lime Rock Park.
Do you have examples of some patriotic U.S./German automotive collaborations to help us celebrate the 4th?
Happy BBQing.
~Evan