Examples of these cars are bountiful and all over the board in regards to price and condition.  This one, is peculiar in that it has crazy low miles but looks to be in very rough shape.  Sure the seller saved it from it's prolonged slumber and buffed away some of the years but looking at this red GTI there seems to be a great deal of work left to be done.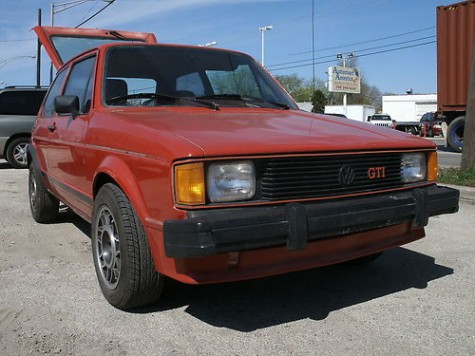 From the seller –
"You are bidding on a 1983 Volkswagen Rabbit GTI that came from Las Vegas Nevada from the 2nd owner, the car has a 1987 Nevada title in the 2nd owners name.  They parked the car under a carport for 18 years when the fuel pump went bad.  The car was towed to Chicago and the gas tank, fuel pump, fuel filter, and timing belt was replaced.  Also the car was buffed back to a shine, so the moldings was removed to not damage them and they are in the trunk.  The front seats are dry from the heat and will need to be reupholstered.  Also the headliner started to come down in the back.  This car does have minor dents but there is zero rust!  The tires are like new.  Zero cracks on the dashboard!  The windows were tinted and the old tint needs to be removed.  45899 original miles!   With a little work this car should be a nice museum piece or show car!"
Neat car, but this is more than a "little work" away from being a "show car."  Hood and rear lower valance have body damage, interior is shot including the headliner, bumpers need to be powder coated, I am pretty certain those tires are rotten, and goodness knows what will rear it's ugly head once you get started.
We are about $5-6k from having a very clean and original car which puts this one in the $3-3.5k range in value.  At that you are going to be buried in it a bit so I hope the buyer knows what they are getting themselves in to.  Bidding currently at $1k, reserve not met which is interesting since the seller advertises this as a no reserve auction.
~Aaron.