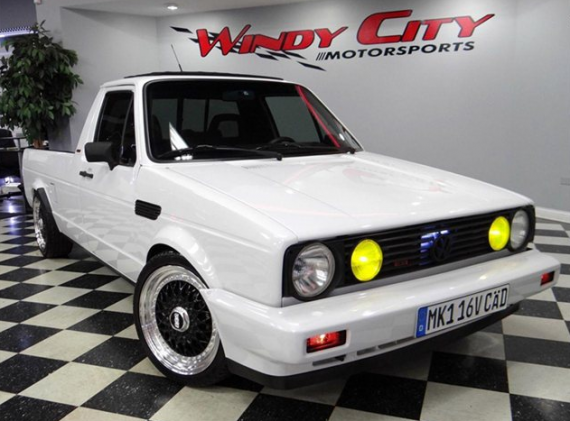 Part 1 of 2 in the Tale of Two Caddies was an example in beautiful simplicity, cleanliness and originality, right down to the tan on tan and base stock wheels. Today's Rabbit Pickup is quite the opposite, a full-on show car with tons of modifications. Not all are tasteful, but there are some truly great bits. Besides the drool-worthy BBS wheels, 16V swap, and Wilwood brakes, the owner has gone to 11 by retrofitting Subaru Brat jump seats and a ragtop. It appears no expense has been spared, so while some may balk at $15k for a Caddy, soak in some of the details before you judge.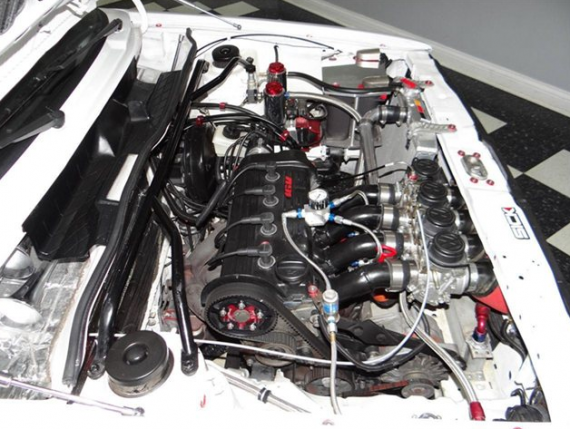 Year: 1983
Model: Rabbit Pickup (Caddy)
Engine: 1.8 liter 16-valve inline-4
Transmission: 5-speed manual
Mileage: 66,000 mi
Price: $14,900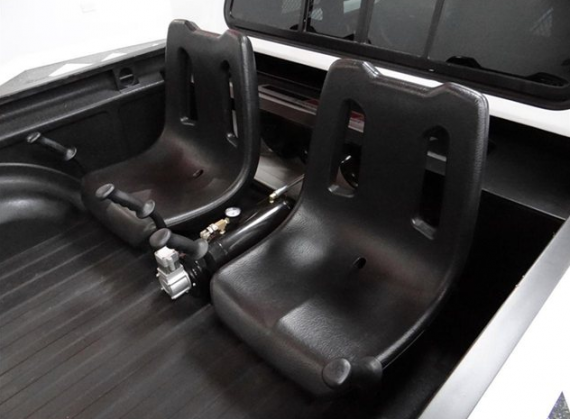 We at Windy City Motorsports are very pleased to offer for sale this awesome 1983 Volkswagen Rabbit "Caddy" custom pick up truck.

***This Cad has been part of my private collection for years, but limited time and space has forced me to thin out the collection. Countless hours and $$$ have been spent so far and this is an excellent opportunity for the right buyer to take advantage of this amazing truck.

***FREE US SHIPPING Is Included In The BUY IT NOW Price!
***Always Rust Free Body & Undercarriage
***New Ice White Paint
***66,xxx Miles Are Believed To Be Original
***1.8L D.O.H.C 16 Valve Motor
***5-Speed Manual Transmission
***Custom Intake With Yamaha R1 Quad Carb Setup
***The NOS Solenoid Squirts Fuel Into The Intake When The Cruise Control Button Is Depressed For Cold Starts
***Edelbrock Aluminum Choke Cable Custom Mounted Into The Cigarette Lighter Location
***Remote Oil Cooler & Aluminum Radiator
***MSD High Output Ignition & Brand New Distributor
***Stainless Steel Fuel Lines Throughout, H.O Fuel Pump & Fuel p.s.i Regulator
***Raceland Coilover Suspension
***Wilwood Billet Aluminum Disc Brakes With Cross Drilled Rotors, Stainless Steel Brake Lines, & Proportioning Valve
***BBS RS Style Wheels
***Professionally Installed Sliding Canvas Ragtop
***Custom Retrofitted Subaru Brat Rear Jump Seats
***Custom Plexiglass Subwoofer Enclosure With Blue L.E.D Accent Lighting
***Mind Blowing Triple Train Horn With It's Own Air Compressor (Between the jump seats)
***Line-X Heavy Duty Bedliner
***E46 M3 Carbon Fiber Fender Grills
***Cabriolet Front Bumper & Grill Conversion
***Rear Bumper Delete Roll Pan
***Full Cabrio Body Kit Included With 4 Fender Flares & 3 Side Skirts (required to fit the Caddy)
***2 Tailgates Are Inlcuded (not painted)
***H4 Headlight Conversion With HID Bulbs
***L.E.D Light Strip Over The Roll Pan & Under The Upper Bed Sides
***Red/Blue Police Lights Hidden Behind The Grill With Flush Mounted Control Unit
***Hard To Find Kamei Upper Grill Spoiler (not installed)
***Smoked Front Turn Signals WIth Stainless Steel Mesh Overlay
***Gas Hood Lift Strut Conversion
***Dynamat Heatliner
***Neuspeed Strut Brace
***Optima Red Top Battery With Aluminum Mounting Tray
***Alpine Double DIN DVD Head Unit
***Custom Door Panels
***Kenwood & Precision Power Amplifiers Hidden Under The Seats
***2 10″ Subwoofers Ported Into The Cabin
***Custom Center Speaker Enclosure
***AutoMeter Gauges Mounted Into The Cabrio Center Console With ARC Audio Equalizer
***MOMO Corse Leather Steering Wheel
***Recaro Seats Custom Trimmed In Genuine Alcantara Suede & VW Motorsport Embroidery
***Full Alcantara Headliner & Rear Trim
***OMP Racing Harnesses With Harness Bar
***Power Window Conversion
***White Face Gauges
***Powder Coated Aluminum Golf Ball Shift Knob With Suede Shift Boot
***AutoTech Aluminum Pedal Covers (not the cheap Chinese crap)
***Lloyds Plush Floor Mats With "16 Valve" Embroidery
***Chrome Plated Door Latches
***Sliding Rear Window
***Way Too Much More To List

*********As with most custom vehicles, there are a few bugs that still need to be ironed out. I do not have the time to finish it and have taken this into consideration with regards to the actual selling price. Please read the condition report for details.

***Since I really do not want to sell the truck, and am out of space, I am NOT interested in any trade offers. Also, there is more than double the asking price invested in this truck and no low ball offers will be considered or responded to.
Sure, there are about 20 examples of overwrought showcar excess here, but overall it's a very cool Caddy package. Do away with the awful license plate and LEDs (unfortunately the M3 gills probably aren't going anywhere) and you have a beautiful 16V Caddy with a rag top and jumpseats! Just under $15k looks like an owner who is reflecting upon the build receipts a little too much, but with how much clean standard Caddies are going for these days, it's not out of line considering the cleanliness and quality of the swap and features. My Rabbit Pickup had an 8V 2.0 and it was still a blast – this car will have a driving experience to back up the looks. I love it, and if I could I would daily drive the s*** out of this thing.
-NR