It must be deja vu I think as I don't believe this is the same car that was listed before on this blog. But here's another very low miles 2.3-16 for sale on the left coast in Berkley, California for $11,500 (Craigslist):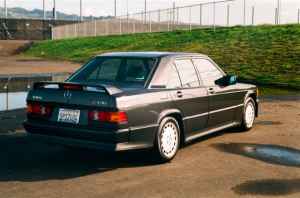 quote from seller's listing:
This incredible 190E 2.3-16v is in impeccable original low-mile condition, and has had dealer service since new. For the last five years it's been in the hands of a Northern California Mercedes Benz dealer family. This is not only a high performance car in great condition – it's also an important bit of history. After developing its four-valve cylinder head with motorsport specialists Cosworth, as well modifying its suspension, transmission, aerodynamics, exhaust and interior, Mercedes unveiled the 2.3-16 at the Nurburgring in 1984 in a race that included several former and future Formula One champions, including Niki Lauda, Alan Prost and Ayrton Senna (who won), as well as Stirling Moss, who had famously driven for Mercedes in its heyday.

Most 16v's available today are high mileage and/or modified cars. This one shows and drives as nearly new, to which we can attest as this is our third (our first having 17,000 miles on the odometer when it came through the dealership in 1989). 2.3-16's were only available in the U.S. in only 1986 and 1987, and this `87 may be seen as an appealing "interim" model. It has the flushed-in headlights of the '87 models, but retains the simpler and more reliable sunroof and sunroof control of the `86 cars. Recent work includes a major service with upgraded-spec MB factory injectors; serviced rear SLS suspension and replaced front suspension ball joints; refurbished a/c; and four new Michelin Pilot tires. A December 2009 smog report shows unbelievably low emissions, attesting to the car's impeccable mechanical condition. The bodywork is straight and clean with no signs of accidents or repairs. The original paint is very good for a 20-plus year old car, with good shine and few stone chips.
I love these cars! And not to sound like a broken record, but an e30 M3 of the same vintage would have a starting bid of twice the price. I realize you can make an argument that the M3 has a more sporting intent, and the winning pedigree, but not at twice the price. Someone go snag this fantastic deal!
dc