I can't fully explain my recent E28 fascination. Maybe it's maturing, maybe it's just an evolution, but my E30 lust is firmly in 2nd place. The M3 too far gone, the 325is too banal, the E28 strikes me as simultaneously under-the-radar yet special. Taking the specialness factor up one notch today is the much-desired black-on-black Canadian E28 M5. I've heard E28 enthusiasts lament the Natur leather that came as the only option in the US. While I certainly appreciate the double-Vaderness here, I don't mind the Natur either. It's Canadian, but hopefully that is less of a roadblock because it was also offered here, unlike other Canadian models like the E30 wagon. With a nice 130k miles on it, this M5 has few blemishes and would be a great way to up the E28 ante.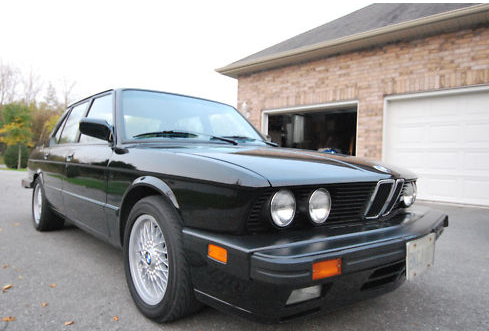 Brevity from the seller:
BLACK ON BLACK, CANADIAN CAR 216,000 KMS NEW BRAKES, BATTERY, TIRES. INTERIOR IS IMMACULATE, EXTERIOR AWSOME MINUS 2 FLAWS (1 IS A CRACK BY THE FRONT EMBLEM WHERE SOMEONE TRIED TO PRY IT OFF, SECOND IS A DIME SIZED BUBBLE IN THE DRIVERS DOOR UNDER THE MIRROR.) CAR WAS PAINTED BY ORIGINAL OWNER AND SHINES LIKE CRAZY.

WILL BE SOLD WITH ALL MANUALS AND SERVICE RECORDS IN MY POSSESSION AS WELL AS THE ORIGINAL SALES BROCHURE AND BMW WINDSHIELD COVER AND SKI BAG.
The $13,500 Buy-It-Now seems high but not out of the question, and the $5,000 starting bid encourages a little more optimism. If it could go smack dab in the middle, that's a pretty clean deal.
-NR